What is Primavera P6? How to Learn Primavera P6?
What is Primavera P6 and How to Learn Primavera P6? Professionals ask these questions to understand the main functions of that planning and scheduling software tool. In today's challenging business environment the number of large and sophisticated projects is increasing. The main problem is that most of the projects are out of control and project managers can not plan, manage, and track their complex projects effectively. Many professionals working in the field of project management have general insights related to the planning and scheduling software tools. Especially project managers, planning engineers, and schedulers are using some of them to keep their projects on track. Software tools like Oracle Primavera P6 and Microsoft Project Professional support planning, scheduling, project management, and decision-making processes to ensure the projects completed on time.
Beginners and seniors in the field of project management often try to understand the benefits of P6 and other similar software tools to bring their projects to success. In that article, we will talk about the main functions of Oracle Primavera P6 and discuss how to learn.
What is Primavera P6 ?



Oracle Primavera P6 is one of the most capable and effective project management software tools available on the market. It is designed to plan and manage all kinds of complex projects with satisfying each team member's planning requirements.
This high-performance planning and scheduling software provide all the necessary tools and features which helps to manage your project's entire life cycle. For example, risk management, critical path analysis, resource, and cost management are some of the basic features of this great software. With the help of it, organizations across all industries such as construction, oil & gas, and manufacturing can successfully plan and manage their projects in today's uncertain economical conditions.
Basically, there are two versions of P6: Primavera Professional Project (PPM) Management and Primavera Enterprise Project Portfolio Management (EPPM).
Although both versions serve the same project management purposes, there are some differences between them. Let's take a look at both versions.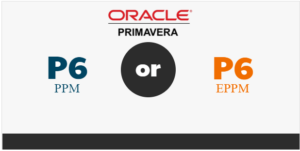 What is Oracle Primavera P6 EPPM?
Oracle Primavera P6 EPPM is an Enterprise Project Portfolio Management Software. It is a good idea to understand the difference between P6 PPM and P6 EPPM before purchasing one of them. Both of them are suitable for big and challenging projects. However, P6 PPM is a windows based software that connects to a server-based or a local database. Although many organizations prefer to use P6 PPM as standalone software, it can be used either as a standalone tool or an enterprise tool.
P6 EPPM includes many useful features that P6 PPM does not have. One of them is the Methodology Management tool which involves project templates for different kinds of projects. As of version 8, Methodology Management is removed from P6 PPM and it is now available only in P6 EPPM.
Another important difference is that the processing speed of P6 PPM is more than Primavera P6 EPPM. Because it is a standalone software and this ability enables us to make changes faster. On the other hand, P6 EPPM requires a high-quality internet connection and if your connection speed is low, you can not use the software efficiently.
The reporting feature of  P6 EPPM is more advanced than P6 PPM. You can create more visual reports, graphs, tables in P6 EPPM. This is useful for demonstrating the project status at any level from the executive level to the lowest levels.
Key Features



Primavera P6 provides high-level project management solutions for your business. Many people think that Primavera P6 provides just fancy bar charts. However, it is not just a tool for creating simple Gantt Charts. It has many features designated to handle sophisticated cost management, Earned Value Management, risk management, resource leveling, contract management, and reporting processes.
In order to understand better, let's take a glance at some of the basic features of Primavera P6.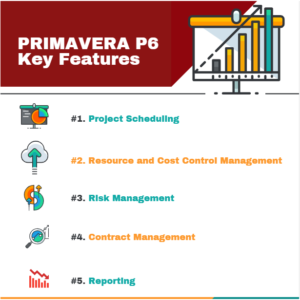 Scheduling
Primavera P6 involves advanced scheduling solutions. Activities can be created under WBS (Work Breakdown Structure) levels, relationships can be established between the activities and the critical path of the schedule can be calculated with the help of the scheduling feature.
Resource and Cost Control Management
Resources, unit prices, and expenses can be assigned to activities. The project budget can be tracked with the help of this feature. Project teams can easily compare the planned and the actual status of costs and analyze the performance of the project.
Risk Management
It is possible to identify and prioritize risks with the help of this feature. Risks can be assigned to activities and risk analysis can be performed for each activity and project.
Contract Management
Primavera P6 contract management feature provides advanced document control solutions. It is possible to track the Requests For Information Process, changes, issues, submittal, and approvals and their impact on the schedule with this feature.
Reporting
Primavera P6 has an advanced reporting feature that allows to use the reports existing in the database or create custom reports for special needs.
What are the Benefits of Primavera P6?



Project managers and team members often use planning and scheduling software tools to monitor and control their project's performance. Especially in highly sophisticated, and multifaceted projects, it is difficult to complete the deliverables on time and within budget without the help of project management software tools. Because today's projects involve thousands of activities, unlimited resources, and an unlimited number of targets. Therefore, an unexpected problem or delay in the critical path may cause an overall project delay.
Like other software tools (Microsoft Project), Oracle Primavera P6 helps to keep the projects on track.
Key Benefits of Primavera P6
• Enables to manage complex projects
• Enables to manage project portfolios
• Increases visibility
• Helps to manage project risks
• Enables to perform resource and cost management
• Improves collaboration and decision making
• Helps to level resources to balance resource capacity
• Enables to compare the planned and actual figures
• Helps to conduct what-if analysis to view alternative plans
How to Learn Primavera P6 Software?
Everybody can learn how to use Primavera P6 and become proficient! Learning anything is not a difficult process. However, many people can find this software tool a bit daunting at the beginning because there are too many features, charts, rules, menus, and reports.
First of all, you need to know the project scheduling steps to understand how to create the Work Breakdown Structure, determine the project activities, calculate the activity duration, and establish logical links between the activities as well as learning key project controls processes.
After this stage, you can track the following processes to learn Primavera P6.
Introduction to Primavera P6
Start learning Primavera P6 with basic concepts such as P6's database, solutions, capabilities, screens before to start creating a project schedule. Learn how to download and install the latest version. You should also learn what you can do and what you can not do with this software tool.
Time & Schedule Management
Time and Schedule Management is an extensive concept that includes the basics of project planning and scheduling. Learn the Critical Path Analysis, understand calendars, total float, and constraints at this stage. Then, insert activities, determine activity durations, and assign relationships to create the CPM Chart of the project. Understand various activity types that exist in Primavera P6 software.
Resource Management
A project can not be performed without assigning labor, manpower, and equipment resources. Go deeper into the resource capabilities of Primavera P6. Determine your project's resources and classify them. Then, assign resources to the activities and get a resource loading histogram. Finally, analyze over allocations and try to level over-allocated resources.
Cost Management
Without a proper cost management system in place, a project can not be completed on budget and the organization can easily lose funds. Primavera P6 enables to track and manage project costs effectively. Learn the basic cost management concepts and insert unit prices for each resource of your project schedule. Also, learn how to assign expenses to your project without using resources. You can use top-down budgeting methods and analyze cost loading charts that Primavera P6 software will provide for your project.
Activity Coding
Activity coding should be one of the most important lessons in any Primavera P6 Training Programme. First of all, learn the process of creating and assigning activity codes as well as learning activity code settings. Understand how to use the activity codes for grouping, filtering, importing, and exporting purposes. Note that activity coding enables you to make changes to the project schedule using the global change feature.
Assigning and Maintaining Baselines
The performance of a project or activity can not be tracked and reported effectively without assigning and using baselines. A project baseline consists of schedule, cost, and scope that enables you to evaluate the performance of your project over time. Learn the differences between project baselines & user baselines in Primavera P6. Create and update a baseline for your project and evaluate your project's performance against the baseline. Finally, create reports that include both planned and actual figures.
Updating
Progress updating is one of the most important concepts in project controls. Go deeper into the Primavera P6's updating settings and learn how the P6's Data Date is working when you insert actual dates. Understand the percent complete types and progress different types of activities such as Level of Effort and WBS Summaries.
There are some update parameters involved in the project schedule updating process such as Duration Type, Percent Complete Type, Rules of Credit, and Progress Calculations. Each parameter has typical functions and calculation methods. You can also use Excel to update your Primavera P6 schedule.
Importing and Exporting
All project data is stored in the Oracle database. Primavera P6 allows you to import and export various data, excel sheets, projects, and baselines while revising, updating, or creating a new schedule. You can also import a project by using XML files.
Summary
Oracle Primavera P6 is one of the most popular project planning and scheduling software used for effective project management. Although there are many planning and scheduling software tools available on the market, Primavera P6 shines in being capable of planning and managing large-scale, highly sophisticated, and multifaceted projects. Project managers, project coordinators, project planners,  schedulers, planning engineers, and stakeholders from various industries have been using Primavera P6 software for many years. Learning Primavera P6 provides many advantages to the professionals looking to build up a career as a project manager.
External References
[1] Oracle.com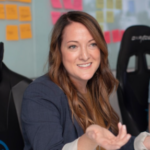 Irma Gilda is chief executive of Sonic Training and Consultancy Co., the training platform offers project planning and scheduling More than 60 k learners have used the platform to attain professional success. Irma is a professional Primavera P6 Trainer.
Tags:
Primavera Enterprise
Primavera P6
Primavera P6 EPPM
Primavera P6 PPM
Primavera Project Management
What is Primavera P6 ?