Expenses are an essential part of any project. It is critical that project expenses be forecast ed and tracked. The Expense tool of Primavera P6 enables to assign expenses to activities. By the help of this tool, it is also possible to assign costs to activities without assigning resources. Assigning expenses in Primavera P6 is useful for tracking project expenses.
This article shows the assignment of a project specific material expense to an activity in Primavera P6.
Project Expenses
Expenses can be transportation, consulting, training costs, wages etc. Direct and indirect costs can be assigned to activities as expenses without using the resources. The expense tool is useful for project specific material, labor and equipment costs.
Assigning Expenses in Primavera P6
The sample project is a pipeline project and you will assign a material expense to the Mechanical Works activity of Block Valve Station-X. (Figure -1)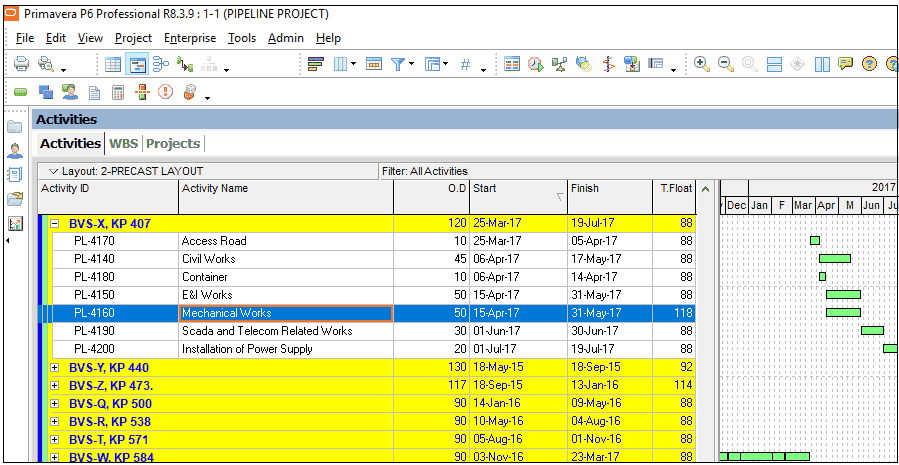 Let's assume that a specific valve should be installed in order to complete the mechanical works and the cost of the valve is $25,000. You can assign any type of costs such as project-specific material costs, and other non-resource based costs using the 'Expenses' tab in the bottom details area. (Figure- 2)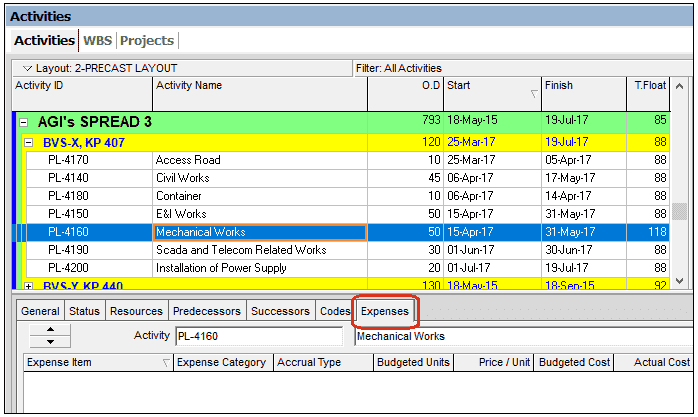 Click the + Add button at the bottom left of the screen. Enter the Expense Item name and the Expense Category, Figure 3.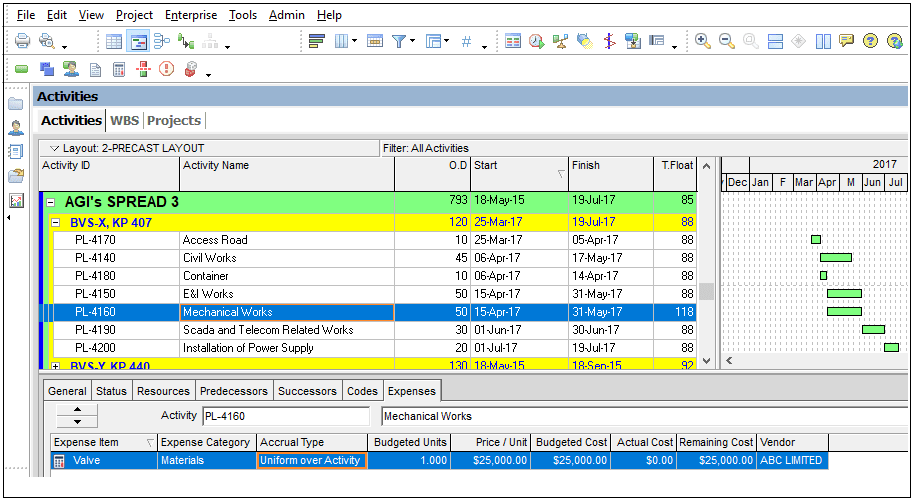 You can fill the required cells as below.
Expense Item is "Valve".
Expense Category is "Materials".
Budgeted Units is 1.
Price/Unit is $25,000.
Vendor is "ABC Limited".
Accrual Type is Uniform over the Activity. You can accrue at the start or finish of the activity if required.
Summary
This article demonstrated how to assign a project specific material expense to an activity in Primavera P6. You can add numerous expenses to an activity by the help of this tool. Also you can add several expense categories by using the "Select Expense Category Window".