Top Down Estimating
Top down estimating is a useful technique which relies on the information provided by a similar past project. Upper level management often take advantage of using top down estimating to estimate the total cost of a project based on the experiences of people who involved in the similar project. Top down estimating is a useful technique when you need cost estimates at the early phases of a project. You can use when there is little information regarding to the deliverables.
It is possible to make estimation quickly with fewer resources and effort. It is also used to evaluate the project proposal at the strategic level. Oracle Primavera P6 allows you to make top down estimation and bottom up estimation. In this article we will demonstrate how to make a top down estimating in Primavera P6 Professional.
Top Down Estimating vs Bottom Up Estimating
Professionals working in the field of project managemement often mix up bottom-up and top-down estimating concepts. Many of them think that they are the same, however they are different. Unlike top down estimating, project team work at the task level of WBS (Work Breakdown Structure) to perform bottom up estimate. At the early phases, top down estimating is used to predicting the cost or duration of a project. Over time, detailed bottom up estimates replace the original top-down estimate.
Top Down Estimating in Primavera P6
Estimating is known as the practice of predicting the cost and time required to deliver the project deliverables. Since top down estimating is used when there is little information available for the project, the estimating process is supported by experience from an expert.
There are some techniques used in conjunction with top down estimating. For example, apportion method is a top down estimating technique which calculates the cost of individual tasks as a percentage of the total project cost .
For better understanding, let's review the simple example below.
We have a Block Valve Station project as shown in the Figure 1.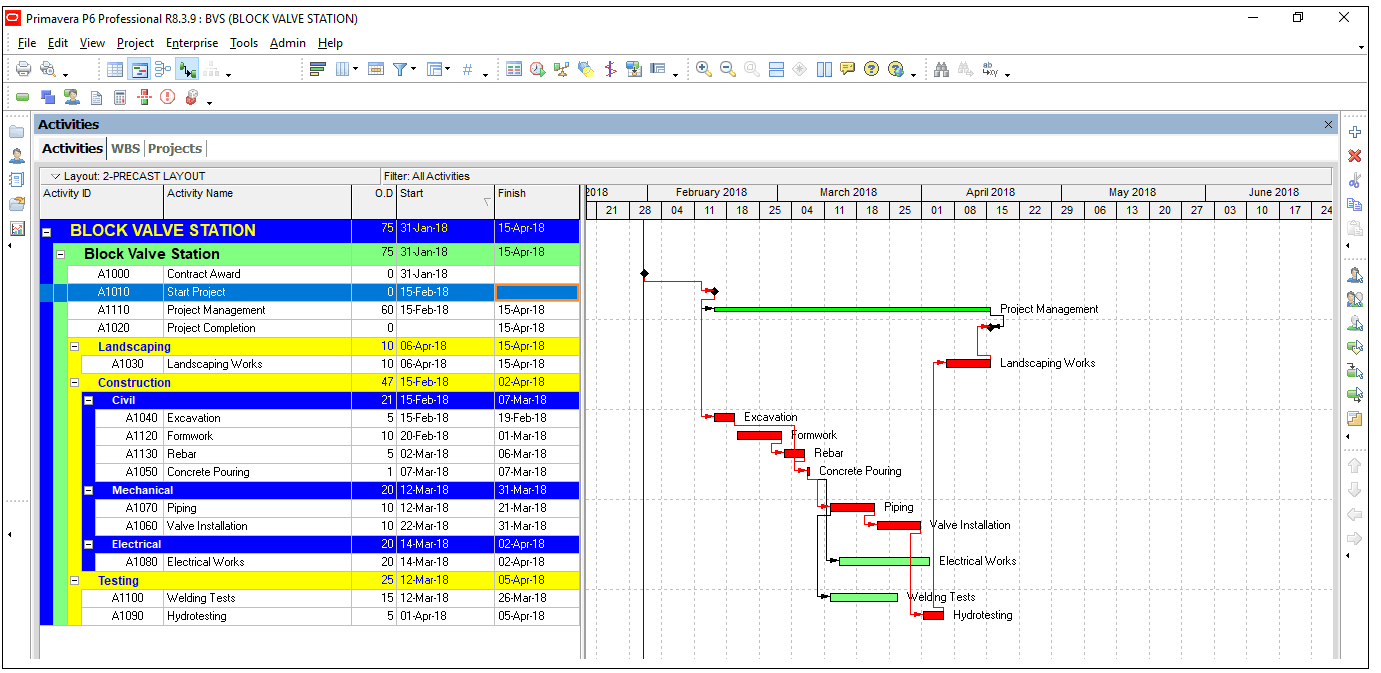 We will open the Work Breakdown Structure (WBS) window by selecting Project | WBS from the main top drop down menu, Figure 2.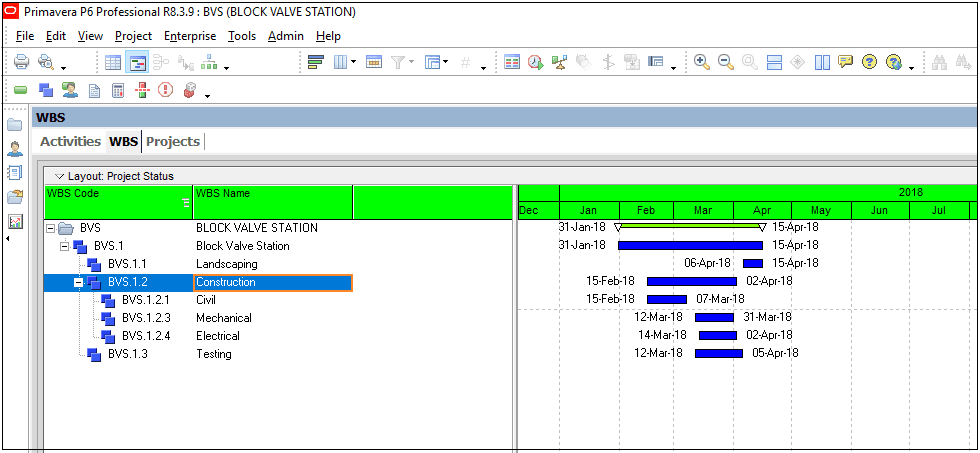 Now we will add Est Weight and At Completion Total Cost columns as shown in the Figure 3.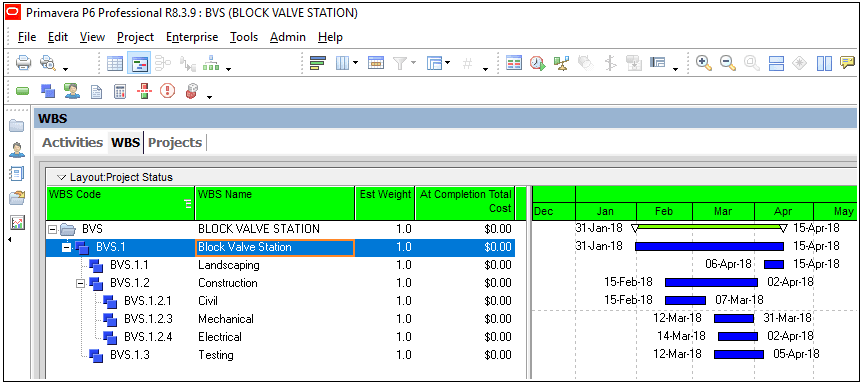 Est Weight of Construction is 8 (Civil:2, Mechanical: 3.5, Electrical: 3),Testing is 1, Landscaping is 0.5. Total is 9.5 but we will insert 10 Est Weight for the Block Valve Station, Figure 4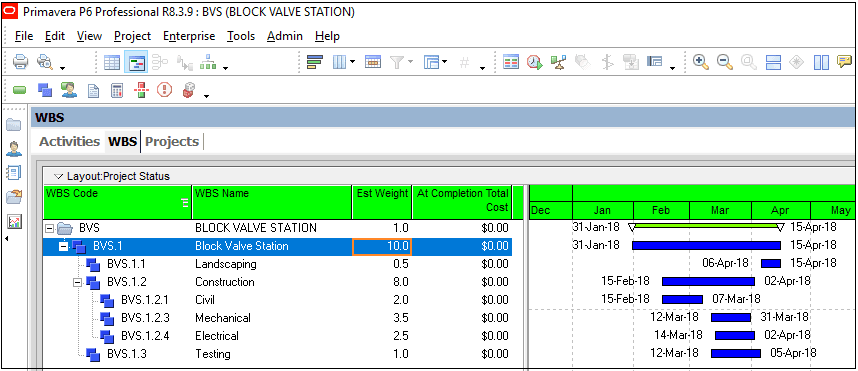 We will insert 0.5 Est Weight for the Project Management activity from the "Activities" window.
In the "Activities" window, we will add "Est Weight", Budgeted Labor Units, Budgeted Labor Cost , and Budgeted Total Cost columns, Figure 5.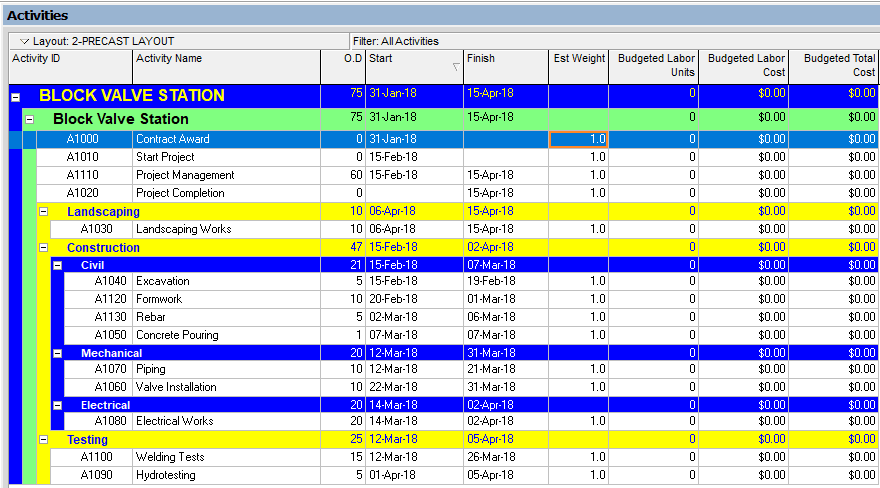 Now we will distribute the total "Est Weight" of each WBS, to it's activities. All our weights should be distributed among deliverables and activities, Figure 6.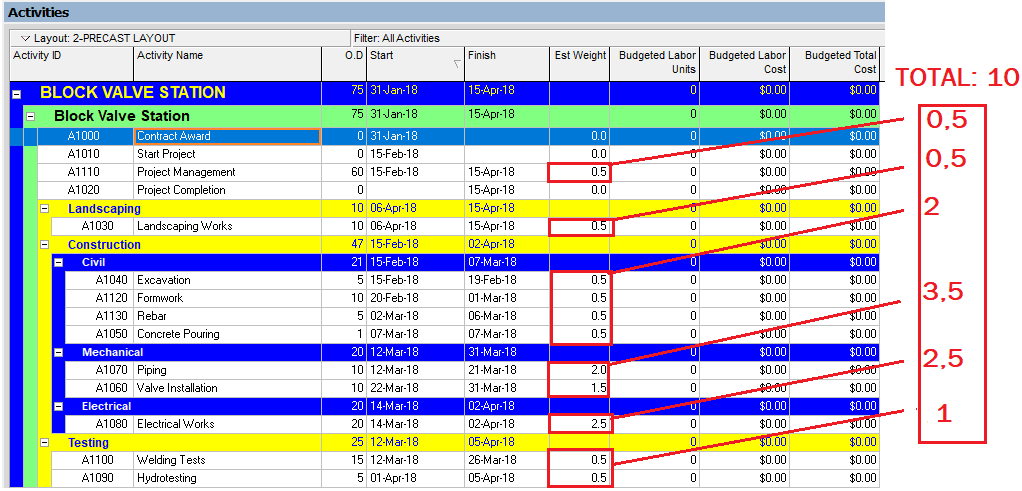 We will insert a labor resource and unit price($100/hr) for the resource, Figure 7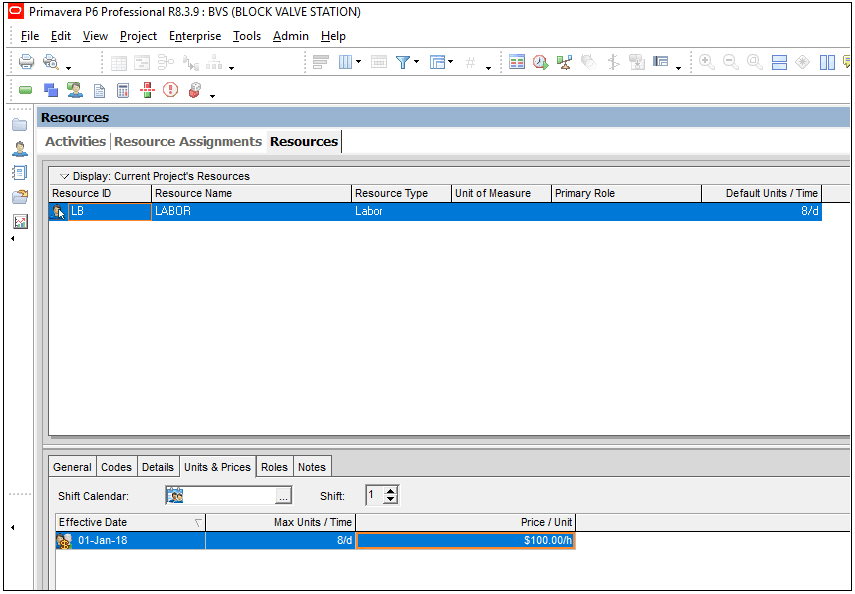 After assigning the "LABOR" resource to the activities, we will perform the Top-down estimate. We will select Tools | Top Down Estimation from the main top drop down menu, Figure 8.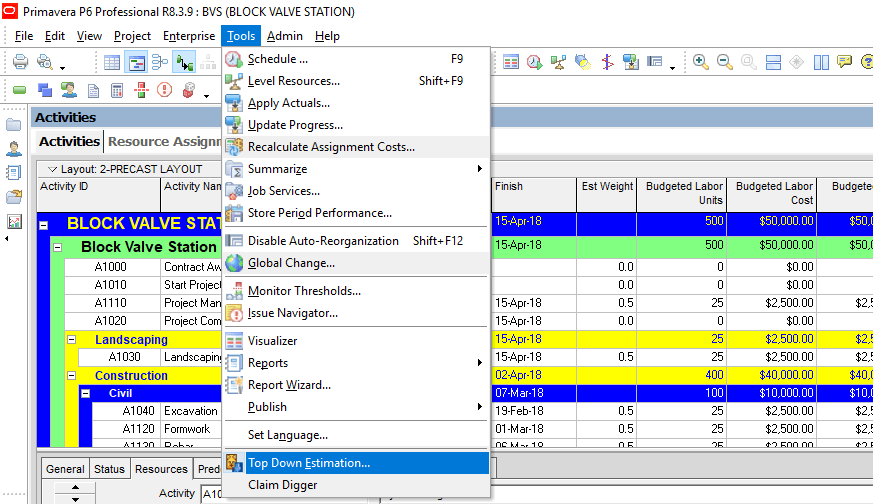 In the "Top Down Estimation" window, we will select the project top level WBS for WBS box. The resource is "LABOR" and we will budget 500 Hour effort for the all project. Figure 9.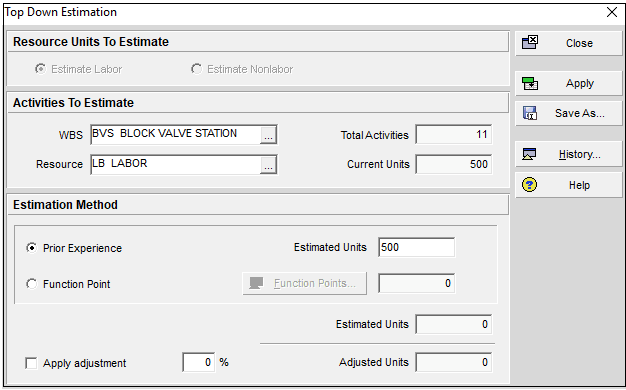 Then, we will select "Apply" and see how our 500-hour effort is distributed among activities and associated deliverables, Figure 10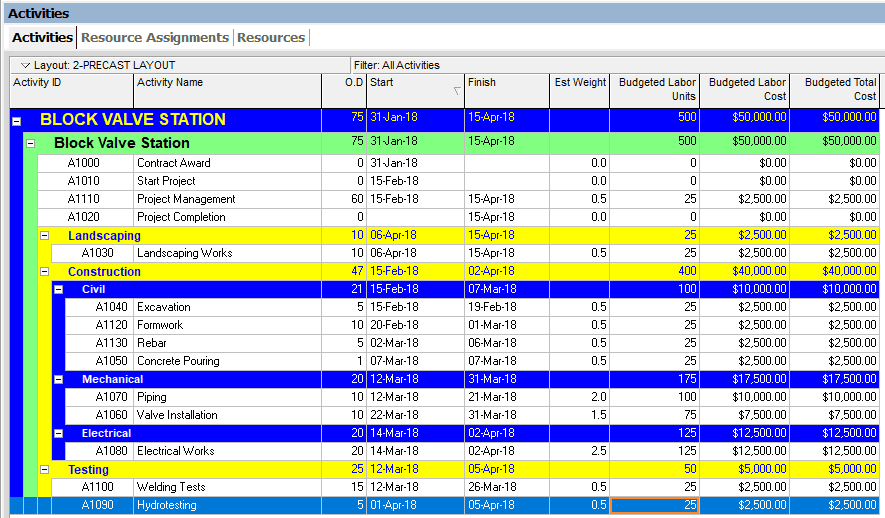 Figure 10
We can also see the unit and cost distribution in WBS level, Figure 11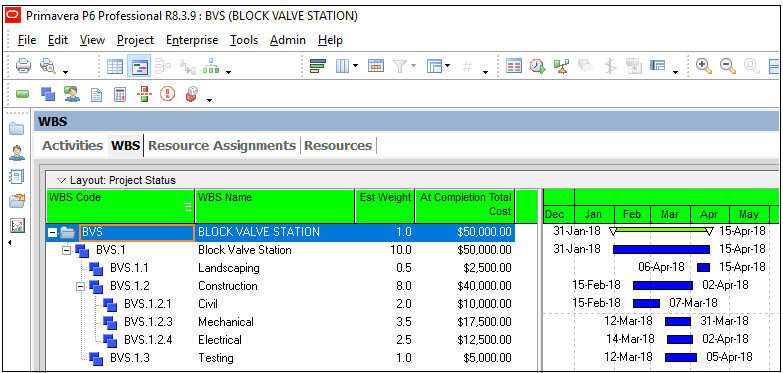 Figure 11
Let's assume that our budgeted 500-hour effort will increase 20 percent due to the weather conditions. We will calculate the impact of this increase by inserting 20 % to the "Apply adjustment" box in the "Top Down Estimation" window, Figure 12.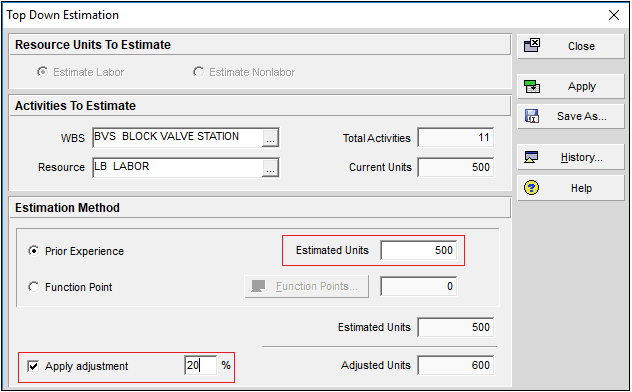 Figure 12
As shown in the Figure 13, budgeted units and costs are increased 20 percent based on our adjustment.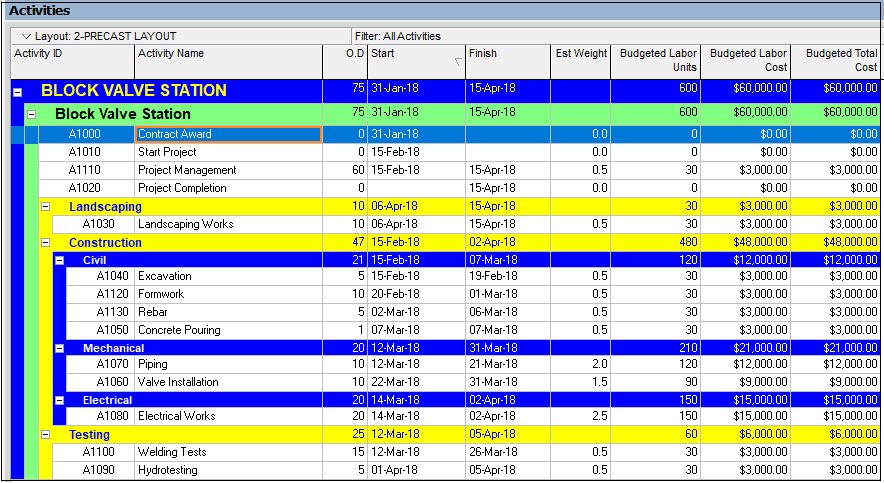 Figure 13
Now we will save this estimate for future references. In the "Top Down Estimation" window, we will click "Save As" and fill the "Estimate Name" box, Figure 14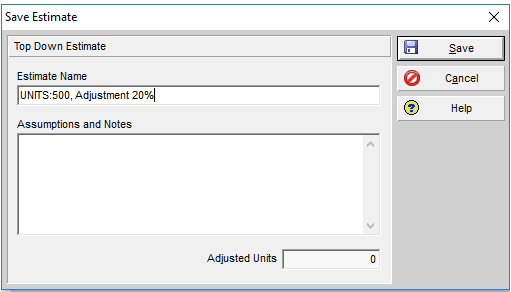 Figure 14
We can see the estimate history by clicking "History" button in the "Top Down Estimation" window.
Summary


Top down estimation is a quick method for estimating the total project cost than other techniques that require more detailed information.  Consensus methods, ratio methods, apportion methods and function point methods can be used in conjunction with the top down estimating.
Top down estimating is also used to determine the duration of the project. It is the opposite of bottom up estimating. Although it is a fast and efficient method, it has some disadvantages. It provides less accurate estimation than other estimating techniques. Bad estimation always result in disputes and problems within a project.
Primavera P6 Professional enables to make Top Down Estimating for activities and deliverables. By using the Primavera P6 top down estimating feature, planners can easily distribute the proposed cost of their projects among both deliverables and activities. It is possible to analyze the impacts of percentage adjustments and save the estimate for future reference.
In this article we discussed the top down estimation technique and demonstrated how to perform it by using Primavera P6. We hope that it will be useful for project control engineers. If you want to share your experiences or add something, you can use the comments section below.
See Also
Stacked Bar Chart and Primavera P6 Stacked Histogram
External References