Advantages Of Being A Full-Stack Developer
The field of full-stack web development is ripe with opportunities for anyone with an interest in technology and an understanding of how websites function on the cloud. Website developers with the skills to juggle the many moving parts of today's complex online applications are in high demand across all industries. The term full-stack developers refer to these programmers. Startups and large enterprises alike need full-stack developers because of their flexibility and ability to jump in and repair problems in any part of the technical ecosystem involved in rapidly and affordably creating a website for a profitable product. Since full-stack developers are in such high demand in today's businesses, an increasing number of young adults are choosing to enroll in full stack developer courses thanks to advantages of being full stack developer.
However, before jumping to the benefits that this profession brings, let's have a firm grasp on what that term really means. But how to be a full-stack developer?
What Responsibilities Does A Full-Stack Web Developer Have To Take On?
A full-stack developer is someone who designs and builds both the front and back end of a website. This is including interactive data-driven apps and portals. To guarantee the proper functioning of the developed website, a full-stack web developer is fluent in many programming languages and uses a wide variety of development tools.
In addition, a full-stack web developer can expertly handle crucial components of making web and mobile apps. And these are in great demand in the whole online technology industry. Front-end web developers often have proficiency in Javascript, HTML, and CSS, whereas back-end developers know their way around Python, Ruby, and PHP.
It's also possible to specialize in either front-end or back-end web development today. It is giving students more options when selecting a full-stack web development program. Furthermore, a full-stack web developer has up-to-date knowledge of databases like MongoDB, MySQL, Oracle Database, and SQLServer to facilitate web development.
With the definition of a full-stack developer in place, we can go on to discuss some of the advantages of working in this field. Let's get started.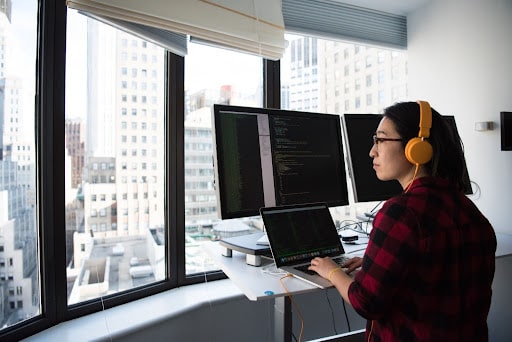 The Top Benefits Of Being A Full-Stack Developer
Enhanced Opportunities For Professional Advancement
Full-stack web developers that can juggle several responsibilities. They cultivate a never-ending curiosity for learning are increasingly sought after by corporations in place of software engineers. In addition, there is a great deal of room for accelerated development as more and more companies adopt this all-encompassing skill set to increase productivity and save costs.
Furthermore, professional full-stack web developers claim a multi-dimensional and fast-tracked career advancement across enterprises. This is ranging from globally renowned end-to-end business solutions to startups.
Most full-stack web engineers began their careers as either front- or back-end website developers. But they soon advanced in their careers by learning and mastering all aspects of web development.
Achieving Project Goals Quickly
A full-stack developer's duties span a wide range, including integration, upgrades, back-end and front-end collaboration, and meeting client requirements.
For this reason, a full-stack web developer must maintain a high level of familiarity with the APM (Agile Project Management) framework Scrum and its constituent parts. As a full-stack web developer, you have access to powerful technologies that enable you to rapidly advance your professional standing.
This not only facilitates the implementation process by decreasing the dependence on other units but also speeds up the development of the website and yields cost savings.
Greater Flexibility
If you want to study all the facets of building websites, a full-stack development course is the best way. You'll be able to continue working with more flexibility across a variety of databases.
With this heightened flexibility, you may have more control over the final product of your website design. Becoming a full-stack web developer will help you improve your knowledge of both PHP and CSS. And this is useful no matter which language you like to work in.
It's Among The Best-Paid Occupations
Due to its impact on marketing and business, full-stack web development has become one of the most paid occupations in the world. This malleable method of full-stack development helps businesses stand out and fuels the expansion of revenue streams.
In addition, a full-stack developer in the United States may expect an average yearly package of $100,677. The exact amount depends on the developer's experience and expertise. The greater compensation that is given to full-stack web developers is a direct result of the savings that they make for their employers. Their versatility ensures they are always in demand.
They receive a higher pay grade as a result of the decreased operating expenses they bring the company. They are capable of performing the work of two or three average programmers on their own. This results in significant cost savings for the company. And because of their versatility, they continue to be in high demand because they can work with a variety of frameworks and technologies.
They are able to find work in a wide range of different fields. Businesses operating in every industry are scouring the landscape for opportunities to put cutting-edge technology to work for them. As a full stack developer, you can look for work in financial institutions, banks, information technology companies, and even tech startups.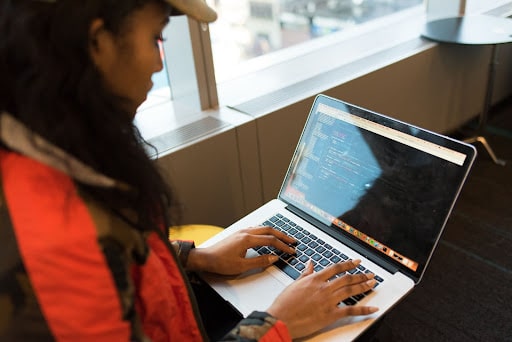 Final Words 
In conclusion, we can say that knowledge of the back end, front end, and databases are just part of what it takes to be a full-stack web developer. The term full-stack web developer refers to a specialist with expertise in all aspects of web development. This is including technical know-how, excellent interpersonal skills, and project management chops.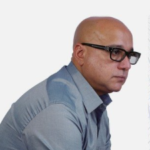 With more than 20 years of progressive experience as Program Manager and Project Manager had led complex IT projects/programs in a wide variety of industries in America, Latin America & Italia.
Mario Bisson Andini is an advanced Program Manager who is the founder of Bisson Training.
Tags:
full stack developer career
full stack developer job
how to become full stack developer