Using Cybersecuirty KPIs to Generate Results
Long before the pandemic, cybersecurity was already a major cause for concern among small and large businesses alike. Many had already invested in cybersecurity risk management, with key pioneers seeing a significant return on their investments using cybersecurity KPIs. At the onset of the pandemic, cybersecurity incidents reached an all-time high, thanks to the rapid adoption of cloud computing and the shift to digital. The push to offer remote working, online shopping, and virtual learning saw many new players move to the cloud. This exposed them to several vulnerabilities due to a lack of awareness and limited resources to counter common attacks.
Today, most of these organizations are underway in their digital transformation journey and are keen to prioritize cybersecurity as a critical business function. This means cybersecurity receives strategic oversight and is implemented at every company level. Several measures have since been adopted to further this cause and strengthen its significance in various industries. 
The rapid adoption of cybersecurity KPIs, or key performance indicators, is one perfect example of the need to effectively measure the success of cybersecurity initiatives and improve on them. Below, we explore the importance of cybersecurity KPIs and some common examples.   
Why is Cybersecurity KPIs Important?
Before successfully managing cyber threats, you need to identify and map them according to their risk levels, frequency, impact, cost, etc. Here, the metrics that are for mapping cybersecurity incidents are the KPIs. They are quantifiable measures that can be tracked and analyzed over time to give valuable insights to aid decision-making. KPIs should serve specific objectives for them to be accurate and provide operational and strategic improvements. 
Below are some of the key benefits of cybersecurity KPIs:
It tells more about the functioning of the cybersecurity team

. The results from tracking cybersecurity KPIs can say a lot about the progress made, what's working and what's not. This can also be tied to the improvements needed to achieve the desired objectives.

It inspires change and innovation

. KPI metrics help security teams compare the effectiveness of their policies with respect to the current market dynamics. This can help fuel the need for more resources that will inspire significant operational changes and innovation.

It aligns well with the reporting needs at the regulatory, shareholder, and board levels

. There's increasing pressure on CISOs and CIOs to ensure accurate reporting of their

cybersecurity policies and procedures

to ensure compliance and transparency among stakeholders. KPIs make reporting more convenient as every metric measured is recorded and analyzed for further review and reporting. 
Examples of Cybersecurity KPIs
As technology advances, the cybersecurity threat landscape is getting sophisticated by the day. This prompts security teams to update their KPIs as the metrics to be measured increase in number and complexity.  
When picking the best cybersecurity KPIs to use in your security protocols, always prioritize those that are quantifiable. That way, it's possible to track down the efforts and resources used and the outcomes achieved versus the expected results. Below are some of the basic and most relevant cybersecurity KPIs that can help guide your decision-making. 
Number of Reported Cyber Threats and Incidents
If you have invested in cybersecurity risk detection and mitigation, chances are, you will see a spike in reported incidents. This is mainly due to the increased awareness and better tools to capture formerly undetected threats. To gain real insights and value from this KPI, you should track the number of incidents over an extended period, say three or more months.  
The goal is to check if the incidents reported are increasing or reducing with increased vigilance and detection efforts. After getting these insights, you also want to do a thorough analysis and find the specific threats that are more prevalent than others. This allows you to channel more human and financial resources for proper mitigation. 
Cost per Incident
This metric among the cybersecurity KPIs indicates the overall cost of mitigating a vulnerability in cybersecurity risk management. However, the real cost of an incident is difficult to quantify. So the best approximation techniques are often ideal. For instance, the cost can be either as direct or indirect. Direct costs include the amounts paid to customers, fines, investigation costs, etc. Indirect costs include the money lost due to downtime, lost opportunity, reputational damage, negative press, etc.
The idea is that not all incidents have the same impact. This helps justify the need for more resources and mitigation for specific threats. It can also help highlight the economic significance of preventing attacks rather than resolving them. This would mean more emphasis on cybersecurity awareness and investments in modern threat protection tools and technologies. 
Time to Identify and Contain an Incident
The time it takes an organization to identify and solve a vulnerability tells a lot about the cybersecurity KPIs risk management and mitigation plan and the available resources. Lack of awareness often leads to poor identification of cyber threats, while limited resources create logistical issues that hinder rapid response to common cybersecurity threats. After measuring this metric, you want to ensure your cybersecurity team is constantly improving as the threat landscape evolves. Here are some of the key measures to implement:
Investing more in cybersecurity awareness and education.

Securing the necessary threat detection technologies.

Creating a rapid response team.

Keeping clear records of incidents.
Compliance with Industry Standards
If your company doesn't comply with current cybersecurity regulations, you could incur more risks and costs in case of a cyber-attack. However, this metric isn't as obvious as it seems. You need to score your compliance against every regulatory requirement and map the risks for every failed compliance. This will help your team prioritize and secure the critical systems rather than taking shortcuts to satisfy the regulatory requirements.
Take Action Today for Cybersecurity KPIs
Besides the KPIs identified above, the other common ones include company vs. peer performance, access management, patching cadence, intrusion attempts, vulnerability scans, etc. The list of cybersecurity risk management is endless, so you want to carefully select those that will yield valuable insights to aid with your cybersecurity strategies. 
When measuring your firm's cybersecurity KPIs, more is not always better. So, you should pick the most relevant metrics and do a good job collecting accurate data, analyzing, and coming up with actionable insights. That said, the best KPIs to choose will depend on your company's needs, industry regulations, best practices, and customer expectations.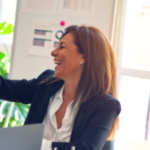 Valencina has more than 25 years of experience as an IT consultant with a great focus on enterprise application UI/UX. She has experience working across multiple industries, acting both in an advisory role, as well as hands on in the technical build of solutions. Valencina is the co-founder and COO of Nitera Training Services.
Tags:
cybersecurity KPIs framework
how to mitigate cybersecurity risks
how to use cybersecurity KPIs