Program Management is an important concept that refers to managing a number of projects as a group to improve organizational performance. A lot of people confuse the differences between project, program, and portfolio management because they sound quite similar. If you specialize in program management rather than project management, you can decide to get the Program Management Professional Certification (PgMP credential). Like other certification programs that are offered by PMI, it is a worldwide credential that validates your knowledge and professional capabilities in that area of expertise. If you are a senior-level manager responsible for managing multiple but related projects in a coordinated manner, you are aware of the benefits that could occur handling them as a group rather than managing separately.
Thankfully, PMI offers a comprehensive certification program for practitioners who are looking to build up a career as a program manager. In this article, we will discuss the PMI's globally recognized, highly valued PgMP certification in depth.
Program Management Professional (PgMP) Certification Overview
If you are planning to build up a career to manage multiple and related projects that include many activities with various resources, you can apply for PgMP. Unlike the PMP (Project Management Professional) Model, the PgMP includes five domains of practice to provide a clear and contemporary description of program management practice. Regardless of the size, industry, or location of the organization, the PgMP model provides a great structure for program management.
Five Domains of Program Management Professional (PgMP)
The Five domains which are included in the PgMP model are as follows;
Domain 1: Strategic Program Management
Domain 2: Program Life Cycle
Domain 3: Benefits Management
Domain 4: Stakeholder Management
Domain 5: Governance
Strategic Program Management includes activities to identify opportunities and benefits to achieve the organizational objectives by means of program implementation.
Program Life Cycle falls into five steps which are Initiating, Planning, Executing, Controlling, and Closing.
Benefits Management is related to describing, building, improving, and maintaining the benefits provided by programs.
Stakeholder Management includes dealing with stakeholders by focusing on their expectations to gain and maintain their support.
Governance includes establishing processes, procedures and defining policies to ensure maintaining proactive program management throughout the program life cycle.
Program Management Professional (PgMP) Certifying Process Overview
PgMP aspirants must pass two evaluations to get the PgMP credential. This process will take almost 4 weeks.
First Evaluation
The first evaluation is the "Panel Review" in which a panel of certified program managers will assess your professional experience based on your responses to the Program Management Experience Summaries provided on the application. If you don't pass the panel review, you can not go through the next evaluation which is a multiple-choice examination.
Second Evaluation
The Second Evaluation is a multiple-choice examination that includes 170 questions. 20 of the questions are pretest questions that will not be scored. 150 of them will be scored and the total duration of the exam is 4 hours.
In order to maintain your Program Management Professional Certification, you must earn at least 60 professional development units every three years.
Price of Program Management Professional (PgMP) Certification
Professionals who are deciding to get certified often ask the following question;
Does the Program Management Professional Credential really worth it?
If you bear in mind the advantages that the PgMP will provide you, most probably your answer will be "YES". According to the statistics, noncertified professionals often have fewer job opportunities than certified ones.
You should also think about the salary benefits. It is an important factor that motivates a professional.
The price of program management professional certification depends on your PMI membership status and the examination delivery type you will select. The exam fee is 800 USD for members. However, it is 1000 USD for non-members.
The table below illustrates the PgMP Certification Exam Fee.

Image: PgMP® Certification Handbook, Page 12.
Who Should Apply for the PgMP? (Program Management Professional Prerequisites)
At least a high school diploma or an associate degree is required to apply for the Program Management Professional Credential. The discipline of the diploma can be in any discipline.
With a Four-Year degree or higher
Project Management Experience: 6000 Hours
Program Management Experience: 6000 Hours
within the last fifteen years
With a Secondary Degree (High School Diploma or Global Equivalent)
Project Management Experience: 6000 Hours
Program Management Experience: 10500 Hours
within the last fifteen years.
How to Prepare for the Program Management Professional (PgMP) Exam?
As discussed above, in order to become a certified program manager, you should meet the eligibility and educational requirements. Thereafter, you will pass the panel review and multiple-choice exam. Regardless of how you are good at program management, you need to prepare seriously for the Program Management Professional Credential Exam.
When we talked with successful PgMP candidates, we determined that they used multiple study materials as well as joining study groups to pass the exam.
Let's have a look at the tips below which are gathered from the successful candidates.
Read the PGMP Handbook to understand the policies and procedures to obtain and maintain the PgMP Credential.
Read the PgMP Examination Content Outline to recognize the proportion of questions from each domain.
Test Yourself with sample questions.
Read the latest edition of "The Standard for Program Management" book. It is a principle-based resource that provides invaluable information to program managers.
Join in a formal study course offered by PMI Chapters.
Review self-study books and resources.
Read the PMBOK Guide.
Summary
As a certified program manager candidate, you need to be aware of that the PgMP Exam questions are not created according to any single text or reference. Or you should know that there is no specific course capable to provide all the information that you need to pass the exam. Because the PgMP is a competency-based certification that tests your knowledge and abilities in program management. Therefore, we recommend you to take advantage of using multiple study materials.
See Also
Further Reading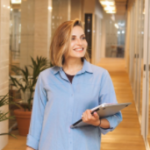 Lorena Denny is a passionate Transformation, Portfolio, Program & Project Management Consultant with a natural flair for breathing new life and energy into individuals, teams and projects, moving people to action and making change happen. She is the founder of Lorena Denny Consultancy.
Tags:
PGMP
PGMP Certification
Program Management Professional