Importance of Emotional Intelligence in Leadership and Project Management
Project managers are leaders of their projects who make crucial decisions that can lead to the project's success or failure. So, what are the core skills needed to become a good project manager? The answer to that questions can be a bit complex. For some people, abilities to organize project activities, meeting project milestones, completing the project on budget, the list goes on like that. As a career path, becoming a successful project manager requires a huge effort and hard-working and technical abilities as well as management and communication skills. One of the most important leadership traits in project management is the Emotional Intelligence EI (or Emotional Quotient). In this article, we will talk about the importance of emotional intelligence in leadership and guide you on how to improve your EI skills in the workplace.
Emotional Intelligence (Emotional Quotient) in Leadership
Emotional intelligence is the capability to recognize your own and other's feelings and use this emotional information to form your thinking and behavior. This concept was first introduced by Michael Beldoch in 1964. However, it became popular in 1995 with Daniel Goleman who published the book called " Emotional Intelligence". According to Goleman, Emotional Intelligence (or Emotional Quotient – EQ) that can be taught and cultivated, is as important as IQ for success.
Emotionally intelligent leaders promote safe and peaceful working environments, where team members feel free to make decisions related to a problem. This may uncover new ideas, opinions, and effective solutions. In safe and happy workplace environments, collaboration and productivity are at high levels. In addition, emotionally intelligent leaders deal with
Project managers deal with stakeholders, subcontractors, team members, and clients every day to manage the resources and complete the project successfully. So what makes Emotional Intelligence very important for project managers? It is important because it is directly related to success. According to Travis Bradberry (author of the best-selling book Emotional Intelligence 2.0), 58% of our success is related to our Emotional Intelligence. This means that project managers with high EI, are more successful than their counterparts with low EI. However, EI does not negate the need for you to have hard skills such as planning and organizational skills and the ability to track the performance.
Importance of Emotional Intelligence (Emotional Leadership or Emotional Quotient) in Project Management
Emotional Intelligence, which is the integration of soft and technical skills, is very important for project managers to organize their daily work.
Below are the advantages of Emotional Intelligence
Building good communication channels among team members
Improving cooperation while performing project tasks
Applying successful conflict management techniques in the workplace
Finding points of compromise within the stakeholders
Resolving disputes successfully
Managing various types of point of views and personal differences
Main Elements of EI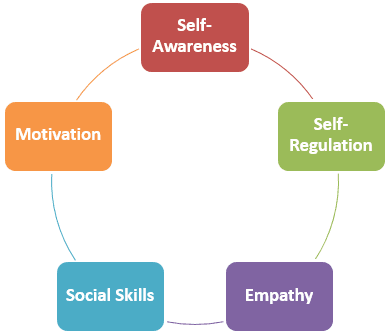 Emotional Intelligence in leadership has five main elements.
Self-Awareness
You need to know your own emotions, strengths, weaknesses to understand their effects on your decisions before you understand other people's feelings.
Self-Regulation
It is difficult for us to control our emotions all the time especially under high stress. Sometimes, it is possible for us to redirect our negative emotions into another direction or transform them into positive emotions. Self-regulation is to control or redirect negative emotions considering the changing circumstances.
Empathy
While making decisions, you need to recognize other people's feelings. By this means you will be able to respond to other people considering their expectations.
Social Skills
Having social skills is essential for any project manager to establish good communication channels among stakeholders. Because project management is all about communication and a project manager spends most of his time talking with people either internal or external to the organization. Social Skills are a must-have for a project manager to get along with others while performing project tasks.
Motivation
Motivation prompts people during the performance of the project. A highly motivated project team for economical or prestigious reasons will follow the project manager and do their bests to pull the project to success. Bonuses, wage increases, and senior titles stimulate the project team where high profitability stimulates the investors.
If you want to be a good project manager with high Emotional Intelligence, you need to possess all these skills. Because you need to recognize different types of stakeholder's expectations to manage their strengths and weaknesses. You need to motivate your project team as well as stakeholders and investors to influence them while performing the project tasks.
How to Improve Your Emotional Intelligence (Emotional Leadership or Emotional Quotient)?
It is possible for you to improve your emotional intelligence. There are numerous things that can help you to become more successful.
Observe the behaviors of successful people and try to evaluate their feelings based on if it is negative or positive. Then think about your actions for similar cases.
Be aware of your strengths and weakness. Try to understand your capabilities to improve them.
Improve your technical and management skills to support yourself while using your Emotional Intelligence in leadership.
Be aware of your words while talking with other people because words are your bridge to your future. Be silent if you don't have enough knowledge regarding the topic.
Check your relationships with team members and stakeholders and develop strategies based on their priority. Check your close relationships.
Don't hesitate to ask inquiring questions like "What are your outside interests" or Do you like fishing? Let people talk and learn about them.
Conclusion
Emotional intelligence (also known as Emotional Leadership or Emotional Quotient)  is an important concept for today's project managers. A lot of companies are looking for project managers with high technical competencies as well as soft skills. Emotional intelligence is very important in project management because it helps project managers to improve communication and collaboration in everyday work environments. Note that Emotional intelligence can be taught and cultivated. This means as a project manager, you can improve yourself by controlling your feelings and emotions and develop positive behaviors to influence people in the workplace. Once you have recognized your thoughts, you will make better decisions regarding other people's emotions, strengths, weaknesses.
See Also
Project Management Terms and Concepts
Further Reading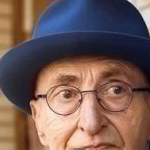 Irwin Michael Reston is an expert who has more than 30 years of experience in optimizing businesses, inspiring individuals and improving human resources departments. He established the BlueLight Consulting Limited to provide learning and training service worldwide.
Tags:
Emotional Intelligence
Emotional Intelligence in Project Management
Emotional leadership
Emotional Quotient