Risks & Disadvantages of Building Information Modeling BIM
In this article, we will talk about the implementation risks and disadvantages of BIM (building information modeling). Although project teams face various BIM implementation risks and challenges, the use of bim has been successful, in recent years and BIM becomes an essential too
l
for facilitating the process of design, implementation, and use. A large number of architects, contractors, and planning engineers are using BIM (Building Information Modeling) and their number are increasing every day. Global
project management trends
and client requirements are making construction projects more complex. BIM technology helps project teams to perform designing, building and operating processes more effectively and efficiently.
Along with the advancement of the Artificial Intelligence (AI), Internet of Things (IoT) and Robotics applications, the incorporation of these technologies with BIM (Building Information Modeling) is inevitable. The software developers have already initiated Artificial Intelligence (AI) applications in design which is called as "generative design". For instance, Autodesk Company has generative design products which are currently on the market. Additionally, applications of Augmented Reality (AR) and Image processing (IP) technologies with BIM (Building Information Modeling) have many promising opportunities in the construction industry. Moreover, with the development of BIM, Geographic Information System (GIS), and Smart City concepts, City Information Modelling (CIM) is expected to be one of the important topics in the field.
What are the Implementation Risks and Disadvantages of BIM Building Information Modeling?
Companies resist technological change on the basis of legal risks associated with standards of practice, concerns over intellectual property, financial risks associated with capital investments in hardware and software, and the investment needed to train and maintain technologically-skilled staff [2].
Both technical and nontechnical factors are important for the adoption of BIM (Building Information Modeling) in a company.
Below are the BIM implementation risks and challenges.
Project Delivery Method
The key factor in BIM  is the collaboration, cooperation of parties involved in the project which brings the successful accomplishment. A collaborative project delivery method such as the AIA Integrated Project Delivery (IPD) method or the DBIA Design-Build (DB) method aligns best with the collaborative intent of BIM [3].
While there are examples of Construction Manager-at-Risk (CM at-Risk) and Design-Bid-Build (DBB) projects using BIM, the contractual relationship between the owner, architect, and contractor act as constraints on the communication between parties in a way that may limit the open exchange of information.
Organizational Issues
The first step of the BIM (Building Information Modeling) implementation starts with the willingness to change and effective leadership which will overcome the problems through the process. And then, company organizational structure needs to be adjusted to support BIM (Building Information Modeling) implementation. One of the key components of the organizational alignment is to have an IT infrastructure such as BIM along with business strategies through the business redesign and restructure process [4].
Additionally, technologically skilled staff is needed. However, experienced older staff may resist changes. In large-scale firms, human-related factors gain utmost importance.
Costs
The adoption of BIM (Building Information Modeling) is a costly process. First of all, the initial investment is needed to buy BIM featured software. After that, the training of the staff is required for the new software and new work strategy. In the early phase, consultancy service might be required for the BIM implementation.
Finally, hiring qualified and technically skilled employers are needed. For a small scale company, BIM  adoption might not be possible due to the unavailability of financial resources.
Interoperability
Interoperability has been defined as the ability to exchange data between applications, which smoothes workflows and sometimes facilitates their automation (Eastman et al., 2011). Each project team uses different kinds of software due to specific needs and purposes. During the exchange of the information, some information is lost due to data exchange formats. This issue may adversely affect the data exchange. Lack of interoperability and inaccuracies may cause disagreements and legal disputes.
Legal Issues
Legal issues is one of the biggest challenge of BIM. A significant challenge with BIM (Building Information Modeling) is the definition of responsibilities and the allocation of risks in the contract. BIM implementation centralizes information that is "broadly accessible," depends on constant updating, and subjects designers to increased liability [5].
One of the biggest concerns that contractors and owners have about using BIM is the fear that the legal framework is too unsettled [6].
Conclusion
BIM (Building Information Modeling) is an intelligent model-based process that connects architects, clients, contractors and project teams so they can more efficiently design, build and operate their projects.
Although BIM offers many advantages over the lifecycle of the project, due to existing technical, legal, and organizational issues, BIM is mainly used for collaboration, clash detection, visualization, construction sequencing and automated material quantity takeoff purposes among industry players. Many legal, organizational and technical issues still need to be addressed.
The successful adoption and implementation of BIM highly depend on the human factors rather than the technical issues, the first step for successful BIM implementation starts with the willingness to change the current workflow.
References
[1] Romuald Szeląg, "The use of BIM technology in the process of analyzing the increased effort of structural elements"
[2] Allen, R. K., Becerik, B., Pollalis, S. N., and Schwegler, B. R. (2005). "Promise and Barriers to Technology-Enabled and Open Project Team Collaboration." 
[3] McCuen, T. (2015). "BIM and Cost Estimating: A Change in the Process for Determining Project Costs"
[4] Ahn, Y. H., Kwak, Y. H. and Suk, S. J. (2016). "Contractors' Transformation Strategies for Adopting Building Information Modeling"
[5] Ashcraft, H. W. (2008). "Building information modeling: A framework for collaboration."
[6] Lowe, R. H., and Muncey, J. M. (2009). "ConsensusDOCS 301 BIM addendum."
See Also
Building Information Modeling Technology
Benefits of Building Information Modeling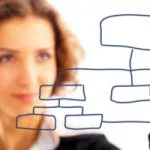 A dedicated Career Coach, Agile Trainer and certified Senior Portfolio and Project Management Professional and writer holding a bachelor's degree in Structural Engineering and over 20 years of professional experience in Professional Development / Career Coaching, Portfolio/Program/Project Management, Construction Management, and Business Development. She is the Content Manager of ProjectCubicle.
Tags:
BIM
BIM Building Information Modeling
BIM Technology
Building Information Modeling