What Are The Advantages Of Sales Funnel Marketing Strategy
Have you ever heard of a sales funnel marketing strategy? Is there a sales funnel in place for your business currently? Is the sales process geared toward the customer's needs? These are just some of the questions you need to have answers to if you want your business to start blooming. A salesperson's ability to convert leads into customers is facilitated by a system known as the sales funnel. Among sales' most pressing concerns is optimizing the effectiveness of the sales pipeline. After all, a well-designed sales funnel can shed light on the considerations, obstacles, and final choices faced by potential customers.
Nevertheless, 65% of businesses have not even attempted to identify or analyze their sales funnel. Companies run the danger of losing clients if they don't have a clearly defined and managed funnel in place, as it becomes increasingly difficult to convert leads into sales and boost revenue.
Since digital marketing has taken over the world, you need something to fuel its progress. And what is that something? You guessed it right – a sales funnel! Make sure to check out this link for more.
Below we're going to explain some of the advantages of implementing this strategic model to your business:
Optimizing marketing
Well, don't sweat it because a sales funnel is useful because it keeps you focused on the activities that will most likely bring in prospects and ultimately close deals. Just increasing the efficiency of your marketing is the main goal we want you to focus on. You can hire the experts of this digital marketing agency to help you do so.
Attracting new leads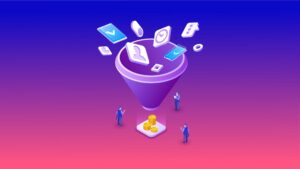 When your sales funnel marketing strategy has compelling content, it will effortlessly attract new leads. This begs the obvious follow-up question of "What constitutes a compelling content?"
That's a loaded question that requires specifics about your company, your sector, and the kind of leads you're hoping to generate.
You should consider your area of expertise and the issues that you routinely resolve for your clientele. The material you provide should be of use to your intended audience by providing a solution to a problem or question they may have. This could take the form of an online quiz, eBook, etc.
The trick is to get at least one email address from each person while providing the stuff they seek. This puts the leads in your sales funnel, where you can give them your undivided attention and gradually grow your relationship with them.
Optimizing sales funnel marketing strategy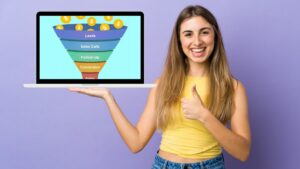 Do you ever feel like there are just too many marketing activities you could be focusing on? how to know which marketing strategies will be the more effective for your business though?
Well, don't sweat it because a sales funnel is useful because it keeps you focused on the activities that will most likely bring in prospects and ultimately close deals. Just increasing the efficiency of your marketing is the main goal we want you to focus on.
Placing attention on the right leads
Although not all leads can be converted into paying clients, a well-thought-out sales funnel may help you zero in on the best prospects.
This allows you to focus on the sales leads who are more likely to become customers, rather than wasting time and energy on those that will never spend a dollar on your products.
One strategy for doing so is to contact potential new customers through phone or email to ask them some questions that will prevent them from hanging up the phone right away. If you take the time to get to know your potential customers, you can tell which among them is truly interested in purchasing your goods or services.
Increasing brand recognition and understanding
You may strengthen your brand's story and visibility in more places outside social media and business-to-business marketing. The inclusion of a compelling brand story within your marketing for the sales funnel can help your company get the recognition it deserves.
New customers will be attracted to your business if your brand speaks to them in ways other brands don't. Increasing recognition of your company and the products you sell is possible by demonstrating their amazing quality to customers.
As clients feel more comfortable with you and what you have to offer, they are more likely to make additional purchases. The ability to tell a compelling story is essential for encouraging customers to take action. A sales funnel directs potential customers through a series of steps that ultimately lead to a conversion.
A personal approach
It's important to remember that not every potential customer is ready to buy your products right this second. This is a good thing because spending money on rash decisions can make people end up regretting what they've bought in the first place. Therefore, some customers need additional time to gather facts and consider your offer before making a final decision.
By mapping out the customer's experience and gathering their feedback, you can respond to their needs much more efficiently. Sounds amazing, doesn't it? The percentage of leads that convert into customers can be estimated with the help of a comprehensive insights history.
By establishing a productive Clickfunnels strategy, you can expand your company's reach. Top of the funnel is where things get going. So, our advice to you is to start working on your sales funnel asap if you want to notice a change in your customer's behavior.
Save money
You will also be able to save a couple of bucks on marketing thanks to the effectiveness of a well-designed sales funnel. This is due to the fact that it can automate the procedure for attracting new consumers, which can ultimately result in improved conversion rates and increased income.
Improved customer retention
Do you want customers to stay on your website for as long as possible? Of course, you do. If you have a strong sales funnel, your customers will stick around for longer, which will result in increased revenue from those customers over time. You want to get that bread for good? Then, you should definitely implement a sales funnel strategy for your business.
Conclusion on benefits of sales funnel marketing strategy
If you want your customers to be over the moon in love with your products and services, you need to give them the best possible customer experience. Having an amazing sales funnel marketing strategy can help with that immensely. So, good luck!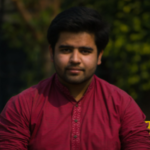 Adhar Dhaval is experienced portfolio, program and project leader with demonstrated leadership in all phases of sales and service delivery of diverse technology solutions. He is a speaker sharing advice and industry perspective on emerging best practices in project leadership, program management, leadership and strategy. He is working for the Chair Leadership Co.
Tags:
sales funnel marketing
sales funnel marketing strategy
sales funnel vs marketing funnel