Other Than The Name, What's So Important About Brand Strategy?
What is it that comes to your mind when you hear the words "Just do it" or "A Diamonds Is Forever?" You remembered the brands Nike and De Beers right?  We remembered the taglines of these famous brands.  That is the power of an effective brand strategy.  The majority of all successful businesses have one thing in common, branding. Just like how an architect draws a plan before building, companies develop a brand strategy for the brand's reach to be effective. 
A strategy differentiates your business from other companies and leaves a memorable impression on the customers. One example of brand strategy is brand naming and logos.
What Exactly Is Branding?
Brand Strategy is a company's foundational pillar. It is a presentation of unified brand ideas where the long-term plan is to attain a loyal customer base.  It is responsible for the identification of a business, employees market it, but it is not a product. Brand strategy has elements that need to be considered to develop successful branding.
Key Elements To A Successful Brand Strategy
First, understanding why you are in a business is crucial to knowing what is the purpose of what you do. Once you figured out the purpose it will be easy to attract customers, make sales and grow faster. Finding your purpose is probably the most pivotal first step you should undertake when building your brand.
After learning the purpose, it won't be hard to know your vision of where you want to go. It is a long-term plan that makes sure you are heading the right way, and to know where you envison your brand in a few years. It may sound tediousat first but take it as a motivation and challenge for the team. Make sure that your goal is inspiring and convinces people that it is achievable. Defining your vision helps you to dream bigger and influence others too.
The third element is the value you represent.  Create a value that you will be rememberd for.  With values, you can determine how your business will be recognized in the market. This serves as a guide for communication and decision-making. The values you hold show the customer what your business is like.
Learn How To Target Customers
The fourth element is how you will appeal to the emotions of the audience. It is an important part where you need to understand what concerns your future customers will have and quickly come up with solutions to them. Before you understand your audiences, you should define them first, and build a profile of them. Uncover their goals to know what product they need the most. Give them the belongingness they search for and they will come to you willingly.
Browse through the marketplace to learn how your product or services is unique from your competitors. Markets are expanding at a rate much quicker than we can actually keep up.  Hence it is important that you have a strong market research that would guide the decisons of your business. Doing it will bestow upon you the advantage of knowing your strengths and weaknesses. Look for areas that will set you apart from your competitors.
What Is Brand Naming?
Brand naming is a toughest proposition in brand strategy. A startup , a new product, or even an already-established company goes through the process of choosing the apt brand name and have had their share of apprehension . Good thing is that if you follow the process correctly, brand naming can get easier.
Brand naming is the process a process where you idenfity a name for your company, and understand how well it resonates with the services/products you offer. The process of brand naming includes research, evaluation of the trademark, and product to make sure that it is available and legal.
What Builds A Quality Brand Name?
Coming up with a unique and a catchy name for your business or product is what will set you apart from other contenders.
There are many criteria that make a good and effective brand name. An effective brand name should incorporate brand personality, steer clear of stigmatized and negative concepts, have an accessible trademark and URL, and most importantly should be easy to recall for the customer. Apart from the criteria, there are othercharacteristics that should be adhered to like:
Depth in the Name

– usually a good brand name has a deep meaning behind it like a brand story.

Distinctiveness

– it is a must that you have a unique brand name that is competitive and will be in for the long term.

The Energy and Sound of the Name

– Effective and successful brand names usually stay in the mind of the audience. It should be recalled by the customer with a pleasant vibrancy.
Thinking of a brand name is never easy. There are a lot of restrictions to creativity but there will be no shortage if you take a comprehensive approachname.  Just remember to follow the criteria and follow what you think will suit the business best.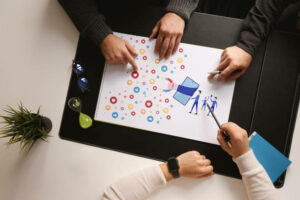 Important Parts In Brand Strategy Other Than Brand Name
If you think that visual elements are the only criteria and guide to having a good brand name, well there is more. There are many things that you should follow and consider about brand strategy and here are some vital parts of building good branding.
Creating Brand Design
Brand design is a process where you compose the identity of the brand and it is the signature or trademark that will capture the attention of the audience immediately. Branding encompasses brand logos, sketches, colors, and many more that are related to the visual representation of the brand. 
It is important that the brand design is executed perfectly. But before any of the designs can be produced, you have to determine the components of an excellent brand design such as the logo, shapes, colors, texture and patterns, layout, and more.
The visual identity of the brand is the top of the mind recall for the audience. From colors and shapes to the layout and logo, these components are what make an unique brand design.
Develop a Brand Personality
As the name suggests, it is human characteristics that are credited to the brand. When an effective brand has consistent traits that a particular buyer enjoys, the brand equity increases.
The function of brand personality is to help a company mold how the audience and consumers will feel about the product and service. The brand personality draws out the emotional response of a customer.
There are five types of personalities a brand can have:
Competency – Influential and successful, this personality is usually accentuated by leadership.

Sophistication – Elegant and respected but sometimes pretentious.

Excitement – A youthful, carefree, and spirited personality.

Strength- Rough and tough personality that is amplified by athletics.

Genuinity – A kind and thoughtful personality that is mass oriented.
Even in the digital era where AI has become a force to reckon with, brand personalities are still important. Many customers and audiences still prefer direct customer service and the vibes your brand personality makes the end customer feel, determines your success story in the long run.
Why Brand Strategy is Important?
It is given that managing a brand is hard.  It is even harder when the market has a lot of competitors and when the brands all look similar. Highlighting one crucial step can make you different from the other and can give you an advantage in the market. With strategic branding, it gives you the chance to make it adaptable to possible changes and develop them to stand lucid and clear from others.
Below is the list of benefits a brand strategy can give you:
Brand Strategy Connects Company Value Propositions
Value Proposition: Value proposition is more than just unique selling points. It is a bundle of benefits a  customer can get when buying a specific service or product from a company or industry. An advanced brand strategy basically relays bundles of benefits across multiple touchpoints, alluring new customers and creating brand loyalty.
It Separates You From Other Competitors
The brand strategy allows buyers to differentiate you from competitors. For example, when looking for running shoes Nike is the first shop that comes to the mind of the majority, and then Adidas. Nike is known for its trademark slogan "Just Do It.' while Adidas is known for the three stripes. See how trademarks affect people's impressions of a company by just seeing its branding. Branding makes it easy for buyers to evaluate shops and companies with each other. 
Brand Strategy Helps with Company Value
Once a company has gained the trust of the buyers and has repeated customers, the company's value and worth will greatly increase. It can be influential too.  Customers will view your collaboration with other companies and products as being trustworthy.  This would promote word of mouth adverts for your company and steer you up on the path to success.
Conclusion
There are a lot of things in strategizing a brand that you need to closely pay attention to. This article has attempted to draw your attention to the key elements and some of the guidelines that can help you in promoting your brand.
Brand strategy also helps with your company's visuals, personality, your core values, customer experience, and much more. It just shows how important brand strategy is to a company.
We might not get all factors precisely in one go and that is the reason why professional help is much valued.  A branding professional helps us understand  the nuances of marketing and how the right choices help us acheive great results.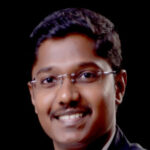 Dan has hands-on experience in writing on cybersecurity and digital marketing since 2007. He has been building teams and coaching others to foster innovation and solve real-time problems. Dan also enjoys photography and traveling.
Tags:
how to create brand strategy
what brand strategy agencies do
what is brand strategy