Top 8 Tips To Boost Website Navigation
What experience do you want your users to have on your website? Do you want them to be interested and enjoy your page? Or do you want them to be frustrated and leave your page immediately? This will all depend on your website navigation. The more engaging and accessible your navigation is, the more time users will spend on your website. So, make sure that your website navigation isn't something like a complex map overloaded with confusing routes, without a frame of reference. It's important to implement navigation elements and navigation bar correctly while using an organization system such as a silo structure.
You can quickly boost your website navigation by using a silo structure, which is a system of organizing your website's design on web pages that group related content to a certain topic within your website's sitemap. Such pages are often set up in a hierarchy, breaking down categories into subcategories for more specific information and content.
However, having good website navigation is typically easier said than done. You may find yourself overwhelmed with ideas and design, not knowing what to do first. And for that, here are some of our tips to get you started:
1. Streamline Website Navigation Bar
The navigation bar is the platform where you arrange the list of links that direct your visitors around your page, much like a menu. Make sure to design your navigation bar based on the customer's point of view. Make the title links brief and make sure it leads your audience to the right page. May it be with a simple or eye-catching colour scheme and font, it's wise to design your navigation bar based on what your target audience is looking for.
2. Divide Subcategories And Categories Clearly
Avoid complicated menu structures with categories and subcategories, organize your content by setting general head-topics to them and placing relevant sub-topics under them. You can use a silo structure to organize all the content. You can also use design elements like contrasts and colours to differentiate your categories and subcategories. Handy icons that show the categories also enhance usability.
3. Add a Mega Footer
Navigation fatigue is a real thing. Once your website has a complicated hierarchy, users can get tired of expanding one sub-menu after another. The best solution to avoid this is the use of a website footer like mega footers.
A mega footer provides navigation links to all the essential pages on your website, so people can easily jump to what they're searching for. They contain all the important information about your website, like your contact details, licensing, sitemap, and more. When designed properly, using a mega footer on your website navigation can impact your website's overall conversion rate and bounce rate.
Mega footers can also be an excellent place to incorporate essential keywords to boost your search engine result page (SERP) ranking. For instance, if you're trying to rank in various specific locations, including them in your mega footer can help with your local search engine optimization (SEO) without the need to list them in your main menu.
4. Use Accurate Website Navigation Titles
Visitors must have an idea of what they will find on a page even before clicking navigational links. This is most important, whether it's an internal text link or the main navigation link.
Using accurate text to describe the linked pages can make a difference in letting your audience know what they will get. Misleading or cryptic navigation elements such as text annoy and confuse visitors, making them leave websites and look for better ones. So, ensure that every link verbiage, whether in an image or textual, accurately portrays your website's corresponding pages.
5. Fix Broken Links
Another tip to boost your website navigation is to fix broken internal links. Keep in mind that an internal link helps provide a linkable structure for the website, which saves effort and time in browsing various pages and sections of your website.
If your internal links are broken, they might direct users to unavailable web pages, increasing the chances of website abandonment. To avoid this, replace your broken links with 404 pages that provide links to related pages. This will increase visitor session duration and boost user experience in your website.
6. Keep It Consistent
Your website navigation should be consistent on both where and how it appears on your site. Keeping it consistent doesn't only promote ease of use, but also helps increase your audience's ability to find relevant information quickly.
If your website navigation design constantly changes from one page to another, your target audience might find it hard to navigate through your website. So, make sure to position navigation in the same location on all pages of your website. The same order of components should be kept within navigational menus. Keep the design and format consistent in your website.
7. Try Using Breadcrumbs
One of the ways to make your complex website navigation easy to use is by implementing breadcrumbs. Breadcrumbs are clickable strings of links, typically horizontal ones. They either reflect your website's hierarchy or repeat the path users have walked. These navigation elements can significantly boost your website's user experience by helping your audience find their way through your website.
Conclusion
Every website is different, each requires an individual approach in terms of navigation. If you want your viewers to engage with your services, products, priorities, or industry, design your website navigation properly and in a way that would interest them.  Make sure to use a silo structure and implement navigation elements correctly by following the above tips to provide better website navigation to all of your visitors.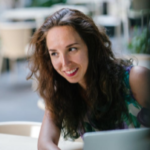 Magdalena Polka is a Business Solution Designer and an Information Technology / Project Management consultant and author with over 15 years of software development, management and project management experience.
Tags:
navigation elements
website design
website navigation