Marketing Associate Resume Creation: Best Tips
You're the marketing wizard with skills and experience in different fields, including social media management, email campaigns, and writing error-free and unique content for newsletters, white papers, and web pages. Right? But is this enough to attract potential employers and get a job as a marketing associate? Unfortunately, no. The reason is that there is a pool of talent in the market industry. To get a job, you need to stand out from the crowd. The best way to take your first step towards the job is by creating an eye-catchy and effective marketing associate resume. Check out our marketing associate resume writing tips below.
Whether you're just a fledgling marketing associate looking to begin their career or you've years of experience, creating a resume can be hard and intimidating. Highlighting your skills and capabilities so that it attracts employers is no easy feat. Thankfully, we've compiled a list of marketing associate resume writing tips to help you in the task. Continue reading!
●  Start With The Best Template of Marketing Associate Resume
First things first – you need to start with how your resume will look at the end. The choice of font, style, structure, and layout is a vital step to starting your resume-building journey. While selecting the font, be sure you bold the important sections to make them impactful.
Choose the font like Times New Roman, Arial, Verdana, etc. and keep the font size between 10 to 12. While writing about the work experience or achievements, follow a set order.
For instance, start the section with a quick liner about where you've worked in the past, how you've gained the skills, etc. Don't miss including some action verbs to describe your various basic and advanced marketing skills.
● Prepare An Impactful Resume Summary
Once you've finalised the template, it's time to proceed to the summary part. This is your time when you can attract potential employers and help them to know how you're different from others. Let your accomplishments and skills shine in summary. Try to include all the skills you've gained in the past. This will help you to ensure that the employer understands your actual worth.
● Write Down The Work Experience
Unarguably, the largest and most important section of your marketing associate resume is the work experience section. This section should include all the details from past to present. To make it better, you can add the job responsibilities you've handled, the complications you faced, and how well you've managed them.
Even though this portion is the largest, avoid including the fluff as it can make the hiring company feel boring. Try and communicate your skills in an attractive way and let the hiring company know how you're worth the job position. Talk about how you've benefited the previous company and include a line about the changes as well.
●  List Your Education Section
The educational section is optional, but adding one to your resume can make the resume look more effective and professional. When you give detailed information about your educational background, it helps the recruiter to analyse if you're the right choice for their company. Follow a chronological approach while writing up the education section. Try to include bullet points or short paragraphs with correct information regarding your educational background.
If you have a bachelor's degree, include all the information about it, such as university name, attending years and school address. If you've completed any courses that are directly or indirectly related to the job of marketing associate, feel free to add them up. These things will make your resume stronger and more efficient. Note – In case you don't have a bachelor's degree, including the information regarding your high school.
●  Cover Letters for Marketing Associate Resume
The significance of cover letters shifts according to the sector of the economy or the organization to which you are submitting your application. The majority of employers that request that you create a cover letter will look at it, but your resume will get the majority of their attention.
Keeping this information in mind, the best course of action is to write a cover letter just in case. You also do not have to start from scratch to make one for each of the roles. You may use this as the foundation of your cover letter, but there is still plenty of opportunity for you to personalize it.
●  Focus More On Skills & Certifications
Finish up your marketing associate resume writing with your skills and some certifications. Include a few yet main skills that the recruiter would be searching for in the candidates. Some of the main skills in the marketing industry include content marketing, SEO/SEM campaigns, Google Adwords, Google Analytics, WordPress, market analysis, and much more.
To make the section look clear and to the point, try to include the skills in points. This will help the reader to walk through the resume quickly, improving the chances of recruitment.
In today's highly competitive era, it's pretty hard to stand ahead of the curve and outrank your rivals. One of the best ways to make your resume look effective is by adding a certification section. They act as proof of your knowledge and as an assortment to the recruiter.
Wrap Up! Create A Marketing Associate Resume
Keep your resume simple, easy to read, and engaging. These are our top marketing associate resume writing tips.  Be sure you know how to balance between writing down the fluff and missing out on the important details while writing a marketing associate resume. Remember, each industry, including the marketing industry, has its own keywords (probably the skills required in a candidate). Add the keywords in your resume writing to attract the recruiters and hiring managers.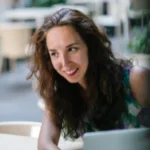 Magdalena Polka is a Business Solution Designer and an Information Technology / Project Management consultant and author with over 15 years of software development, management and project management experience.
Tags:
marketing associate resume sample
marketing associate resume writing
marketing assoicate resume writing
online maketing associate resume sample