Master Schedule vs Milestone Schedule
In this article, we will analyze the following concept: Master Schedule vs Milestone Schedule. Project teams create work schedules in order to understand what work will be completed in which period. For that purpose, they create various types of schedules that serve different purposes. Project schedule, baseline schedule, master schedule, milestone schedule, integrated master schedule, and work schedule are widely used concepts in the field of time management.
It is obvious that a project cannot be performed without a proper work schedule in place. Because scheduling establishes a system to manage the activities, resources, deliverables, milestones, and project goals in a timeline.
In project management, master schedule, project schedule, and milestone schedule are three different types of schedules used for coordinating and tracking various components of a project. Although each type of schedule plays an important role in completing a project on time and on budget, they are related to different documents.
In this article, we will discuss important time management concepts and their key differences.
For better understanding, let's take a glance at the definitions.
Master Schedule, Milestone Schedule, Project Schedule
Before starting, let's discuss the basic terms used in time management.
Milestone

According to the PMBOK Guide, a milestone is "a significant event in the project usually completion of a major deliverable."
Milestones have a fixed date but no duration.
Below are some examples of milestones in a project
Project Start and End
Start and Completion of each phase and/or discipline
Kick of Meeting
Site Handover
Sign of Contract
Milestones often highlight important tasks or events for a project.
Schedule
A schedule represents the planned dates for performing activities and for meeting the deliverables. A schedule is a communication tool that is used to discuss what work needs to be done and when it should be done. They are typically created at the beginning of a project and updated and reported on a regular basis.
Project Scheduling Steps
Before discussing the differences between the master schedule and milestone schedule, let's take a look at the project scheduling steps.
An executable schedule should be created by following the project scheduling steps given below;
Creating and developing the Work Breakdown Structure (WBS)
Writing a SOW (Scope of Work)
Defining work packages and major project deliverables
Creating the tasks list
Assigning relationships to the tasks
Determining and assigning resources
Analyzing the critical path of the project
Development of the work breakdown structure (WBS) is one of the most important steps in scheduling. Because it creates a framework for a proper schedule.
Work packages are represented as the lowest level of detail within the WBS and the activities are grouped and listed under the work packages.
Activities are actions that have a specific start date, end date, and duration. Relationships are the logical ties between the activities. They determine which activity will start or finish first in what type of logic.
Resources are materials, labor, and machinery required to perform the activities. Once they are estimated, they are assigned to the activities.
The last step is analyzing the schedule if it is realistic or not. You analyze and control the critical path of the schedule.
Integrated Master Schedule
An Integrated Master Schedule is a comprehensive schedule that integrates all the sub-schedules of a program. It can also include key milestones of the sub-projects. Having an Integrated Master Schedule provides many benefits to the organizations such as providing a common language among the project team, stakeholders, and the vendors. It includes project data to be used for the EVM (Earned Value Management).
Similar to the other schedules, The Integrated Master Schedule (IMS) is a communication tool that can be used for performance measurement reports. Stakeholders at all levels can have the benefit of viewing the information that the IMS provides.
The integrated master schedule is a program management tool that is often derived from the WBS (Work Breakdown Structure) of the sub-schedules. You can track the performance of sub-schedules at the WBS level in IMS.
Milestone Schedule
A Milestone Schedule is a summary level schedule, which identifies the major project milestones.
Milestone planning focuses on milestones instead of activities. Major deliverables, significant events, contractual obligations, and the company's strategic goals are demonstrated in milestone schedules.
Milestone schedules are one of the most important schedules that must be maintained and referred through the project life cycle. Simply put, a milestone schedule is a summary level schedule that helps the project team to review and track all the major project milestones that may exist during the execution of the project.
Master Schedule & Why is a Master Schedule Important?
A project manager's primary responsibility is to complete the project on time and within budget along with meeting the client's requirements. Therefore scheduling the activities and resources efficiently plays a key role in any project's success. The project master schedule is one of the most effective tools that help the project manager to perform his business.
Master Schedule is a summary-level project schedule that includes the major project deliverables, work breakdown structure components, and key project milestones.
A project master schedule is an early communication tool among stakeholders which shows the major deliverables, key milestones, and summary of work breakdown structure activities.
Simply put, a master schedule is prepared for tracking the project at a summary level.
Project Schedule
A Project Schedule represents the planned dates for performing activities and the planned dates for meeting milestones.
The project schedule details what work needs to be done and which resources must be assigned in order to perform the tasks in a given time period. Engineering, Procurement, and Execution parts are detailed in Project Schedules.
The project schedule should be updated regularly in order to monitor the project's performance.
Master Schedule vs Milestone Schedule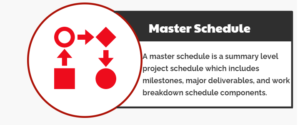 The detail level of a milestone schedule is lower than the detail level of a master schedule.
A milestone schedule includes major project milestones. On the other hand, a master schedule is a summary-level project schedule that includes milestones, major deliverables, and work breakdown schedule components.
Summary
In order to keep track of all of the different components of a project, project teams create a number of schedules in different detail levels. Milestone Schedules and Master Schedules are summary-level schedules prepared for early communication among stakeholders. These schedules are used to demonstrate the main strategy of the project. On the other hand, a project schedule is a detailed schedule that is prepared to show the detailed tasks required to complete the project and updated regularly to monitor the project's performance.
In this article, we discuss the concept; master schedule vs milestone schedule. We hope that it will be useful for professionals and team members working in the field of time management.
Are you using work schedules in your project? Which software are you using while developing a schedule? You can share your ideas and experiences through the comments box below.
See Also
Work Breakdown Structure Example
External Reference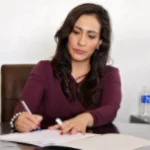 Lorelei Anrei is a PMP, & ITIL certified Project Controls Manager. Ms. Anrei has worked in IT Industry for over 15 years. As a guest speaker, Anrei has shared presentations on Efficient and Effective Meetings. She is sales and marketing manager at LB Training Solutions.
Tags:
Master Schedule
Milesone Schedule
Milestone
PMBOK
Project Schedule
Schedule
WBS
work breakdown structure