A Detailed Guide: How to Display Clear Report in 3 Minutes Video with Animation Online
Putting a report together is challenging, especially if you have lots of figures, charts, and infographics to show. In addition to the stress of putting the report document together, presenting it is another thing entirely. If you are not careful, you can bore your audience to tears with plain text and infographics. So, what if you can show your report in a dynamic three minutes video with an online animation maker? Yes, it is possible, and this post will show you how to use animation video maker. Let's get right into the details of online animation maker!
Doratoon: The Best Animation Video Maker for Report Presentation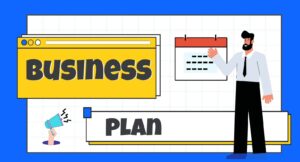 The first step in creating a dynamic and engaging video report is to choose the right animation video maker online. We have tried a couple of top animation makers, and the best option so far is Doratoon.
Doratoon is a feature-rich software tool offering everything you need to create a stunning video report. It takes the stress of searching for resources off you by providing impressive features to make your video.
With millions of royalty-free animations, templates, stock footage, props, and backgrounds, you have all you need in a single tool. You do not need animation skills or experience to create your report video.
This free animated video maker offers an intuitive drag-and-drop editing tool to customize templates. From charts to infographics and images, you will find everything in Doratoon's library.
How to Use Doratoon to Display Reports in 3 Minutes Video
First, let us establish that you can use Doratoon in your business for free. You can use this tool to create video reports, video presentations, marketing videos, and more. It takes a few steps to make your video on the Doratoon platform. Here are the steps:
Step 1: Sign up for a free Doratoon account on the official website to start using online animation maker.
Step 2: Select a premade animated video based on your business category. You will find numerous categories featuring loads of templates you can explore. Select the best option that suits your report concept.
Step 3: Customize the template using the drag-and-drop editing tool on the platform. You can use millions of digital assets of images, icons, diagrams, charts, and text to convey your messages. You can also import personal assets to your chosen template to complete your project.
Step 4: Preview the video, and if you are fine with the final work, you can download it to your computer.
Unique Features of Doratoon
Why do we recommend this cartoon video maker? It is primarily because of its functionality and features. It has a super-friendly user interface and an intuitive editing tool. Its features are also powerful and can make creating animated videos a breeze. Some of these features are:
100M+ stock images and video clips
10000+ 2D and 3D background images and templates
10000+ stock props
1000+ animated characters with facial expressions and action
PowerPoint-to-Video Conversion
AI Drawing and AI Dubbing
Tips to Create Online Animation Report via Online Animation Maker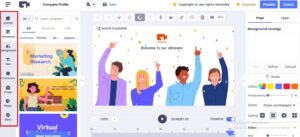 Creating report videos may seem like a daunting task. Traditionally, you only present reports on static images and text. However, you can spice things up now and remove the boring effect report presentations can have on your audience.
With an animated video report, you can generate engagement during your presentation and make your report more understandable. Let us look at five tips that can significantly help with your creation.
Tip #1: Choose the Right Video Style
Each video type has its style. An animated report via Online Animation Maker will use many animated graphics, icons, charts, text, whiteboard drawings, and more.
It requires extra care compared to a regular video design. Therefore, we recommend you decide upfront on the video style. Having appropriate visuals in mind will guide you on the best choice.
Tip #2: Outline your Presentation Plan in a Video Script
While you may have your charts and graphs with the text already, you should plan how to arrange the presentation and build it into a script. To create an engaging report, you must have a mental picture of how everything will run.
You should also determine if you would talk your audience through the report or use a voiceover to drive the storyline and explain what your viewers are seeing.
Tip #3: Record the Audio Narration or Use a Voice Character to Read the Text
An option for adding audio to your report presentation is to do a voiceover record where you record your voice while explaining the report. Another option is to use a voice character to do the job for you. We recommend the latter because it eliminates any error in rendition. All you have to do is think through and create a stellar voiceover script. Then, you can select a voice character from the voice character on Doratoon to read the script.
There are different voices you can explore covering different parameters, such as gender, age, and ethnicity. After rendering the voiceover, you can adjust the tempo and fine-tune the voice to suit your needs.
Tip #4: Have all Graphics and other Assets at Handy
As mentioned, Doratoon online animation maker has tons of digital assets to use. So you do not get overwhelmed with options available, we recommend you decide upfront the kind of elements you want to have in your report. This helps you to streamline your search.
Browse through the list and select items you will use and keep them. If you are importing items, select them and put everything in a file. This will give easy access and prevent you from searching through your computer all day looking for assets.
Tip #5: Add Music
In addition to the voiceover, we recommend you have an ambiance sound to dictate the mood of your presentation.
Music adds more engagement and entertainment to your presentation and removes the edge of boredom any member of your audience may have. However, do not overdo it. Mild background music is all you need and not something intrusive.
Display Clear Report in 3-Minutes Video with Doratoon online animation maker
You can remove the boredom in your report presentation by converting the plain-looking report into a dynamic 3-minute video.
Doratoon has everything you need to transform your report presentation into something unique and engaging. Choose this cartoon maker to create a stunning report or whiteboard video that will delight your audience.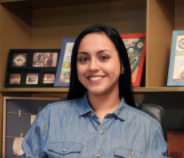 Vice President, İntelligent Design & Consultancy Ltd
Over 12 years of global & rich experience in Portfolio & Program Delivery Management in leading & managing IT Governance, PMO, IT Portfolio/Program, IT Products, IT service delivery management, Budget Management, and more.
Tags:
animation video report maker
how to make animation report
how to make animation video online