8 Must-Have Office Supplies for Bloggers
For dedicated creators, blogging can be a lucrative side hustle or full-time career. When establishing your blog, you can make up to $2,500 a month; however, as your blog grows and you gain a following, you can make as much as $15,000 monthly. Whether starting a blog or looking to scale your current blogging hobby, you'll need the right office supplies to keep you organized and on-task. For example, a helpful weekly calendar helps you maintain a consistent posting schedule. A laser printer with professional quality Brother toner allows you to print labels, eBooks, research and other behind-the-scenes documents needed to run your blog. What are the best office supplies for bloggers?
Invest in the following must-have office supplies for bloggers to help you grow your blog and stay organized.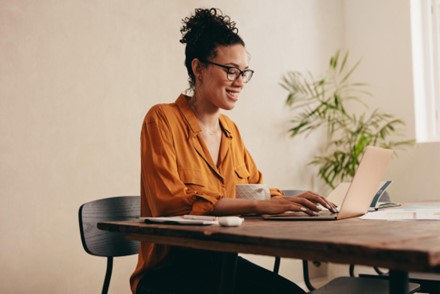 1.     A Weekly Planner
A weekly planner provides a space for scheduling future content and a structured, organized area for brainstorming new ideas. Some planners offer pages for goal setting or expense and KPI tracking so you can track your successes visually while brainstorming improvements.
While many online planning options are available, as a blogger, you may benefit from the customizability of a written planner among office supplies for bloggers. Online planning software allows for quick planning and reminder-setting. But a paper planner enables you to organize your information without needing to log in to your laptop or computer first.
2.     Practical Office Supplies
Don't forget basic office supplies for supporting your blogging efforts. Arm your workstation with practical office supplies like pencils, pens, highlighters, paper and stationery, and watch your productivity and efficiency skyrocket. When inspiration strikes, you'll want a fast and reliable way to jot down your ideas.
A recent study showed that handwritten note-taking activates more areas of your brain than typing. Replacing a keyboard with a pen can turn on certain parts of the brain involved in memory. It is making handwritten notes easier to remember. Any blogger with tons of content to juggle can benefit from a memory boost to help keep ideas fresh and flowing.
3.     Office Supply Organizer
You may find it cluttered and overwhelming with several office supplies like pens, pencils, stationery and a stapler on your desk. Clutter can negatively affect your ability to focus, making it essential to keep a tidy workspace to up your productivity. A desktop office supply organizer is an excellent way to make room in your workspace and keep supplies organized and within reach.
Depending on your style preferences, you can choose from various desktop organizers. Wire organizers come in various colors and contain compartments where you can put paper clips, staples, writing utensils and papers. You can also opt for plastic, metal or canvas organizers with similar compartments to store tape, scissors and calculators.
4.     Comfortable Chair with Back Support
Sitting in an uncomfortable, unsupported chair all day can cause back pain, poor posture, hip pressure and other unpleasant health consequences. For all-day comfort while blogging, choose a chair with adequate seat width and proper lumbar support for your lower back.
Select a chair material that is thick but breathable like a mesh fabric. Look for adjustability features in the seat, lumbar region and headrest that allow you to adjust your chair to your comfort level. You can also consider buying a chair cushion for added comfort or a back support pillow for more robust spinal support.
5.     High-Quality Printer and Toner
A high-quality, reliable printer offers optimal photo and document printing, scanning, faxing and copying features. By performing the functions of several different machines at once, a good printer can streamline your home office while reducing clutter in your workspace.
If you're worried about the added expense of printer ink, try a laser printer and pair it with a toner like Brother MFC-l2750DW color toner. Compatible with nearly every printer, Brother's high-yield ink cartridges can print over 3,000 pages per cartridge, and its toner products offer affordable high-volume printing with the highest precision. Many bloggers use toner products for increased speed and more reliably precise printing.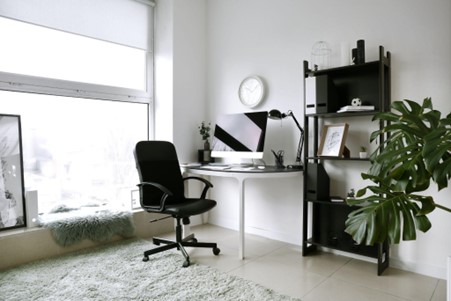 6.     Standing Desk
Standing desks are a modern approach to getting work done while improving your health. People who sit throughout the day have an increased risk of diabetes and heart disease. Sitting is also linked to weight gain and obesity. Standing desks help lower these risk factors by increasing the calories you burn during the day. And also reducing your blood sugar levels and improving your energy levels.
Standing desks also help reduce back pain and other aches that come with extended periods of sitting.
7.     Reliable Laptop or Computer
Every blogger needs a reliable laptop or computer to maintain their blog online. You must have an up-to-date device that functions properly and a reliable internet connection to write blog posts, upload pictures. And should download writing software like Grammarly or Hemmingway to help you craft the best content for your blog.
If you enjoy working in one location every day, you might opt for a desktop computer. Desktops can work faster than laptops with the same parts and are typically less expensive than laptops. However, if you move around the house or travel while writing your blog, you'll benefit from using a portable laptop instead. The Google Chromebook and Apple MacBook Air are two popular options for bloggers who want the lightweight convenience of a laptop combined with excellent functionality.
8.     Spacious File Cabinet
Even as a blogger working in the digital space, you will likely find that you gather loose papers and documents over the course of the day, from printed ebooks to receipts for supplies. To avoid clutter, invest in a spacious file cabinet where you can store these documents for easy access.
You can opt for a classic black or gray metal file cabinet for your home office. Or a more modern take with a wooden desk with a built-in filing cabinet. Wooden desks and filing cabinets typically come in white, gray and black and can seamlessly fit in with your home office décor while helping you keep your loose papers organized and accessible.
Build Your Blog with the Right Office Supplies
With the right tools to support you along the way, you can easily build your blog into a high-paying gig. Basic office supplies, a comfotable chair and desk and a printer help you approach your blog as a professional to attract your target audience and grow.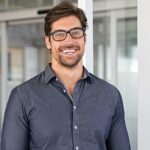 David is a dynamic, analytical, solutions-focused bilingual Financial Professional, highly regarded for devising and implementing actionable plans resulting in measurable improvements to customer acquisition and retention, revenue generation, forecasting, and new business development.
Tags:
office supplies for bloggers
office supplies near me
top office supplies in 2022