5 White Label Tools for Marketing Agencies
White labeling is essentially the practice of creating a product or service and slapping a white label on it (not literally). This allows another company to customize and/or resell it under its own branding.  For marketing agencies, investing in white-label software-as-a-service (SaaS) tools offers multiple benefits. So, what white label tools for marketing can do?
Improve your agency's credibility and authority.

Seeing your agency's colors and logo on every tool and report shared creates consistency. This helps boost client confidence in your brand.

Personalize your service offerings.

You can tailor each tool, dashboard, document, and report to your client's preferences. This makes them feel more valued. This, in turn, helps build strong client relationships that lead to loyalty.

Get reliable third-party support.

 Most white-label tools have dependable support teams. So if something goes wrong with the tool or if your clients face issues during usage, rest assured you have a competent team ready to take responsibility and work on the fix right away.
Agencies, however, offer a wide range of services, so the white-label tools available for various use cases. It is ranging from client management and project collaboration to lead generation and email marketing . With this in mind, picking the right white-label tools from the plethora of choices available today is a time-consuming task.
To accelerate things, we've done the research. And here are five of the best white label tools designed to help marketing agencies succeed.
1. Xtensio
Xtensio is a white-label documentation tool. It lets you easily create and customize business content. Such as marketing assets, sales collateral, project reports, presentations, pitch decks, personas, and case studies — for your clients.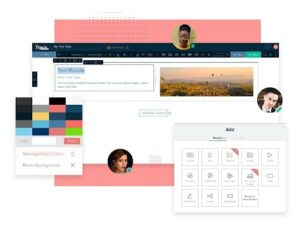 With hundreds of professionally designed templates and an intuitive drag-and-drop interface, your team can efficiently collaborate on creating all your clients' business collateral from a single hub, hosted on an agency-branded subdomain.
Xtensio's white-label capabilities let you define your style guide and brand all content with your agency's or client's logo, colors, fonts, and backgrounds. So you can easily reuse, update, and personalize content for different clients and campaigns. Furthermore, you can share your work with team members and clients via a responsive, password-protected, live web link.
Ultimately, Xtensio helps to streamline internal as well as client collaboration on all business collateral and marketing content.
2. vcita
A comprehensive business management app, vcita empowers small teams to centralize their everyday operations asa white label marketing tool. It is including scheduling service appointments, collecting payments, client relationship management, and marketing.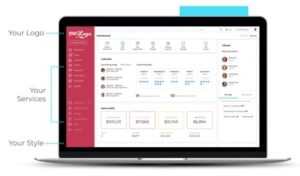 It offers a white-label partner program for marketing agencies that allows you to build an agency-branded app (web and mobile) for your small business clients. Your clients can then use your branded platform to efficiently manage their own bookings, invoicing, customer relations, and marketing.
Offering a custom app under your agency's brand name to your small business clients helps them extend a better customer experience. As they can provide self-service appointment scheduling, messaging, and payment options to their customers while automating and refining their internal ops. 
At the same time, it helps your agency remain top of mind and empowers you to upsell services smartly based on the client's situation. The app can likewise be used to dovetail with services you already offer. For example, if your agency captures leads for small business clients, you can push these lead details into your clients' vcita-powered CRM. And then collaborate with them to optimize email lead nurture workflows.
3. ProofHub
ProofHub is another comprehensive platform built to serve as an all-in-one central hub for project planning, collaboration, execution, and reporting.
With several features specifically designed for agencies, you'll find just about everything you'd need to manage all your team and client workflows. As well as keeping all project stakeholders in the loop with real-time updates and clear communication.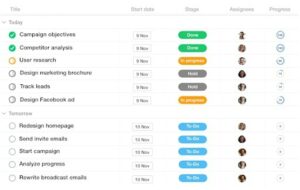 Store all files and information, visualize project timelines with charts, host client discussions, manage and prioritize tasks, track time, get feedback, set reminders, and share project progress reports. All from a single platform.
ProofHub offers a white-labeling feature that enables you to match the look and feel of your agency with a custom domain, your brand logo, and color themes. Moreover, it integrates with the tools your agency is already using (such as Google Drive and Slack). And it is also available on iOS and Android so your team can collaborate with clients anywhere, anytime.
4. PromoRepublic
If you provide social media marketing services to your clients and could benefit from a third-party platform for easily managing all your clients' posts, then PromoRepublic is a powerful white-label tool you can use.
Aimed at helping social media marketing agencies grow and impress their clients, PromoRepublic boasts a rich feature set including social media calendar, idea generator, post scheduling, centralized social inbox, collaboration and approvals, reporting, and graphics editor.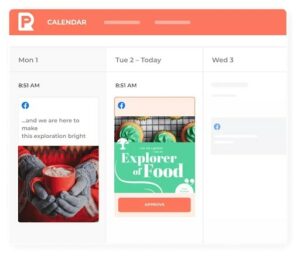 You can match your client service with your brand identity by applying for PromoRepublic's white-label option. For this, you need to send them your agency's brand kit: color, logo, icons, etc. using a form. Then, they develop a tool hosted on your domain and customize email templates as per your branding, with no mentions of PromoRepublic visible to your clients or team.
You get over 6,000 customizable templates in your white-labeled software and the ability to set up workspaces with client permissions. PromoRepublic will also provide a dedicated Success Manager, training, and documentation to help your team and clients use the product efficiently.
5. Mailjet as the Final White Label Marketing Tool
If you run email campaigns for your clients and need a fully customizable white-label email marketing tool, then Mailjet may just be the answer.
It's an easy-to-use no-code email marketing platform for designing and sending email marketing campaigns, responsive newsletters, and automated emails. With an impressive collection of customizable pre-designed templates, Mailjet helps you accelerate your email marketing efforts for your clients.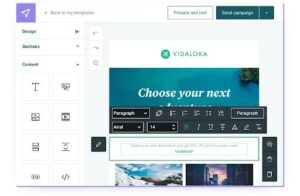 Its collaborative email editor lets you and your clients work together in real-time to craft important emails. Such as announcements and launches. Besides support from a dedicated Technical Account Manager, Mailjet's custom agency plan gets you exclusive features designed for agencies. Including section locking to control which users can edit which content, Inbox Preview to see how your email appears to your clients' contacts, sub-account management, and more. 
It also includes white-label capabilities so you can offer an agency-branded email builder, contact database, and email-sending infrastructure to your clients as a part of your service.
Conclusion on White Label Tools for Marketing Agencies
Success as a marketing agency depends not just on your team's skills and expertise but also on the tools you have in your arsenal.
You're likely already investing in a cloud-based toolkit for things like design, lead nurture, data reporting, and project collaboration. Pivoting those investments into white-label marketing tools, such as the ones discussed above, gives you an edge. Give them a test drive to start realizing those benefits right away.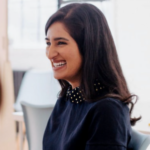 Ananya Prisha is an enterprise level Agile coach working out of Hyderabad (India) and also founder of High Level PM Consultancy. Her goal has been to keep on learning and at the same time give back to the community that has given her so much.
Tags:
white label ready tool
white label seo tool
white label tools for marketing