4 UI/UX Features of Mobile Banking Apps
How often have you started an application only to discover that the button and element placement extends beyond your device's screen? Or do you recall how you felt the last time you clicked on an option and were sent to a screen with a lot of text and bright colors? When we have a problem with an application's design, notably when it differs significantly from what we anticipated, the solution is almost always app removal. Mobile banking apps are becoming widely used by people, not only experts. Leading banks collaborate with professional financial technology, or fintech, software-development firms to produce efficient banking systems that can suit the needs of each consumer considering banking app UX and UI.
A mobile app's utilization is significantly influenced by its design. In this article, we will go back to fundamentals and discuss the significance of UI/UX design.
What are the key design features of successful banking domain application testing?
When testing banking domain application software, UX designers and developers should keep many fundamental principles in mind. For example, security is a primary consideration in any fintech software. Financial firms must safeguard their consumers' data and money.
UX design may appear less significant than data protection features, but it decides whether an app is user-friendly and, thus, influences its adoption and popularity. Customers will forsake a banking solution that is difficult to use in favor of a competitor's software, regardless of how many services it offers.
Consider the following four crucial characteristics of a well-thought-out UX design for any fintech software.
Fintech apps must deal with sophisticated data while remaining user-friendly. A basic, minimalistic design for an online banking solution helps clients focus on the app's most commonly used functionality. Product managers and UX designers should avoid clogging the user interface of banking software. Only critical items, such as bank cards, operations history, balance information, and transfer/payment choices, should be displayed on the home screen, with all secondary elements hidden on other screens. Simplicity also improves the aesthetics of an app.
Intuitive design of mobile banking apps
Avoid alienating clients by overcomplicating an app, especially on screens where they manage their money. Predictability and clarity assist consumers in navigating an app without having to read any instructions. To provide the appearance of something familiar, include aspects commonly used in other applications. Customers benefit from intuition, whether making transfers, paying bills, or exchanging money. As a result, simple designs save them time and effort.
Users of banking apps have a variety of demands and preferences. Additionally, their perspectives on beauty could be different. Because of this, users must have the option to personalize an app to make it more practical for them. However, suppose consumers alter the background color or image or keep only the most essential functionalities on the home page. In that case, their changes may impact the user interface and experience. Instead of allowing for fine-grained adjustments, you should present users with various main screen options to avoid such design concerns.
Customers may now access mobile banking apps on smartphones, tablets, and smartwatches. As a result, their screen sizes may vary significantly. The amount of information that is easy to read on a tablet may be challenging to comprehend with a smartwatch. Furthermore, these consumers' typical use cases differ. Bank customers are less likely to use their smartwatches to do sophisticated transactions. They'd instead use their watch to check their balance when shopping in a department store. As a result, developers should consider the adaptive design and construct unique layouts for smartphones, tablets, and smartwatches.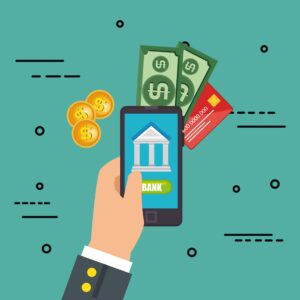 How to improve the UI/UX of your mobile banking app?
The essential aspects of UX/UI that you should work on to improve the appearance and functioning of your mobile application are listed below.
You should ensure that the design remains consistent across the app. It should not just consist of icons and buttons but also the same color and pattern. A compatible app design promotes user familiarity and makes it simple to interact with the app.
Provide exceptional loading speed
The design of your page should be such that it does not take long to load. One of the most crucial features of UX design is speed. The user wants to save time; thus, they choose the application with the shortest loading time. The longer it takes to load higher will be the user bounce rate.
Use conventional elements
Using familiar aspects in the software testing for BFSI  saves users time and allows them to use it without hesitation. The user should not need additional instructions on how to use the programme.
Elements include icons, buttons, colors, and symbols; they must be developed similarly to how most apps are designed. The faster a user becomes acquainted with your software, the more likely it will be successful.
Make it as interactive as impossible.
An interactive app is more user-friendly; allowing users to participate in the app develops a connection between them. Interactive software will enable users to move quickly from one window to another.
The design of your app should offer unique features with little input to capture users' attention. A cluttered app turns consumers off because it bothers and confuses them. Customers can use the app more quickly because of its simple navigation.
Conclusion on Mobile Banking Apps
Web and mobile banking apps are quickly becoming the most essential platforms for financial institutions to efficiently communicate with consumers and create strong client relationships that help them retain them. Customers nowadays want internet banking to be as smooth and convenient as in-person banking. As a result, a website or app with inadequate security or a bad user experience can result in low customer satisfaction ratings, a tarnished brand reputation, lawsuits, low customer retention rates, and even customer loss.
Your mobile application's user interface/user experience (banking app UI and UX) is critical. To be successful with your app, you must deliver an excellent user interface and user experience. Understanding your target audience's needs and market preferences can allow you to make your app more dynamic and engaging.
Testing banking applications with HeadSpin enables your testing teams to guarantee that all testing requirements are met for your app, including functional, performance, and regression testing, as well as safeguarding mobile banking solutions' availability, compliance, and global reliability. Our professionals help you maximize investment and give your customers the finest possible digital experiences.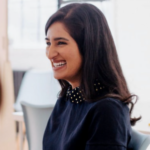 Ananya Prisha is an enterprise level Agile coach working out of Hyderabad (India) and also founder of High Level PM Consultancy. Her goal has been to keep on learning and at the same time give back to the community that has given her so much.
Tags:
banking app ux
design mobile banking app
how to design banking app
ui for banking app