Top Tips for Writing the Perfect Project Management Resume
Having the perfect project management resume is critical for landing a top project management role. A perfect resume demonstrates your soft skills and technical skills. It also shows recruiters that you can easily adapt to different working environments and hit it off with all kinds of teams and people. In essence, it shows off your outstanding people management skills. So, how to write project management resume? Let's review some tips for writing the perfect project management resume for project manager resume seekers.
Showcase your technical and product management skills
Project managers with product development and domain expertise gain more and more advantage with the increasing dependency of business processes on technology. Having some level of product and domain knowledge will definitely help you stand out.
The first advantage is you'll be able to speak tech guys' language. You'll gain credibility in front of product teams if you have a basic understanding of the product and the technology behind. This means you'll have less trouble communicating with tech-savvy teams, like development and IT teams and their managers.
More importantly, you'll have a pretty good understanding of your team's capabilities and restraints, and make the most out of your tech stack. In short, you won't have unrealistic expectations.
Talk about your experiences in stakeholder management
As a project manager, managing and aligning stakeholder expectations is a critical part of your job. You need to know how to communicate with stakeholders, how to understand their expectations, and how to deliver results to them. 
Your resume must include all the details about your involvement in stakeholder management, from the start of a project to its very end.
It must, for instance, explain what kind of customers and clients you've worked for so far. This could include consumers, retailers, SMBs, government agencies, financial advisors, consultants, etc. 
Your experiences with varying customers across industries show that you're able to manage customer expectations in many different circumstances.
Your resume should also include internal stakeholders you've collaborated with and reported to, such as C-level executives, colleagues across departments, and business partners. This shows that you're comfortable communicating, negotiating and working together with a rich variety of internal stakeholders to successfully complete a project.
Include all your certificates and licenses
Project managers are often expected to have some level of experience and knowledge about all aspects of a project. Yet recruiters sometimes find it hard to confirm a job applicant's competencies during the hiring process. Some skills are hard to measure, even after a new hire takes on the role.
If you have certificates and licenses, make sure to include them in your project management resume. Certificates and licenses prove you've acquired training to develop skills in a certain area of expertise. Especially if they're given by reputable institutions like government agencies, industry leaders, and respected educational institutions.
Keep in mind that soft skills are extremely important for a project manager. List your expertise and past experiences in a way that demonstrates your great soft skills. Here are some of the project manager skills you should include in your resume.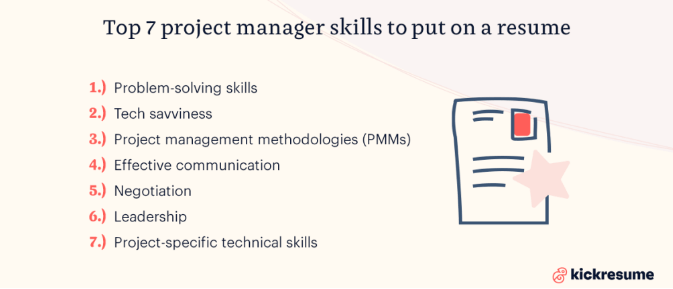 Show that you're good at putting plans into action
As Antonio Nieto Rodriguez, a prominent scholar and author of the HBR Project Management Handbook says:
"Project managers will need to learn new skills, and evolve to become what I call strategy implementation specialists."
This means that working as a project manager in a fast-paced business environment, you have many responsibilities. Project managers will take part in the ideation of a project, way before it's started. They're going to understand and contribute to a business's strategy development efforts, and it's going to reflect on their projects' success.
That's why your project manager resume must demonstrate your ability to understand and adapt to an organization's culture, vision, and market positioning. It needs to show that you're able to understand their strategic goals and priorities, as well as their way of doing business. Here's a good example from a senior project manager resume sample.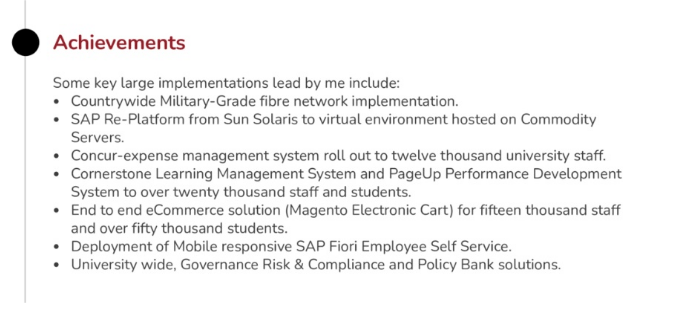 Demonstrate that you're able to manage change
Job titles will soon become obsolete. We'll grow accustomed to project roles, which will vary depending on the project. Workers will frequently swap between skill sets to fill positions in various projects. Throughout their tenure at a firm, they will have to adjust to strategic objectives and shifting priorities.
That's why change management is becoming a more in-demand ability for project managers. As a project manager, you must develop excellent change management abilities. And your project management resume should include experiences where you've led change management.
Talk about projects where you've successfully and proactively communicated change to your teammates and project stakeholders. This can be a change in a number of things, such as priorities, methodology, or project roles. Explain how you've provided direction for the team so that they could better navigate the change.
List the project management tools and methodologies you've used
One of the trickiest tasks of project managers is to constantly manage multiple teams' and individuals' various tasks and deadlines. Luckily, project management methods and technologies are there to help.
Project management resume tools help project managers keep track of task assignment, project deadlines, resources, and other metrics about a project's status. Start-up favorites like Trello, Zoho, Hive, and Microsoft Teams leave very little room for error by bringing everything together in one dashboard. 
Try to diversify the tools in your resume by including the ones used by both startups and enterprises. For example, knowing how to use enterprise resource planning software is a must for seasoned project managers. 
It's also important your project management experience includes several popular project management techniques, such as Agile and Waterfall. Having experience with popular methodologies is a good sign that you're able to work at different projects that call for different approaches. 
To wrap up: Write Project Management Resume
When preparing a resume for a specific company, you need to edit it according to their requirements. You need to have a good understanding of their work culture, the products and services they offer, and requirements for the role they're looking for. 
Including the right requirements in your resume is an important step specially because most companies use an applicant tracking system to automatically filter out the resumes that don't meet their requirements – especially the requirements that are expressed in their job posting. 
Proofreading your project management resume is another crucial step in ensuring that your application stands out to potential employers. To facilitate your work, you can use Adzuna's ValueMyResume tool, as it looks at your resume the way a professional HR  would and analyzes spelling, career gap, length, and many other factors. It also analyzes the content of your resume and provides feedback on how to improve it. 
A good project management resume can help you bag your dream job. Your resume must demonstrate every soft and hard skill you've gained in your career, from people management to technical skills. Make sure to help recruiters understand what kind of work environments and under which conditions you can thrive as a project manager
Mostafa Dastras has written for some companies such as HubSpot, WordStream, SmartInsights, LeadPages and MarketingProfs. Over the past years his clients have primarily relied on him for increasing organic traffic and generating leads through outreach campaigns. Visit his blog, LiveaBusinessLife, or connect with him on LinkedIn.
Tags:
create perfect project management resume
write project management resume
write project manager resume