A Short Guide to Project Management Plan
If you are working in the field of project management or preparing for the PMP Certification exam, most probably you have thought about the components of a project management plan. A project management plan is a comprehensive project document that involves many complementary sub-documents such as the scope of work, baseline schedule, management plans, work breakdown structure, improvement plans, etc. However, some PMP aspirants mistakenly think of a Project Management Plan as a work schedule or a Gantt Chart. Simply put, the objective of this document is to provide a guideline of what has to be done, how it will be done, and who will be involved. Understanding the importance of the project management plan helps aspirants to pass the PMP Certification Exam and become more successful in their field of business. In this article, we talk about the importance of the project management plan and discuss how to create it.
Before starting, it is essential for you to have a clear understanding of the definition of project management.
Project Management
A project has its own characteristics that require a specific set of processes because it is not a routine operation in nature. It has a specific start and end date, defined scope, and resources. Unlike other business activities, many experts come together temporarily to achieve a specific target. Experts may come from various organizations and countries. Therefore effective teamwork is key to success for any project.
A new software development, construction of a hospital, expansion of sales for a new product are examples for projects.
Many professionals think that project management and just 'management' are identical. However, this is not true. Unlike "management", project management has a final deliverable and a finite timespan. Therefore, it obligates project managers to have some technical and business skills. On the other hand, management is an ongoing process.
Simply put, project management is the practice of applying skills, tools, and techniques to project tasks and processes in order to meet the project's objectives. It deals with managing various packages of work to achieve specific objectives. The scale, significance, and complexity are the factors that might affect the management strategies of an organization.
Basically, project management processes can be classified into five groups. These processes are, Initiating, Planning, Executing, Monitoring and Controlling, Closing.
What is a Project Management Plan?
A project management plan is a formal document created by the project manager based on the inputs gathered from the stakeholders and the project team.
Typically, it describes the execution, monitoring, and controlling processes of the project. Baseline schedule, baseline budget, management plans, and other related project documents are the integral parts of the project management plans. Simply put, this plan defines how the project team will deliver the scope of the project.
Baseline schedule, baseline budget, and scope baseline are used to make performance measurement calculations during the execution of the project. If there is a schedule variance and/or cost variance, the project team takes corrective actions to correct the deviations. If the variances between the planned and actual figures are too much and the corrective actions fail, formal change requests to the baselines become necessary.
Project teams spend most of their time controlling the variances between the planned and the actual figures. Without establishing an efficient planning system, a project can not be completed as per the plan.
What are the Components of a Project Management Plan?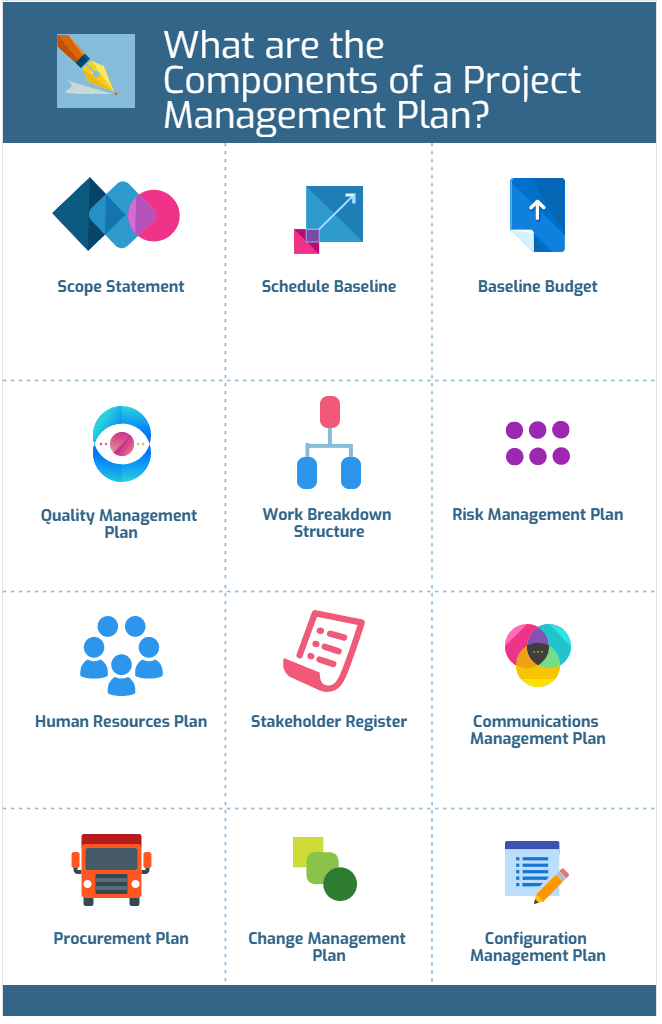 Below are some of the primary components of a project management plan
Scope Statement
Scope statement is the beginning section of Project Management Plan in which you explain what the project includes. You can use the project charter as a reference document while writing the scope statement. You need to clarify the important points regarding project objectives in order to avoid misunderstandings.
Here you need to explain the details of Work Breakdown Structure. The WBS organizes project work in a structured approach by breaking down the key deliverables into small work items. Each work items should be completed successfully in order to complete the project. You need to discuss the detail level of the WBS at this section to make sure all the project scope is covered.
Schedule Baseline
Schedule baseline or baseline schedule is an indispensable part of the project management plan because a project can not be delivered on time without a well-created schedule. Because the schedule baseline, which is organized by WBS levels, is a reference point of planning and reporting practices.
Baseline Budget
A baseline budget involves a breakdown of project costs of various items. It includes the cost breakdown structure, unit prices, overhead costs, and cash flow of the project.
Quality Management Plan
At this section of the Project Management Plan, you clarify how the quality management process will be conducted to make sure the deliverables meet specifications and standards. Hence, all the quality requirements for deliverables should be detailed to provide an understanding of what needs to be done. You should also define the roles and responisbilities for quality management here.
Risk Management Plan
Risk management plan explains how you deal with project risks from initiation to completion phases. You should clarify the approach for identifying, classifying and managing risks related to your project. Include a risk register to provide information related to your project's identified risks.
Human Resources Plan
Human resources plan demonstrates how you will achieve optimum use of your projects employees. Here you need to include the organizational structre and clarify key positions for your project.
A stakeholder register includes basic information related to your projects stakeholders. Name, Department, Title, Role, Influence and Impact of each stakeholder is given in the stakeholder register.
Communications Management Plan
The Communications Management Plan determines the communication lines and explains how and when the information will be conveyed among stakeholders. Communications Management Plan establishes a framework for communication requirements to clarify what information will be shared, who is responsible for communicating, and when to communicate it.
Procurement Plan
Procurement plan defines the procurement process within a project. It is used to document what to buy, when and from which supplier. It helps to track the procurement process to understand the performance of the project by comparing the planned and actual figures.
Change Management Plan
Change management plan is one of the most important components of a project management plan. A change management plan determines the roles and clarifies the process for managing and controling the change through the life cycle of the project. At this section, you need to define the key elements to explain hhow an effective change management process will be conducted.
How to Create a Project Management Plan?
A project management plan is described as an output of the Develop Project Management Plan process in the PMBOK Guide. Before to start creating it, it is important to understand key project deliverables and the scope.
Complementary documents of this plan are created in several processes defined in the PMBOK Guide. For example scope management plan, cost management plan, and schedule management plan are prepared in the Develop process. The communication management plan is created in the plan communications process.
Keystones
The Project Management Plan;
Describes the details to guide how a project is executed, monitored, and controlled.
Involves a group of subsidiary plans such as scope management plan, communication plan, risk management plan, change management plan, etc.
Is a formally approved document plan which describes the system to be used to complete the project successfully.
Summary
Project management involves the management activities of various tasks, activities, people, resources, and stakeholders to achieve specific targets. Therefore it requires effective planning, budgeting, and documentation efforts.
Project management plans are detailed documents that include several project management documents. The aim of this document is to define how a project is executed, monitored, and controlled.
From this aspect, it is different than a work schedule or a Gantt Chart because it is a comprehensive document that involves schedules.
The project manager prepares it by using the inputs from the project team and the stakeholders. It must be approved formally. The approval process of this document varies based on the organization structure.
This is where we will end our discussion on the topic of this article. We would like to see your approaches regarding the importance of the project management plan. Let us know if your organization uses such plans to improve processes. You can use the comments box below to add or share your thoughts.
See Also
Project Scope Management : A Short Guide
Project Management Reporting : A Short Guide
External References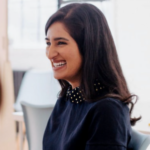 Ananya Prisha is an enterprise level Agile coach working out of Hyderabad (India) and also founder of High Level PM Consultancy. Her goal has been to keep on learning and at the same time give back to the community that has given her so much.
Tags:
Baseline Budget
Baseline Schedule
Project Management Plan
Project Plan
project plan vs project management plan
work breakdown structure