The ultimate goal of every company is to be the best, most successful, and preferred. If you want to be preferred, you have to make a difference. Creating this difference is only possible with excellence. Operational excellence is a philosophy that integrates problem-solving and leadership to ensure continuous improvement. People may find it difficult to understand because it is not a number of activities that you complete. It is an approach to be followed by you and your employees.
The Excellence of Our Digital World
Human beings have experienced changes and transformations throughout the ages, always tried to overcome themselves, and longed for a better and more comfortable life. Humans have always dreamed of the future and worked for it. In the 2000s, the digital revolution has taken place and has forced the imagination of human beings. Human life and various areas of life have had a great impact on the development of the Digital World. With this technological evolution, many digital platforms have been developed, lots of companies have been established and continue to be established. With the emergence of new companies, a competitive environment occurs between these companies. The ultimate goal of every company is to be the best, most successful, and preferred. If you want to be preferred, you have to make a difference. Creating this difference is only possible with excellence. There are many stages to achieve excellence. Adopting a software tool, having a specific methodology, and developing a specific process constitutes all this excellence. The most important step towards ''Operational Excellence'' is to involve others in you. In other words, it is to run your business as a team in a better and organized way.
Technology & Operational Excellence
Technology is the main driver of ''Operational Excellence''. Technology has become a common part of human life and is growing rapidly. Nowadays, there are many digital markets that are widely used such as Amazon, eBay, and Zappos. Thanks to digital markets, it is possible to supply a product or anything you want regardless of location, time, and transportation. It has caused the majority of people to benefit by affecting both personal and business life to a great extent. Moreover, with this demand intensity and a new form of marketing, it also operates in the corporate field and the number of new companies is increasing day by day. This increase brings along a competitive environment. Companies, teams, and their managers must increase efficiency, perform well and generate interest. Otherwise, their failure and unsustainable will be an inevitable consequence.
Management is one of the most important elements supporting the concept of excellence. The administrative department has the greatest role in the progress and development of companies. Managers are there to constantly develop, change, produce and overcome all problems. Their ultimate goal is to organize and manage activities that put their company in the forefront. If managers fulfill their customers' demands and provide them with satisfactory services, this will make them indispensable. Recently, we see that leaders using the latest technology offer extremely successful services. They are leaders who have reached the level of ''Operational Excellence'' thanks to these advanced services and the latest technology they use. We see the leaders in the Wrike Software Company rising to the level of ''Operational Excellence''. They are doing much more productive work applying real-time analytics, business automation, and collaborative working methods together with their teams.
Top Methodologies of Operational Excellence
Operational Excellence focuses on reducing operational risks, lowering operating costs, and increasing incomes. In today's competitive world, it is needed more than ever. Methodologies such as Lean Manufacturing, Six Sigma, and Kaizen helps to ensure the continuous improvement of the operational processes.
Lean Manufacturing
Lean Manufacturing focuses on eliminating seven types of waste from the manufacturing systems without decreasing productivity. Waste is something that does not add value to the production system. Therefore it should be removed. In short, Lean Manufacturing helps to increase the quality of the business processes as well as increasing employee morale and decreasing costs.
Here below are the eight kinds of wastes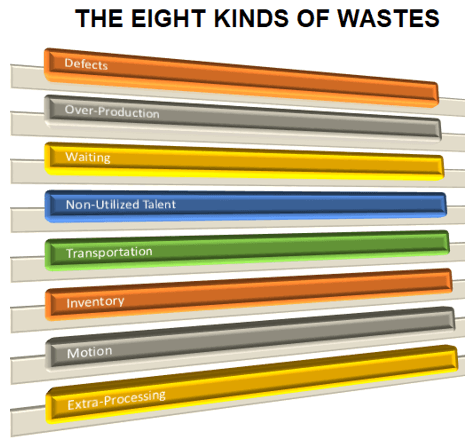 Six Sigma invılves a number of tools and techniques to ensure the improvement of business processes. The main objective of Six Sigma is to create customer experience improvement by identifying and eliminating variations. DMAIC and DMADV are two Six Sigma methodologies used for different purposes.  DMAIC methodology focuses on improving the existing process while DMADV is used for new products or processes.
DMAIC is the acronym of the following;
Define
Measure
Analyze
Improve
Control
DMADV is the acronym of the following;
Define
Measure
Analyze
Design
Verify
As you see, DMAIC includes improve and control phases in order to improve an existing process. On the other hand, DMADV which is used for creating a new business process or product has design and verify phases.
Kaizen principles focus on performing activities to ensure continuous improvement. It focuses on involving all the teams and employees from the low level to the top level. Implementing standardized processes is the main objective of Kaizen.
Three steps of Kaizen
1. Encourage participation
2. Education and training
3. Quality Improvement
Bottom Line
At the end of this article, with the digital evolution, human life and activities have changed drastically. It took an important place not only in personal but also in corporate fields. To achieve Operational Excellence, companies need to improve their operations and increase efficiency and quality. In addition, companies need to identify critical improvement areas by analyzing their business processes and operations with the right tools to achieve their goals. Being the most successful, the best, and preferred is only possible with these golden rules!
Further Reading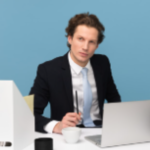 David Rigamon is a consultant in the life sciences and digital marketing space as an Agile Coach. Previously in financial services as a consultant for systems implementations. He is working for Harwood Agile Consultancy.
Tags:
Kaizen
Lean Manufacturing
Operational Excellence
Six Sigma