Graphic Design Software Options for Students in 2023
Graphic design is one of the skills that are in high demand. This is mainly with the need for companies to brand their business. This gives them an identity that helps them stand out and attract more customers. This makes learning graphic design a great deal to quench this demand for professional graphic designers and graphic design students. A student with little or no knowledge is capable of learning design and within a few months they can come up with great flyer design, logos, and other brand identifications. But for this, you need to have the right graphic design software option to create captivating designs.
There are many software out there, some paid and others free that students can use to advance their skills. As a student, you need to pick the correct program that is easy to learn. Moreover, the software should help you create illustrations or art. For that, we have come up with the best graphic design software option for students in 2023.
The Best Graphic Design Software for Students
There are many softwares for college students to choose from. The softwares are available for use on different platforms like Windows, Mac, Linux. There are also some tools available for use on the web. This is to give the students an alternative to use the software on any device/ operating system. Here is a list of both paid and free software for students to use in 2023.
Adobe Photoshop: First of graphic design software option
This is one of the best graphic design software for both beginners and experts that is useful for most designers across the globe. The software is great for designing logos, flyers, banners, business cards, etc. It brings many tools together to help the artist work on their projects under the same platform. The tools make it easier for Graphic Design students to come up with amazing masterpieces for their classwork study. The common tools are.
Fill Tools
Move Tool
Quick Selection Tool
Crop Tools
Object Selection Tool
The tools make it easier to apply different features. Adobe Photoshop is useful for both small and big projects. It is available on Mac and Windows. With no doubt, this is one of the best software for students to use in 2023.
Sketch
This is for Mac OS users and is among the best software for creating digital designs. The digital designs include website & apps designs, and other interfaces. The main aim of this Application is to help a designer to come together and work on a similar project. This helps them to achieve more. For students, this is a great tool to use for learning by collaborating with other students. The best feature you will find is the smart layout. These components are useful for resizing depending on the content specification.
The hundreds of plugins available on the platform will make your learning better. This allows you to edit and design with accuracy. The only limitation is that it is not convenient for designing print designs. Nevertheless, this is a great software for students in 2023.
Mega Creator
This is a go-to graphic design tool used to create illustrations and photos from pre-made elements. 
Mega Creator
 works online, that is why it perfectly fits for all the operating systems and devices. The tool contains ready to use templates that can be used for different purposes, including social media banners, posters, collages and many more. The best part about this tool is the fact that all the built-in graphics are created by the Icons8 team, you can't find them anywhere else. But you can also work with your uploaded content there.
Using Mega Creator is a good way to boost your creativity, as you can create anything you want with customizable graphics.
Adobe Illustrator
Like Adobe Photoshop this is also a product of Adobe. The Adobe illustrator allows graphic designers to come up with vector designs. These are designs comprising digital shapes that are made by combining lines and curves using different mathematical concepts. Through this designers can create billboards and business cards for different sizes of display. The site is great for both learners and professionals.
If you are a student this software will help you learn graphic design. With the templates available you can learn designing easily. The software is available on Windows devices and Mac. There is also the Adobe Illustrator draw for Mobile versions. For students learning designing in 2023, this is your tool.
GIMP
This is the acronym for GNU Image Manipulation Program. The software is available on Linux, Windows, and Mac operating systems. It is a free tool for designing great arts and illustrations, an alternative to Photoshop. The software comprises dozens of tools and everything a graphic designer needs. It is great for image editing with free-to-use icons and elements like masks, layers, and many more. The platform has a great user interface that is easy to use. Even if you are a beginner you can start creating great designs easily.
It is one of the recommended software by write my essay as seen in most of their essays relating to Graphic designs.
Affinity
This is a great software option for students in 2023. It comes in two versions. The Affinity Designer and Affinity photo. The Affinity designer is for branding purposes, creating icons and print designs. It is for image editing. It is a great resource for beginners to work with because it operates smoothly without complex features.  Affinity allows designers to zoom their work. This helps to view the effects and gradients. This helps in making adjustments that one can transform and edit to curve in different ways.
Inkscape
The Inkscape is open-source software that is freely available for coming up with different designs. This is great for students that cannot afford the paid versions of the other software. It works on Mac, Linux, and windows. All these operating systems provide a great interface that makes it simple for students to learn. Its tools allow for web designs, print designs, and logo creation. This is a great platform for students that want to become better graphic designers in 2023.
To create new designs, manipulate/ edit, format texts this is the option to use. After finishing your work you can get your PNG, EPS, PDF, JPG, or PostScript for downloading.
Summary on Graphic design software option
Graphic design is a great skill that is in high demand. This is why many learners are being encouraged to learn it so that they can meet the high demand for graphic design in the market. If you are a student interested in Graphic designs don't hesitate to start using the software above.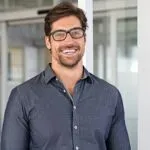 David is a dynamic, analytical, solutions-focused bilingual Financial Professional, highly regarded for devising and implementing actionable plans resulting in measurable improvements to customer acquisition and retention, revenue generation, forecasting, and new business development.
Tags:
graphic design
graphic design software
graphic design software options
graphic design students