7 Things to Consider Before Moving Your Business' Premises
Moving your business is on of the biggest headaches for any business owner. Whether it's a small home-based business or a large organization with 50+ employees, moving can be super stressful. In fact, one survey showed that moving premises is so stressful that 78% of employers delay the office move just to avoid these headaches. However, moving doesn't have to be this challenging. Careful planning, hiring a professional moving company and packing are all it takes to streamline the moving process. Here are a few important things to consider before deciding to move your business premises.
Set Your Budget
The average cost of an office relocation could be anywhere between $100,000 and $150,000, according to Credibly. The costs can add up because of delays, equipment getting damaged during transport, and other unexpected issues. Setting a budget for office relocation is the first step to preparing your business for a move.
It's common to overlook certain expenses or underestimate the cost of the move. That's why you should discuss all costs with a professional moving company in order to set a realistic budget from the start.
Plan Your Move
Good planning before acting to move your business premises is essential for a hassle-free move. You may have hired a professional moving company, but that doesn't mean you can leave everything to them. Planning will make the move more organized and will speed up the whole process, from packing to transportation.
Once you know your budget, you can decide which packaging boxes, moving company, and other transportation services you can afford. As part of the planning process, you should also arrange of internet and utilities to be disconnected at your old premises and connected at your new one.
Hire a Moving Company
Let's face facts—you can't move your business single-handedly. You also can't ask your employees to handle all of the packing, transportation, and unpacking. Your best bet is outsourcing your business' relocation to a professional moving company.
This is particularly important for businesses with heavy office furniture, fixtures, expensive appliances, and other valuables that need to be transported safely and in one piece. Only a moving company will have the equipment and expertise to safely and effortlessly relocate your office.
Because moving firms frequently utilize huge trucks to move the items of their customers, the personnel working for moving businesses are typically needed to have a commercial driver's license (CDL). The process of loading those trucks with your personal goods, many of which are either expensive or precious or both, is the responsibility of the movers. Because of this, businesses are required to have licenses and insurance in the unfortunate event that something is lost or damaged during their operations.
Hire or Buy Moving Boxes for Moving Your Business
A moving company can transport your office equipment and assets from point A to point B, but they may not help you with packing everything – you'll typically have to handle that part. Order quality moving boxes from a reliable  supplier and start packing at least two weeks before the moving day. You can hire these boxes for a fraction of the cost of buying them outright. Remember that the moving boxes must be sturdy enough to handle heavy items and keep them safe during transport. That said, CBOX containers are definitely something you'll want to look into.
Have a Plan for Moving IT Equipment
Business files, stationery, printers, and furniture can be moved relatively easily, but what about IT equipment? How will you relocate your servers, security systems, and other technical assets to a new location? Many businesses invest in new IT systems, while others relocate their existing IT assests to their new business premises.
For leased items, you will need to get the owner's approval before you relocate them. Data servers, desktop PCs, telephone & internet systems, and security devices must be moved carefully and in safe packaging. These devices have sensitive data and need during transportation. You may also need to monitor the packaging, transportation, and installation of your IT equipment in the new location.
Order New Furniture and Signage
Do you want to keep the same furniture for your new office or take the opportunity to install modern couches, chairs, and other office furniture to match your new premises? If you want to furnish your office with modern pieces of furniture, be sure to order them in advance.
New signage is also a good idea for businesses relocating to a new site. Signage improves your business' visibility and makes an impression on your customers. However, signage and office furniture can take several months to arrive, especially if you are ordering custom items, so be sure to order these well in advance.
Give Your Employees and Customers a Heads-up
Inform your customers and employees about your office relocation plans. Organize a staff meeting and give your employees a heads-up about the move. If needed, you can have your employees work remotely or rent a temporary site during the transition period. You could also use social media to announce the move to your customers.
Wrapping Up: Moving Your Business Premises
A successful office move is all about careful planning, as well as good teamwork. Invite your employees to participate in the moving process. You could also create an office move checklist to keep track of everything you need to do before, during, and after the relocation. This will make things easier for you and your team and set you up for a successful move with the least amount of hassle possible!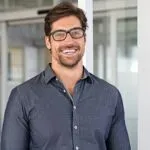 David is a dynamic, analytical, solutions-focused bilingual Financial Professional, highly regarded for devising and implementing actionable plans resulting in measurable improvements to customer acquisition and retention, revenue generation, forecasting, and new business development.
Tags:
how to move your business to a new location
how to move your office
moving business premises
professional moving company for moving business premises