7 Common Project Management Mistakes You Need to Avoid
Everyone makes mistakes; it's human nature. It's how we learn from our mistakes that truly matters. As a project manager, sponsor or coordinator, you need to focus on a number of details, notifications, and plans during the life cycle of your project. Like ordinary people, project executives are bound to make mistakes every day. Undoubtfully many of the mistakes are repeated again and again by you and your team members. However, you can implement techniques and methods to minimize the effects of them. In this article, we will talk about the 7 most common project management mistakes you need to avoid to ensure the success of your project.
What are the Most Common Project Management Mistakes?
The most recent statistics show that project management mistakes are costly and sometimes unrecoverable. These mistakes cause delays in the project schedule or lead to major engineering disasters.  According to the Standish Group's CHAOS report, just one of three projects were successfully completed on time and on budget over the past year.
Here below we gather some of the most common mistakes in project management to help you to answer why do projects fail?
1. Underestimating the Importance of Good Project Management
Project management is the glue that holds a project together. Excellent project management involves so much more than just the planning of a project. It's about managing people, budget, time, and scope while executing a project flawlessly. It ensures team members have a plan and stay on track to success, even when faced with complication after complication. It provides a detailed vision and the leadership needed to make that vision a reality. Without proper project management, it can hard to even get projects off the ground. Underestimating the importance of good project management is one mistake no business can afford to make.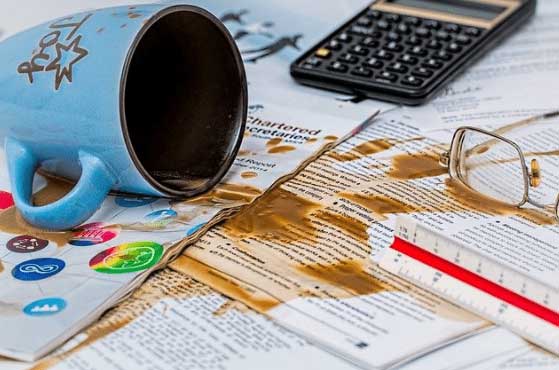 2. Poor Communication
A lack of communication can ruin any good relationship, and this is no different in our teams or offices. It is crucial, particularly when managing multiple projects or teams that everyone is on the same page. Make sure the entire team knows their responsibilities and roles in both the smaller and larger aspects of the project. Starting a new venture off with a meeting, even before the initial planning has begun, can be a great way to spark communication early on. Follow this up with regular meetings to keep communication active, right throughout the project. Make sure priorities are also being effectively communicated, especially if the priority of tasks is likely to change.
3. Not Managing People
Mismanagement is one of the most common project management mistake. Don't forget that the key to project management is managing people. Make sure everyone knows why their role is crucial to the overall success of the project. Candidates are often poorly selected for positions. Make sure each individual is capable of a task or has the opportunity to learn and succeed at the task at hand. A good project manager will know the strengths and weaknesses of his people, allocating roles accordingly. Pay particular attention to who you choose to lead a project. Leading a project can be a difficult task; make sure your candidate has experience in the job.
4. Not Minimizing
The division of projects into small achievable pieces is a huge part of project management. It is essential that each task feels manageable to avoid your team feeling anxious and overwhelmed. Smaller projects will increase your rate of success and often end up speeding up the overall process. Minimizing team size is also another way to keep stress free and help foster excellent team communication. With your project sizes down and your teams in smaller units, the difference is undeniable.
5. Not Adapting Remotely
According to Global Workplace Analytics, 80 to 90% of the U.S. workforce express the desire to work remotely. Beyond allowing some staff the opportunity to work away from home, workers can also learn remotely. With e-learning services booming, remote learning could also be a great option to consider. Not adapting remotely is a common project management mistake that good project managers need to avoid. Therefore project managers must know how to perform Remote Project Management well.
6. Fear of Mistakes
This is an important point for any project manager as well as their staff. As a project manager, you must remain calm, even in the face of disaster. Mistakes will be made, and what is done is done. It is more important that you stay level-headed and deal with the situation. Similarly, your staff must know that mistakes do happen, and the most important thing is to address them as soon as possible. A calm attitude towards errors will help your team members to be more transparent, allowing you to deal with the situation earlier.
7. Tech-phobia
If you've been at project managing for a long time, it can be easy to dismiss some new technologies and stick with what you know. Not taking full advantage of technology can, however, put you and your project at a serious disadvantage. There are plenty of great ways to implement automation and eliminate some of the manual aspects in your projects that can save you a lot of time down the line.
# BONUS: Employing Inexperienced Staff
Project team members are the individuals who drive the project through successful completion. However, if their skills and experience is not appropriate for the project, they can not handle the project works as it should be. The same goes for the project manager. A project managers skills and competencies should be sufficient to foresee risks and deal with various requirements and needs to be handled during the course of the project.
Conclusion
At the beginning of a project, people are often optimistic about the results and outcomes. As the project progresses, they see that most of the things are not actualized as per the plans. Most projects fail due to poor planning, unclear scope, employing unskilled workforce, lack of collaboration, and ineffective communications. However, proper planning and effective communication are key to avoid common mistakes. In this article, we talked about the 7 most common project management mistakes that you need to avoid. These seven have been handpicked to help you learn without having to make the same mistakes yourself. Be cautious of some of these easy errors, and succeeding in your dream project will be one step closer to reality. Note that poor project schedule management can be
See Also
Successful Project Management Tips
Lessons Learned Process in Project Management
Johanna Cider is a freelance writer from Wellington, New Zealand. She has been writing articles on a diverse range of topics since her uni days, and she's enjoying every bit of it! Read more of her most recent works on Musings of Johanna.
Tags:
common project management mistakes
project management
project management mistakes