These 5 Social Media Tools Will Make Your Digital Marketing Life Easier
It is undeniable that social media has become a part of life as well as any business. Therefore using different social media tools for businesses gained importance. Paid and free social media tools are in demand due to this change. Because society's rapid shift towards digital platforms has greatly changed the way that we live in the last two decades. Nearly everything can be done and found online – communication, commerce, education, and even work! The internet has brought so much to the world and it's being made increasingly accessible to users with every passing moment.
One of the biggest changes brought to us by the web is social media. Instant messaging and social profiles have made it possible for people to connect with their loved ones and keep up with their interests daily. Aside from its personal uses, social media also has the potential to be an extremely powerful tool for businesses: with 7 out of 10 Americans using social media daily, entrepreneurs and marketers who learn how to use it to their advantage can see great gains in terms of sales.
While many have already integrated it as a part of their daily lives, using social media for business purposes can feel tricky and technical. Luckily, learning how to manage your online presence is not as daunting a task as it seems! Different tools exist to help marketers make the most of their social media campaigns to help grow their businesses every day. Using them to your advantage will certainly give you the results that you're after.
What Makes Social Media Tools Good?
The measurement of "good" social media tools depends on your needs and goals. Here are some questions you should answer before choosing one to help with your social media strategy:
Are you looking to understand more about what your audience likes?

Are you looking for something to make it easier to track metrics and data?

What exactly are you hoping to get out of social media?
Some businesses want to build brand awareness and generate possible leads, while some focus on social media as a primary platform for customer service and relevant updates. 
If you're new to digital marketing, some of the basic services needed in social media tools should include support on multiple platforms, insights on your target audience and their engagement with your posts, and data on how much your account has grown or declined. Some tools take it a step further by offering other features, including post scheduling, graphic design, or email tracking. 
Depending on your business you might choose paid or free social media tools however, you should keep in mind that the service they offer might differ. If you own a small business and do not have the budget for social media, then you can look into free social media tools to boost your social media presence until you have a budget for better tools.
Here are some of the best social media tools that you can look into:
1. Sendible
What is it:

An all-in-one platform for post scheduling, social media analytics, and team collaboration.

What are its features:

Sendible allows you to analyze which of your content resonated well with your audience and which didn't – helping you plan your marketing and content strategy better moving forward. This tool also gives your team the ability to look over data reports of your different social media profiles.

How much does it cost:

Plans start at 29 USD per month.
2. Canva
What is it:

An online design and publishing tool tailored to empower anyone to design and publish anything from just about anywhere.

What are its features:

Beginner-friendly creative templates for promotional and informational material, as well as the ability to edit videos, publish to social media platforms, and collaborate with teams.

How much does it cost:

Canva is one of the free social media tools that comes with a free plan, but also available for pro and enterprise purposes starting at 119 USD per year (or 12.99 USD per month).
3. Multilogin
What is it:

A browser that helps marketers securely manage multiple accounts without the need for multiple devices.

What are its features:

Perfect for remote teams, Multilogin helps marketing teams securely log into the accounts they manage with less hassle and minimal security risk as cookies and history are saved into their cloud. They also offer automation options.

How much does it cost:

120 USD a month.
4. Mailchimp
What is it:

A marketing automation and email marketing service that helps digital marketers successfully automate and complete email marketing campaigns.

What are its features:

Mailchimp helps keep track of your customers on your mailing list by letting you know if they've opened your emails, how much time they spent reading them, or even if they unsubscribe from your mail. They also provide templates, and more recently, have branched their offerings out to social platforms as well.

How much does it cost:

Mailchimp is also one of the free social media tools that come with free plans, but paid memberships start at 9.99 USD per month
5. Unsplash
What is it:

A library of millions of high-quality, royalty-free images that can be used by anyone on the web.

What are its features

: Unsplash allows anyone on the internet to use the photos uploaded by their community — perfect for any design material!

How much does it cost:

Free!
Refine Your Social Media Strategy
In addition to these tools, creating a social media strategy that helps you move closer to your goals is vital for the success of your business. You'll want to ensure consistent posting, creatively crafted and relevant content, engagement with your followers, and realistic goal-setting, as well. Without goals to work towards or a specific plan in mind for your online profiles, things might not work out the way you want them to — that's why it's better to have social media plans in mind so that you can grow your following and open new doors for your business.
If you're still trying to navigate the world of digital marketing, it's not too late to learn. Stocking up on basic knowledge and keeping up with the latest digital marketing trends is both fun and productive. The process is one of continuous learning, but when mastered, can prove to be fruitful for any business out there.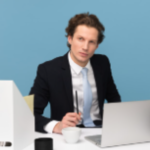 David Rigamon is a consultant in the life sciences and digital marketing space as an Agile Coach. Previously in financial services as a consultant for systems implementations. He is working for Harwood Agile Consultancy.
Tags:
digital marketing
social media
social media tools