Top 7 Invoicing Software for Mac users in 2023
Most businesses prefer Mac for its safety and efficiency, and finding an invoicing system that will sync seamlessly with the Apple ecosystem has become more important than ever.
With an efficient invoicing system, your business can not only manage cash flow, but you can find more time in your business for the things that truly matter.
In this blog, we have looked into the top invoicing software for Mac that can be adapted for your business needs.
Let's get started with the top 7 Mac invoice software.
7 Best Invoicing Software for Mac
1.  Accountable
Accountable is one of the top invoicing software for Mac, designed with a simple and user-friendly interface for businesses to handle invoicing and estimating needs. This cloud-based free invoice software for Mac offers customizable invoices, expense tracking, and reporting tools for all accounting requirements.
You also get a range of customizable templates so that you can make invoices customized for your brand. Just add your client details, and you can share invoices in a few clicks. It is one of the top choices for professionals like engineers, contractors, freelancers, etc.
Its invoicing simplicity and affordability make it an ideal choice for freelancers and small businesses, too.
With its one-touch invoicing and intuitive dashboards, invoicing and record-keeping becomes a breeze for your business.
Features:
Invoicing and accounting features
Expense tracking dashboard
Payment reminders
Multiple payment gateways
Reporting and analytics
Multi-currency support
Advance payments
2.   Freshbooks
It offers many features like time tracking, expense management, and task management, along with the ability to provide efficient invoicing.
It is one of the most user-friendly free Mac invoice software available on the market, with affordable prices for Mac users.
With its customizable template, you can create professional invoices to be delivered to your customers. You can receive payments through credit card, debit card, PayPal, ACH, etc, with this free invoice software for Mac.
Features:
Expense management
Customizable invoice template
Client communication tool
3.   Quickbooks
Quickbooks is a widely recognized small business invoicing and accounting software. It offers invoicing, expense tracking, and accounting features for businesses and freelancers.
It provides accessible solutions beyond invoicing, making it an ideal solution. It can seamlessly integrate with other accounting tools and business systems. You can also track billable hours and business expenses to generate invoices and plan financial transactions.
You can handle business finances, manage accounts, and create invoices in no time with this all-inclusive tool. You can manage all your financial goals with this invoicing software for Mac.
Features:
Invoicing and expense tracking
Tax management
Financial reporting
4.   Billings Pro
It is a free cloud-based invoicing and accounting solution accessible to Mac users. If you are looking for an all-inclusive accounting and time-tracking software for your Mac business devices, Billings Pro is your solution.
It is one of the free invoice software for Mac that has been specially designed for Mac devices. Hence, it has many additional features for the Apple ecosystem, like alerts and notifications on other Mac devices and much more.
You can start an account on this app and start your accounting processes for your business. Though it has a learning curve, its features can be helpful to its dedicated users. You can quickly generate a vast number of reports using this free Mac invoice software in very little time.
It has standout features at affordable rates and hence can be used by newer businesses looking for an easy solution.
Features:
Invoicing and time tracking
Project management
Client reporting
5.   Honeybook
It is one of the most intuitive accounting and invoicing tools that has upgraded its features and services exponentially in recent years.  It is one of the top invoicing software for Mac users.
Its UI has been upgraded for a smooth experience for its users. Honeybook even allows drag-and-drop features to edit and add details on its invoices.
These features combined make it easier for Honeybook users to create and manage invoices for its users. Integrate with third-party apps for an overall seamless experience with this Mac billing software.
Features:
Contracts and proposals
Online payments
Calendar integration
6. Harvest
Harvest is primarily a time-tracking and invoicing tool. This Mac billing software can help your team thrive with its simple time tracking, invoicing, and reporting features.
With this free Mac invoice software, you can track work hours and directly transform this data into invoices for your clients on your Mac devices. This helps you bill your clients efficiently and reduces time and effort for your accounting team.
With everything automated, you can focus on other essential business processes.
It also provides you with third-party integrations with accounting tools. You can easily integrate it with tools like QuickBooks Online and Xero. You can get paid faster by your clients through its integration with PayPal and Stripe, too. This not only makes payments hassle-free but also makes expense tracking a breeze.
Features:
Team and project management
Time tracking and invoicing
Online payments
7. Zoho
Zoho is a simple and easy-to-use invoicing tool used by businesses of all sizes. It is a free invoicing tool for Mac that offers many intuitive invoicing and billing features. With this tool, you can easily create online invoices that can be edited to fit your business needs.
Your business can save time and money with this tool by automating many essential business processes like recurring payments, invoice creation, payment reminders, etc.
With its many features used correctly, Zoho lets you build trust with your clients, create and send invoices on time, and get paid effortlessly. You can use SMS, email, or a customer portal to share your business invoices and get paid directly through net banking, cards, UPI, and more.
Features:
Invoicing and time tracking
Expense management
Reporting and analytics
Conclusion
Invoicing is a top requirement for any business, and for Mac users, finding the right invoicing software can be significantly more complicated. Thus, finding the right tool can make a huge difference.
So, if you are wondering how to make an invoice on iPhone or Mac device, you have many tools to help you. These are the top 7 invoicing software for Mac that cater to a range of business needs. You can select the best tool according to your budget, scalability, requirements, and clients.
These top invoicing tools can streamline your invoicing, billing, and financial management in no time.
Hope this blog has made your choice easier and invoicing smoother. Happy Invoicing!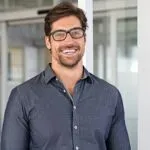 David is a dynamic, analytical, solutions-focused bilingual Financial Professional, highly regarded for devising and implementing actionable plans resulting in measurable improvements to customer acquisition and retention, revenue generation, forecasting, and new business development.