Tips and Tricks for Building a Successful Online Business
It can be a daunting task when you're looking to build a successful online business, and knowing where to start can be challenging. In this article, we have compiled a list of our top tips and tricks from writing a business plan to thinking about online payment to show how you can build a successful business online.
A Successful Online Business Starts with a Plan
There are no quick schemes that will help you build a successful online business. If you don't take the time to think about what you want to achieve in your enterprise by setting clear goals and understanding precisely what it takes to become successful online, you will be setting yourself up for failure. Writing a business plan is crucial before starting a business. Going into your business by writing a business plan that is clear, manageable and easy to stick to is essential in order to ensure success. Begin writing a business plan by focusing on your budget and how you're going to spend the funds available to you before moving on to planning what tasks will need to be done daily.
Take Action
While you don't want to rush headfirst into your business without a plan, it's crucial you take action as soon as possible. A common issue many people have when they're interested in starting a business is failing to act on their excellent ideas by wasting years not taking action and never making any real progress towards their goals.
Once you have a basic plan of how you can use your budget and what you need to do each day, take action and begin implementing your plan. Don't waste time trying to perfect every aspect of your business plan in the early days, as there will be changes you need to make along the way. It takes time to build the perfect business plan, but you will need to gain valuable experience running your business in order to create the ideal strategy that will take your business to the next level.
A Successful Online Business Should be Registered Legally
If you're only selling items on an online marketplace from time to time, the legal side of things won't apply to you. However, when creating a real business entity, it is essential that you register your business legally.
Most platforms won't require you to register your business when you are operating out of your home. Still, if you are going to be generating large amounts of revenue, it's a good idea to sort out a business license as early as possible.
You will also need to ensure that you have a sales tax number; this is because any item that you sell will require you to collect sales tax and pay it to the state. In order to get a sales tax number, you will need to register your business with your state, and they will provide you with a sales tax number.
The final part of ensuring your company is legally operating is registering with the IRS for your tax ID number. It is vital to have this set up before you begin sourcing products, as most wholesale companies will require you to provide your tax identification before they will do business with you.
Invest in Yourself as well as Your Business
Many young entrepreneurs make the mistake of not investing in themselves and avoiding the risks that could grow their business exponentially. If you're only aiming to develop a part-time income, then you won't need to spend your budget on expensive tools or services that are designed to scale up businesses. However, if you're are hoping to take your business as far as possible and have it fully support you and your family in the future, you're going to need to invest. Building a successful online business takes time and the risk of personal investment in order to achieve your goals.
Have Multiple Payment Options
A hurdle that many new businesses face is how to accept credit card payments online. In today's modern world, it is essential that your business is equipped to handle online payments from the moment you begin trading. Often online companies start building their marketing and email lists in order to develop their client base before they set up multiple payment options for customers that find their company organically. For help with online payments, check out NadaPayments for their guide on accepting credit card payments online.
Value Your Time
Your time is priceless, and it's imperative that you safeguard your time when building your business. In every business, there are low-value tasks and high-value tasks; it's vital to ensure that you are spending as much time on the higher-value tasks in your day-to-day work. You should automate where you can and hire freelancers to handle anything that can't be automated.
 Focus on the Goal
Businesses are always evolving, especially for online companies, as the virtual world is constantly upgrading and changing how it works. Once you have your business established and generating revenue, most entrepreneurs find themselves sitting back and basking in the glory of their hard work. However, this could be a critical mistake; losing focus is a sure-fire way for your business growth to slow down. Be on the lookout for new products, services, and ways your business can get ahead of the upcoming industry trends. Staying focused on your goals is crucial for your business to continue to thrive.
Losses are Natural
Losses and mistakes are a part of business, and it's vital that you are prepared for when they happen, as they are a crucial part of the learning process. You may overstock your inventory expecting it to sell out, only to find that it won't sell at all, or you may have been working on a new venture that won't take off.
It's essential that you learn when to persist and when to cut your losses. If you have a large amount of inventory that won't sell, consider dropping the price and foregoing the profit in order to liquidate the inventory quickly. Once this has been done, you can redirect the funds into a product that will sell and make a profit. When you're dealing with a new venture in your business that won't take off, ensure that you are devoting the correct amount of time required for it to become a success. As long as you are witnessing improvement and growth, you should persist even if the scaling is happening slower than you would like.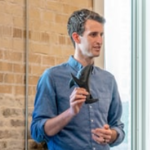 15 years' experience as a professional project management and strategy consultant. Director at Northwest Training and Education Co. which provides agile and scrum training service.
Tags:
building an online business
Business Plan
business success
online business