The making of a corporate lawyer: Requirements, skills, and career path
Corporate law is a crucial aspect of the business world, regulating the activities of corporations and protecting the rights of shareholders, employees, and other stakeholders. Corporate lawyers play a vital role in advising businesses on legal matters, negotiating contracts, and ensuring compliance with regulations in their career. If you are interested in pursuing a career in corporate law, here is what you need to know.
What is corporate law?
Corporations are legal entities that are separate from the individuals who run them. Corporate law is the body of laws and regulations governing how corporations are formed, structured, managed, and governed. It sets out the legal framework for businesses, outlining the rules for ownership, management, and financing of these entities.
Corporate law career is also concerned with protecting the rights and interests of shareholders, employees, customers, creditors, and other stakeholders. Corporate lawyers can help businesses understand their legal obligations and ensure compliance with applicable laws.
What are the different areas of corporate law? A career in corporate law
The field of corporate law is quite broad and includes a wide range of topics. Corporate lawyers may specialize in areas such as:
Mergers: Corporate lawyers advise corporations on the legal aspects of merging with another business.
Securities and financial markets: Matters related to the issue and sale of stocks and other securities are overseen by corporate lawyers.
Contracts: Drafting, reviewing, and negotiating contracts are some of the main duties of corporate lawyers.
Regulatory compliance: Advising businesses on how to comply with laws and regulations is a key role for corporate lawyers.
Corporate governance: Corporate lawyers advise boards of directors, executives, and shareholders on their rights and responsibilities in the management of a business.
Taxation: Corporate lawyers help businesses understand and comply with tax laws. With the ever-changing tax landscape, staying on top of regulations is especially important.
What skills do I need to be a corporate lawyer?
To maneuver the complex and rapidly changing world of corporate law, corporate lawyers must possess a wide range of skills. These include:
Communication skills
Like all lawyers, corporate ones must have excellent communication skills. Building trust is essential to developing relationships with clients and other stakeholders. These skills must extend to writing, as they must be able to draft contracts and other legal documents.
Analytical skills
A deep understanding of the law is essential for the successful practice of corporate law. Corporate lawyers must be able to quickly assess a situation, analyze data, break down complex concepts into simpler ones, and spot potential legal issues that could arise.
Organizational skills
Corporate lawyers are often involved in multiple projects at once, so they must stay organized and prioritize tasks. They must also possess strong research skills and the ability to interpret complex legal texts accurately.
Business acumen
The corporate business is fast-paced, and corporate lawyers must have a solid grasp of business concepts to be successful. They need to understand their clients' motivations and anticipate any legal issues that may arise in a transaction or contract.
Leadership skills
They must often take on leadership roles within their firms and guide other attorneys in complex matters. To be successful, they need to be able to delegate tasks, provide direction and support to team members, and manage multiple deadlines.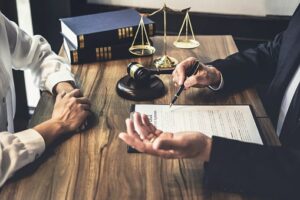 How can I become a corporate lawyer?
Becoming a corporate lawyer requires education, skills, and practical experience. The process typically includes the following:
Obtaining an undergraduate degree in a relevant field
You may pursue a degree in a variety of fields, including business, economics, finance, and accounting. As a prospective corporate lawyer, it is important to gain an understanding of the business world.
Gaining experience in the field
During your undergraduate studies, you should consider taking on internships or volunteer work to gain practical experience in the corporate world. This type of experience can be invaluable in helping you develop an understanding of legal issues that may arise and how to address them.
Apply to law school and pass the LSAT
Your next step is to apply to an accredited law school and pass the Law School Admission Test (LSAT). Passing this test is a prerequisite for admission to most law schools.
Complete a Juris Doctor (JD) degree
Most law schools offer three-year JD programs that provide students in-depth training in legal theory and practice. For instance, the online juris doctorate offered by Cleveland State University combines traditional legal studies with hands-on experiential learning and business courses that can provide students with the knowledge they need to be successful lawyers.
Pass the bar exam
The Barrister and Solicitor Examinations are taken in the state where you will be practicing law. These exams test your knowledge of the law, as well as your analytical thinking, writing, and problem-solving abilities. Additionally, this is mostly a standardized test, but some states may require additional requirements, such as an oral examination.
Obtain licensure and find employment
Once you have passed the bar exam and become licensed to practice law in your state, you can start looking for positions as a corporate lawyer career. You should consider taking on internships or pro bono work to build your skills and gain experience in the field. With time, you can establish yourself as an experienced one.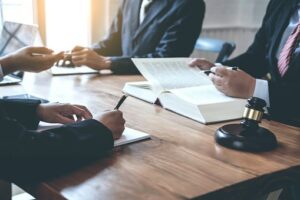 What is the career outlook for corporate lawyers?
Consequently, careers in the legal field will grow in the coming years. As economies and businesses become increasingly complex, the demand for corporate lawyers will rise. And employment of lawyers is probably increasing by 10% from 2021-2031, according to the Bureau of Labor Statistics (BLS). The median annual wage for a lawyer was reported at $127,990 in 2021, according to the BLS.
With the projected rise in demand, corporate lawyers can expect competitive salaries and excellent job prospects. With the right education and experience, you can become a successful corporate lawyer and make an impact in the business world.
Bottom line
So, a career in corporate law can be highly rewarding and lucrative. As important pillars in the corporate world, corporate lawyers must have strong analytical skills, excellent communication and negotiation abilities, and a thorough understanding of the law. Hence, choose the right education and gain experience in the field to become a successful corporate lawyer.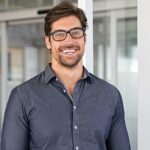 David is a dynamic, analytical, solutions-focused bilingual Financial Professional, highly regarded for devising and implementing actionable plans resulting in measurable improvements to customer acquisition and retention, revenue generation, forecasting, and new business development.
Tags:
become a corporate lawyer
career in corporate lawyer
is corporate law good career