3 Potential Routes into Accounting (and 4 Useful Tips)
A career in accounting is a well-paid and secure one, which is why it's much in demand among people from all backgrounds. If you're not sure how to get started in this profession, stick around and we'll go over the routes available such as bachelor's degree in accountancy, as well as some small tips to send you on your career path in accounting.
Jumpstarting Your Career with a Bachelor's Degree in Accountancy
A bachelor's degree in accountancy is one of the most common routes into this field. It provides you with a comprehensive understanding of accounting principles and practices. And it is preparing you to take on entry-level positions and advance your career path in accounting further down the line.
By enrolling in an accredited program for a career in accounting, you can learn from experienced faculty members who have valuable industry experience as well as academic knowledge. You may also gain hands-on practice through internships or summer jobs that help build up your resume and give employers assurance about your commitment to the profession.
Many universities offer online courses which provide greater flexibility for busy professionals who don't want (or can't) commit full time to their studies just yet. That's worth bearing in mind if you're looking at accounting as a potential career change if you've already got a degree in another subject.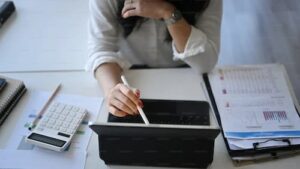 Becoming an Accounting Associate
If you don't want to commit to a full bachelor's degree just yet, becoming an accounting associate is another great option. It offers the opportunity for on-the-job learning. And it allows you to start building experience while earning paychecks.
The role of an accounting associate involves providing support services such as data entry, bookkeeping and other financial administration tasks under the supervision of senior professionals.
This route offers valuable insights into how things are done within organizations. It is including potential clients or employers, enabling you to rapidly develop skills that will be invaluable later on in your career. If you want to apply for this type of role, using accounting associate resume templates will help get your foot in the door, even if this is your first job in this field.
Securing Professional Certification as an Accountant or CPA
Taking professional certification exams is a great way to stand out from the competition and demonstrate your commitment to the profession.
An accreditation such as Certified Public Accountant (CPA) or Chartered Global Management Accountant (CGMA) can be incredibly beneficial in terms of employability, career progression and earning potential.
Not only does it signal that you possess advanced knowledge within this field. But also proves that you have expertise when it comes to dealing with financial matters. Moreover, having these qualifications may give you access to certain job roles which would otherwise not be open due to lacking experience. So don't underestimate their importance.
Becoming a certified accountant or CPA in your career in Accounting
Becoming a certified accountant or CPA (Certified Public Accountant) can provide you with greater career opportunities and increase your earning potential. Here are the steps to securing professional certification:
Education. You will need to have a bachelor's degree in accounting. Or a related field such as finance, economics, or business administration. Some states may require you to have additional education beyond a bachelor's degree.
Experience. Most states require you to have relevant work experience before you can become licensed. Typically, this involves working under the supervision of a licensed CPA for a certain number of years for your career in accounting.
Exam. You will need to pass the Uniform CPA Exam. It consists of four sections covering auditing and attestation, business environment and concepts, financial accounting and reporting, and regulation. The exam is notoriously difficult, so it's important to prepare thoroughly.
Licensing. After passing the CPA Exam, you will need to obtain a license from your state board of accountancy. Each state has its own requirements. So be sure to check with your state board for specific details.
Continuing education. To maintain your license, you will need to complete continuing education courses on a regular basis. This ensures that you stay up to date with changes in accounting regulations and best practices.
It's important to note that the process of becoming a licensed accountant or CPA can vary depending on the state you live in. Be sure to research your state's specific requirements and follow the necessary steps to secure your professional certification.
Useful Tips: Mastering the Fundamentals of Career in Accounting
No matter which route you choose, it's important to hone your skills in accounting fundamentals, such as bookkeeping, taxation and financial analysis. This will give employers confidence when looking for a new hire that knows their stuff. So be sure to stay up-to-date with industry developments whenever possible.
Furthermore, try reaching out to professionals already working in this field who can provide valuable advice on what steps are necessary for success.
Networking is also essential as a career path in accounting. So attending conferences and seminars related to accountancy could help widen your circle of contacts within the business world too.
Finally, don't forget about online programs where you can learn from experts all over the globe. These resources are affordable and flexible, compared with traditional training options.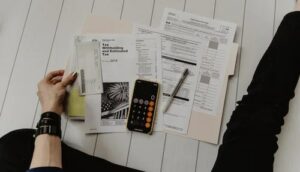 Wrapping Up: Career in Accounting
Accounting is not for everyone. But if it aligns with your career goals, and ties into your skill set, then it might be ideal. Now you know how to get started, there's nothing stopping you taking the next step.

A career in accounting can be very rewarding, with opportunities for growth and advancement. The field offers a range of roles from entry-level to senior positions in areas. Such as public accounting, corporate accounting, government accounting, and non-profit accounting.
To succeed in accounting, it's important to have strong analytical and problem-solving skills, attention to detail, and proficiency in using accounting software and technology. Additionally, excellent communication and interpersonal skills are important for working with clients, colleagues, and other stakeholders.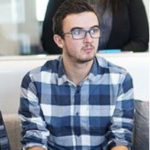 11+ years strategic communications, marketing, and project management experience. I am a trainer at StarWood Training Institute, focusing on online courses for project management professionals.
Tags:
accounting resume
bachelor degree in accounting
career in accounting
CPA exam