Mobile Development Services: Their Types and A Mobile App Development Process
It is estimated that the number of smartphone users will be up to 7.5 billion by the year 2026, which once again shows how much of a lucrative venue mobile app development is. If you want to stay ahead of the competition and find your niche in the market, then using custom mobile development services is definitely the way to go. Custom mobile apps can be fully custom to meet your business needs. And they can address a particular audience, can grow, feature up-to-date security measures. And they can seamlessly integrate with an existing system. The custom app developers can also provide mobile application development services in-house or to the other parties as clients. One subset of software developers is known as mobile developers providing mobile app development service .
They specialize on mobile technology, which includes the construction of applications for the Android, iOS, and Windows Phone platforms developed by Google, Apple, and Microsoft, respectively. Because of the increase in demand for mobile applications, companies are now investing more on hiring android developers and iOS developers. If you are thinking about hiring a mobile app development company, this article covers the information you need. We'll consider types of mobile development services and briefly describe a mobile app development process.
Types of Development Services
To build a successful and profitable business, take advantage of various mobile app development service. Hiring mobile app development services can assist your company in developing a mobile application for smartphones, tablets, or both. And regardless of the platform it is to be built on or the device it is to be used in conjunction with. Whether your company is interested in developing a mobile application for smartphones, tablet devices, or both, mobile application development services by a professional agency has you covered.
Business analysts bring their skills to the table to improve existing web solutions. They develop an MVP and PoC, analyze device compatibility, create a real prototype, and solve any challenges your company may have. 
Get high-quality mobile apps that are compatible with a number of different platforms at a cost-effective rate, all while offering your customers with software that is tailored to their operating system. Make advantage of this option to save expenses and shorten the time it takes to bring a product to market, as well as to increase the number of people you can serve without sacrificing quality.
A team of experienced QA specialists conducts various types of testing (functional testing, acceptance testing, unit testing, performance testing, etc.). They aim to make sure your digital solution meets all the requirements set and the highest industry standards. On top of that, end-to-end testing allows experts to identify any bugs before product launch, therefore, avoiding additional expenses.
Constructing Progressive Online Apps that integrate the most effective technological solutions used in mobile and web apps may be advantageous for your company in a number of ways. It is including the simplicity with which it can produce and distribute new software, as well as a number of other benefits.
By leveraging an iterative approach for mobile app development service, experts create handy web solutions that cater to your business needs, meet all the needs of your target audience, and increase brand awareness and customer loyalty.
Cross-Platform App Development
Developers create functional applications that can run on any platform. With stable and reusable code, hybrid applications have excellent compatibility and performance. As for the customer-company, utilizing cross-platform app development services saves costs and shortens its product's time to market.
Mobile Application Development Services Process
Usually, a mobile development services process encompasses five various steps. 
At the initial stage, an analysis of the target audience and competitorswill take place to determine the main pains of customers. Besides, the choice of technologies to develop the application becomes clear.
Designers create an intuitive interface with a great look and feel and impeccable functionality. A team provides wireframes, mockups, and a click-thru prototype for mobile development services.
Using the Agile methodology, the team divides the process into short sprints. And each of them will be working on a specific part of the software product. The front-end and back-end of an application are developed. 
A team of experts checks the performance of the application during normal load and extreme load, scalability, and security of the application to make sure that it doesn't have data leakage.
This is the final stage of the development process. During this phase, specialists prepare the necessary metadata for the application, check the application for compliance with all the requirements for Apple, and send it for verification. In the Google Play Store, there is no verification. And the application will be live within a few hours. After a while, a team of experts monitors all trends, and user feedback, and makes the necessary changes.
 Bottom Line
Thereby, if you want to grow your business and expand your target audience across multiple platforms, then native or cross-platform mobile development services are worth considering. So that will investigate your company's environment and do in-depth research on the industry. Who will examine your clients to discover the demands they have and rebuild the paths? Who will design a plan that is really unique to your organization? And unleash the full potential of mobile technology for it? After all, this is the primary focus of the creation of bespoke mobile applications.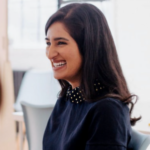 Ananya Prisha is an enterprise level Agile coach working out of Hyderabad (India) and also founder of High Level PM Consultancy. Her goal has been to keep on learning and at the same time give back to the community that has given her so much.
Tags:
hiring mobile app development service
types of mobile application development services
what are the mobile app development services