CRM vs Project Management Tools: Striking the Right Balance
It's a big elephant in the room when enterprises look for customer relationship management (CRM) and project management software: should they invest in an all-in-one solution, use plugins, or use them as separate entities?  
CRM software and project management solutions are essential for enhancing organizational endeavors and meeting customer needs.  
With the competition higher than ever, they empower organizations to perform to the best of their abilities. While most companies leverage the benefits of CRM and project management solutions separately, they have their perks when used together.  
In this article, we'll walk you through the major differences between CRM and project management tools and how balancing the two tech stacks impacts your bottom line.  
But first, let's start with the basics!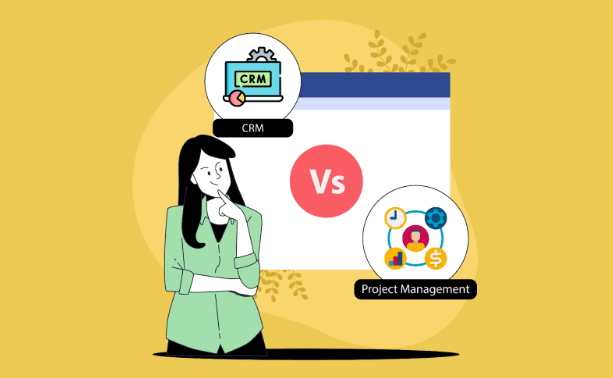 What is CRM Software? 
Undeniably, customers are the heart and soul of any business.  
That's why focusing on customer relationships is the top priority for any company, irrespective of the industry or scale. Here's where customer relationship management software comes into the picture.  
CRM software is a system that enables a company to track and manage all interactions and communications with customers and potential leads. These software solutions help you focus on your company's relationships with individual customers – throughout your lifecycle with them, including finding them, pitching your offerings, and selling your solutions, as well as nurturing them for repeated purchases.   
Fundamentally, CRM functions act as a data repository, allowing the marketing and sales team to understand the target audience, including their demographics and behaviors. By implementing CRM system, you can engage potential prospects at every touchpoint to bring them further down the conversion funnel and ultimately turn them into loyal customers.  
The key features of customer relationship management software are as follows: 
Contact management  

Lead management  

Sales forecasting  

Mobile CRM  

Reports and Dashboard  
Understanding Project Management Tools
Project management software empowers enterprises to plan, schedule, allocate, delegate, and track their tasks or projects efficiently. These software solutions are designed to assist teams in meeting deadlines and delivering solutions that exceed customer expectations. Such tools allow project managers, stakeholders, and key executives to control costs, manage budgeting, and enable quality management.  
To deliver projects on time, it is important to keep everything organized, particularly when multiple people are working on several ongoing projects.  
Project management tools offer an overview of the projects, help prioritize tasks, and keep everyone on the same page to avoid conflict and confusion. It ensures that every team member involved in a specific project is aware of their role while allowing team managers to track individual member progress and overall project progress.  
To put it simply, the project management software caters to the following primary functions: 
Project planning  

Task management  

Document sharing and collaboration  

Time tracking  

Assigning takes to team members  

Communicating with clients  
CRM vs Project Management Tools: What's the Difference?  
Let's examine how customer relationship management software differs from project management solutions.  
1. Purpose
The purpose of the best CRM software is to collect data on customers, such as their contact information, demographics, and purchase history. Fundamentally, it is a customer-centric tool to manage customer data and relationships.  
Project management tools, on the other side, are designed to help companies work on a project and deliver it on time. It is a software solution that's basically centric to a company and its employees. The project management tool's purpose is to support a company with project work, right from start to finish, that includes planning, delegating tasks, and overseeing progress, among others.  
2. Components   
The primary components of a CRM solution include: 
Workflow automation  

Real-time data access  

Forecasting  

Customer service  

Social media  

Third-party integration  

CRM analytics  
Project management platforms may have the following features to enhance project outcomes and support the people working on them: 
Work breakdown structure  

Schedule and budget estimation  

Quality control  

Communication pipeline  

Procurement plan 

File storage  

Time tracking  
3. Use Cases  
Here's a brief overview of the use cases for CRM tools: 
Lead prospecting  

Tracking lead/customer behavior  

Competitor tracking  
Sales outreach  

Email marketing/segmentation  

Creating customer profiles  

Reducing churn rates  
On the other side, use cases for project management tools include: 
Product planning and strategy  

Event management  

Inventory management  

Project tracking  

Product road-mapping  

Cross-team collaboration  

Issue/bug tracking  
4. End-Goals  
Customer relationship management software focuses on the long-term growth of a business by continuously strengthening its relationships with the customer. On the other hand, project management software focuses on the success of a project.  
While CRM helps to maintain customer relationships, the project management tool streamlines workflow to enhance productivity and minimize costs.  
CRM and Project Management: Why Strike a Balance?  
Using the right tech stack is undoubtedly the most important thing for a business to ensure success. That's why companies invest in CRM and project management solutions.  
But most make the mistake of using them as separate entities, considering one is designed for sales and marketing while the other is for team leaders or project managers.  
However, project management focuses on delivering the customer's requirements on time and within budget. This is important to maintain good customer relationships. 
Here's where a customer relationship management tool comes in handy.  
CRM offers insights into customer behavior that can be used to work on projects and offer solutions that live up to their expectations. As a result, when you maintain a perfect balance between CRM and project management, you can understand your customers' needs to work on their projects and deliver the outcomes they want to see within recorded time.  
Hence, by maintaining a CRM solution with your project management, you can:
Ensure strategic alignment between PM teams, customer service, sales, and marketing to deliver a consistent experience to customers.  

Allow the sales and account managers to learn where the project is in the process.  

Promote quality control by allowing clients to see and approve the deliverables.  

Sharpen the marketing teams with insights about where the sales leads are in the customer journey to develop personalized content.  

See what customers are doing while working on the project.  

Execute projects as soon as sales take place.  
Final Words: Strategize and Organize Together  
The bottom line is CRM and project management tools work in different ways, but together, they have a considerable impact on your business success and growth.  
It is important to strike a proper balance between the two solutions to enhance project outcomes and boost customer satisfaction.  
An all-in-one customer relationship project management software is uncommon and expensive. There aren't many companies that offer a software solution combining the capabilities of both.  

A plugin is usually a compromise and must be dealt with with an enterprise-specific approach. For instance, if your company deals with a few external clients, a strong project management software with a CRM plugin is a good idea. Whereas, if your company doesn't require a robust tool to handle projects, investing in a good CRM with a task management plugin feature is great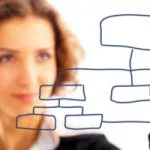 A dedicated Career Coach, Agile Trainer and certified Senior Portfolio and Project Management Professional and writer holding a bachelor's degree in Structural Engineering and over 20 years of professional experience in Professional Development / Career Coaching, Portfolio/Program/Project Management, Construction Management, and Business Development. She is the Content Manager of ProjectCubicle.