Tips for Expanding Your Small to Medium Business
Are you ready to take your small to medium business to the next level? Though orders and appointments may be getting too much for you to handle, you need to figure out the best way to ensure your transition to a larger business is smooth and trouble free. Here are some tips for expanding your small to medium business without falling into some of the more common traps.
Reviewing your business structure
If you are a sole trader or an incorporated entity, you may need to consult with a business attorney and your accountant to restructure your business as a Proprietary Limited company, partnership, or into discretionary trusts. These can have tax implications as well as determining how intellectual or physical property is owned and used. Having an accountant to sort out payroll, PAYG, superannuation, and entitlement commitments for staff can also save a bunch of headaches with the ATO down the line.
Marketing, research, and branding
Though you may be performing many of the same business functions as before, your business will be in a new realm of competition. You need to do your research to understand the new landscape your business will be competing in. You may want to conduct a SWOT analysis: identifying strengths, weaknesses, opportunities, and threats. At this point you should also invest in marketing and branding as well as using your time with attorneys to patent IP and register trademarks. Your research should also be part of a comprehensive business plan – where are you now, where do you want to go, and how will you get there?
Leveraging business loans
Any new business needs capital to startup; and expanding businesses need to think about their business in the same way. At this stage, with a robust business plan ready and your structure in order you can look for competitive business loans and lines of credit. You'll need to prepare your financial statements for lenders to look at, as well as having answers to any questions lenders or brokers may have, such as your current credit rating or whether you have outstanding creditors or owe money to the tax office. Always shop around for different loans instead of relying on your bank. You can use a business loan broker to help tailor a loan solution for your business, which could help accelerate your expansion. Learn about the process here.
Investing the money
Remember – long term liabilities such as loans should be spent on long-term assets. That means performing assets such as machinery, property, etc. Spending long-term loan money on short-term assets like inventory or consumables can cause crunches in your cash flow.
Strategic goals should be achieved with strategic investments. Other investments could be in IT infrastructure, analytics, and business intelligence platforms. Consult your accountant for the best way to spend cash on hand or capital so you are spending the money wisely and increasing your chance of successfully expanding your business.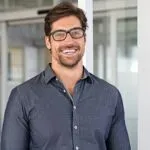 David is a dynamic, analytical, solutions-focused bilingual Financial Professional, highly regarded for devising and implementing actionable plans resulting in measurable improvements to customer acquisition and retention, revenue generation, forecasting, and new business development.