How to connect with your audience with a customized Marketing strategy at trade shows
Entrepreneurs can leverage trade shows to reach a wider audience. They can exploit the events to interact and engage directly with existing and potential customers. However, an effective, customized marketing strategy is crucial if you want to make a powerful impression and stay ahead of competitors. The ideal trade show marketing strategy must be strategic yet impactful. Here are some trade show marketing tips to help you attract and connect with the right audience.
Before the trade show
Always set clear goals and define your intent for participation before attending a trade show. Determine what you want to achieve, the kind of audience you want to reach, and your definition of success. After that, create awareness among your target audience to attract interest in your booth. Some of the channels you can use to promote your brand include:
Landing pages
Press releases
Customized email campaigns
Direct mail
Social media posts
Consider exploiting the trade show planner's resources, like their newsletter, website, directory, or app, to widen your reach and increase your visibility. Your core goal should be to develop a compelling value proposition and a direct call to action, encouraging your potential customers to stop by your booth.
Devise an irresistible offer and call to action.
Your pre-trade show marketing strategy should include an offer and a call to action. Convincing your target audience to stop by your booth and interact with your products is crucial. Ensure your offer is unique, valuable, and aligned with your target audience and objectives.
Compelling offers include product demonstrations, free consultations, competitions, and giveaways. Ensure your call to action is concise, clear, and urgent. Ensure your call to action and offer appear consistently in all your pre-trade show marketing materials and channels.
What to do on-site
Focus on delivering your promise and develop an unforgettable experience for people visiting your booth. Ensure your booth design, materials, and staff reflect your brand's value proposition and identity. Customizing your marketing strategy enables you to attract, engage, qualify, and capture leads.
Some approaches to attracting attention include surveys, giveaways, contests, demos, and interactive displays. Have a system in place to facilitate the collection and management of contact data, such as a business card holder or scanner.
Train your staff and ensure they understand how to greet, hold conversations, and follow up with leads professionally and effectively. Other strategies you should focus on during the trade show include:
1.    Have a unique exhibition booth
Remember, your exhibition booth is the first impression of your brand that visitors will notice. You want to ensure it's unique and attractive. Find stands companies to help you create an irresistible booth that trade showgoers will want to visit. Top exhibition booth designers have various design concepts and can customize them to make your brand stand out ahead of your competitors.
2.    Offer instant win giveaways
Many companies have used giveaways as a marketing strategy for years. However, you can customize it to ensure participants win instantly. Instant wins generate excitement among visitors and attract more potential buyers through word of mouth from the winners. Leverage this strategy to gather valuable contact information for your follow-up strategy after the trade show.
3.    Digital photo booths
Incorporating a digital photo booth is an effective strategy to ensure potential customers remember your brand. A branded booth helps you engage with your customers during the trade show and increases your reach on social channels.
4.    Provide a comfortable lounge area for your visitors
Potential customers will give anything to discuss your brand with your sales representative while relaxing on a comfortable couch. You can even include refreshments, device charging points, and Wi-Fi to encourage visitors to linger around your booth for longer.
5.    Live walls to display social media
In today's digital world, businesses should leverage social media to increase visibility and reach a wider audience. Social media walls show customer messages as they appear on the business's social media channels. They act as exposure and review of your services and products. The hashtags and comments encourage your potential customers to trust you. Skilled stall fabricators can help you incorporate a social media wall in your trade show booth.
6.    Create a wow aspect in your exhibition stand
Exhibition participants are elated to see something that triggers excitement in them. Incorporate a unique element in your booth to create a wow feeling among your visitors and grab attention. These may include AI-powered interactive walls, AR and VR corners, robots, and attractive animals. Create a balance to maintain visitor's focus on your products.
7.    Contests and awards
Fun competitions in your booth during the trade show can grab the attention of your potential customers. Include awards for the winning participants to make the event more exciting. A well-planned contest allows visitors to engage with your brand and can play a crucial role in increasing sales.
8.    Special deals
Attending a trade show is a huge time investment for some people. Offer them special deals to show appreciation and make their visit worthwhile. For example, consider offering branded takeaways, freebies, or exclusive discounts to visitors who purchase your products. Gift vouchers redeemable at your store can also encourage them to visit your facility and experience more of your products. Ensure your deals are authentic.
9.    Allow visitors to experience the product hands-on
Let your visitors test your products at your booth to trigger their curiosity. Allow them to touch, operate, and see how the product works. Doing so creates a personal effect on them that hardly goes away after the trade show.
10.   What to do after the trade show
Once the tradeshow ends, focus on nurturing and converting your leads into buying customers. Follow up within 24 hours with a personalized, relevant message. Section your leads according to their preferences, needs, and level of interest, and customize communication accordingly.
You can reach out to your leads through phone calls, email marketing, content marketing, and social media to offer value, develop trust, and move them through the sales funnel. Remember to record and measure results and use them to gauge and enhance your trade show marketing strategy.
Finally
Whether you are exhibiting at a trade show for the first time or being a seasonal exhibitor, attracting your target audience's attention can be an uphill task. However, the above-discussed tips can help you create a compelling customized marketing strategy to help your company attract the relevant audience.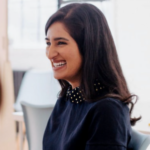 Ananya Prisha is an enterprise level Agile coach working out of Hyderabad (India) and also founder of High Level PM Consultancy. Her goal has been to keep on learning and at the same time give back to the community that has given her so much.