A Handy Guide to Finding the Right Software Development Partner
According to the Commit's 2022 State of Tech Staffing Report, software development outsourcing will soon increase by 70% by 2023. Nowadays, software development outsourcing is no longer strange but way too prevalent to IT businesses around the globe when these organizations seek to delegate their needs and tasks to third-party vendors. These service providers, known as outsourcing companies or IT partners, are well-versed in the IT industry with sufficient technical expertise, experience, and a pool of local IT talent in place, ready to meet different requirements and serve various clients' purposes in terms of software development services. Although outsourcing may unleash a wide range of benefits, you'd better get your project a capable IT partner first before you can tap into those advantages. That's why finding the right software development partner is the key to success. But, how to choose the right software development partner?
Unfortunately, a lot of companies, especially newcomers to IT outsourcing, make mistakes when picking up their partners and then end up a failure. That's why outsourcers need a little help to track down the chosen one for their projects.
Why outsource your project to a software development partner?
Outsourcing your software development to a partner can provide a number of advantages, which are the primary reasons why software outsourcing has been gaining traction. These are some competitive advantages when partnering with a software development partner on your projects:
How to choose the right software development partner:
Increased access to experts in the latest technologies – Partners often have resources available who specialize in different areas and are dedicated to staying up to date on the latest technologies. This provides you with access to expertise that may not be available within your organization.
Access to new tools– Working with a partner gives you the opportunity to utilize their existing toolsets, allowing for faster time-to-market and cost savings associated with training or acquiring new tools.
Improved scalability – With an experienced software development partner, it is easier and quicker to respond to changing market conditions by quickly scaling up or down as needed. This can be especially helpful when developing large and complex projects.
Cost savings – Partners often have competitive rates, and you may be able to leverage volume discounts or other cost-saving measures. Additionally, outsourcing your project to a partner can help free up resources for other development efforts within your organization. This is the best solution that helps you achieve different goals at the same time. Deal with the local IT talent shortage and reduce development costs.
Increased focus on core competencies – Outsourcing certain aspects of your software development allows you to concentrate on what you do best while still taking advantage of the expertise that comes with working with a partner.
Steps by steps to choosing the right software development outsourcing partner
As you can see, software development outsourcing can offer you a variety of benefits that you would not otherwise be able to get in-house. Moreover, the right and competent IT outsourcing partner plays a crucial part in your project's success. Therefore, it is essential for you to make sure that the partner you choose has all the qualifications and experience necessary to provide high-quality services. Please note that freelancing platforms also connect businesses with software developers, engineers and product managers.
Here's a step-by-step guide on how to select the right software development outsourcing partner: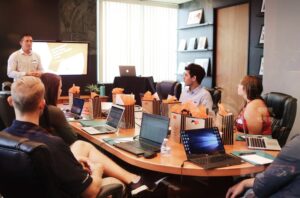 Define the scope of your project 
Before you start looking for a software development partner, it is important to define the scope of your project. This includes understanding what features you need. And how soon they must be completed. It will also help you determine whether or not this is something that can be outsourced in the first place.
Establish your budget to 
Estimating the cost of outsourcing your software development can be difficult since there are many variables to evaluate. Such as the size and complexity of the project, tools, and technologies used, etc. Having a clear budget upfront allows you to negotiate more effectively with potential partners. And it helps them understand better what type of services they should provide.
Research potential partners for finding software development partner
Once you have a good understanding of the scope and budget of your project, you can start researching for finding software development partner. Look for vendors with experience in developing similar projects as yours. And make sure that they are familiar with the latest technologies and solutions.
Check references 
Ask for references from previous clients and contact them to gain further insight into their relationship with the company. This will help you assess whether or not their services were satisfactory enough to merit working together again.
Outline project requirements 
Before negotiating with any potential partner, it is important to outline all the project requirements in detail so that there is no ambiguity in terms of expectations. Make sure they understand all deliverables and deadlines very clearly before signing an agreement.
Create a clear agreement 
Make sure that the agreement you sign with your software development partner covers all aspects of the project, from deliverables to deadlines to payments. In addition, be sure to include clauses for any potential disputes or issues arising during the course of the project.
Monitor progress 
Once the project is underway, it's important to monitor its progress regularly and ensure that everything is going according to plan. This helps you keep track of the work being done and makes sure that deadlines are being met in a timely manner.
Test results 
Before signing off on any completed work, make sure to test it thoroughly in order to ensure its quality and performance. If necessary, hire an independent testing team to evaluate the results before giving your final approval.
Make payments 
Make sure to pay for the work done on time so that there are no delays in the project's timeline. Agree on a payment schedule beforehand and adhere to it closely.
Stay connected  with software development partner
Finally, make sure to stay in touch with your software development partner during the duration of the project. Regular communication ensures that all parties involved are aware of any changes or issues and helps facilitate smooth progress.
By following these nine steps, you can easily find an outsourcing partner that is capable of providing high-quality services at competitive rates. While also meeting all your project requirements. Good luck!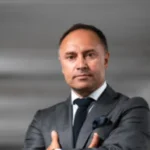 Victor Z Young is a Civil Engineer with 35 years of experience working alongside the executive team of various construction companies. Victor specializes in construction insurance, delay analysis, performance analysis and engineering. He holds a Doctor of Project Management from Northwestern University.
Tags:
choosing software development partner
how to choose the right software development partner
outsourcing software development partner