What is Data Analytics? Definition with Examples
What is Data Analytics and How to use? Businesses around the world create huge amount of daily data, in the form of transactional data, log files, web servers and other different customer-related data. Other than these information, we should also know that vast amount of data are also created by social media users everyday. Usually, companies require to make use of all formed data to create a value out of it and thus, make effective business decisions. In other words, it can be said that data analytics is the method of exploring and then analyzing large datasets. These are used to gather patterns, hidden trends, explore new correlations, and deduce a conclusion by valuable insights. This in turn improves speed and the business efficiency allowing people to make strategic business decisions to make business predictions. It can be said that this enhances the business pace and its efficiency.
How to Use Data Analytics?
Make Efficient Operations: Thanks to the data analytics, you can easily follow your processes, increase production and save money. Together with developed understanding towards the desire of the audience, you consume less time to form ads as well as different content.
Increase the quality of Customer Service: By using data analytics you can adjust your customer service according to their needs. What is more, data analytics offer personalization as well as establishing stronger relationships with customers. Also, anaylzed data sets can provide more information regarding customers' interests, concerns, and more. In other words, it allows you to give more detailed and targeted suggestions for products and services.
Developed Decision Making: Data Analytics helps to get rid of predictive decisions and manual tasks. Thus, companies and organizations can practically make use of the insights they gather from this process in order to make proper decisions, which in turn results in better outcomes as well as customer satisfaction.
Effective Marketing: Since data analytics can inform about valuable insights you can use it for achieving optimal results.
Data Analytics Process
Data analytics process involves sub steps to be followed.
Comprehend the problem: Understanding the business issue, identifying the organizational goals, and planning the strategic solution should be the first step in the analytics process. Organizations often face with problems like predicting the return of items, giving appropriate product suggestions, cancellation of orders, determining frauds as well as optimizing vehicle routing.
Collection of Data: Collection of data is the second step. Gathering transactional business data and customer-related information from the past few years is important. Past data plays an important role in shaping the business future.
Cleaning of Data: All the data you gather will be frequently disordered and messy. Therefore, data like this is not relevant to be used for performing data analysis. What you do should be to clean the data in order to get rid of unwanted, redundant, and missing values. This makes it ready for analysis.
Data Exploration and Analysis: The step before final step is to carry out exploratory data analysis. In order to do this, you can make use of data visualization and business intelligence tools, data mining techniques, and predictive modeling to analyze, visualize, and predict future outcomes from this data. By making use of these methods you can see the effect and relationship of a specific feature as compared to other variables.
Make sense of the results: The final step is to interpret the outcomes and approve if the results meet your expectations. Apart from that you can find out unseen patterns and future trends, which will help you gain insights. These insights will reinforce you with relevant data-driven decision making.
What are the Tools used in Data Analytics?
After looking at the several steps included in data analytics, it is time to move forward to experiencing tools used in data analytics, to be able to perform the above steps mentioned. Below you can find 7 data analytics tools that are frequently used;
Python
R
Tableau
Power BI
QlikView
Apache Spark
SAS
 Applications
Data analytics is applicable to almost all industries. Below you can find some of the sectors which frequently use Data analytics.
Retail
Healthcare
Manufacturing
Banking sector
Logistics
A Real Life Data Analytics Example
Walmart which is very huge American multinational retail company has more than 11,500 stores in 27 countries worldwide. Besides, it has e-commerce websites in 10 different countries boasting over 5,900 retail units. What is more, these units are managed outside the United States, with 55 banners in 26 countries having more than 700,000 associates serving weekly over 100 million customers.
All these big numbers show is that Walmart create billions amount of data. Being more specific, it gathers more than 2.5 petabytes of data from 1 million customers every hour. Thus, Walmart has generated 'Data Café', which is a state-of-the-art analytics hub. Here in Data Café, we can create, manipulate and envisage 40 petabytes of recent transactional data and more than 200 streams of both internal and external data.
Apart from that, Walmart also continuously examines more than 100 million keywords in order to gather information about what people near each store are talking about on social media. By this way, predictions done by Walmart will be better as it gives them a more detailed understanding of the behavior of their customers on their likes and dislikes.
It should be unsurprising that this global chain makes use of modern tools and technologies to see business insights and thus, make customer satisfaction better and more effective. Some of these technologies that Walmart use are Python, SAS, and NoSQL databases such as Cassandra and Hadoop.
Walmart can operate its supply chain better, make the shopping experience more personalized, optimize product assortment, as well as give relevant product suggestions thanks to all these technologies and data analysis techniques.
Conclusion
Data Analytics provides invaluable information for the companies in todays challenging business environment. Organizations can convert a large amount of data into meaningful information to drive their business forward. It is clear that any company can beat its competitors if it uses Data Analytics efficiently. If you want to build up a career in that field, you should have both theoretical and practical knowledge because data analytics is a lot more practical than theoretical.
See Also
What is Artificial Intelligence?
Data Science vs Big Data vs Data Analytics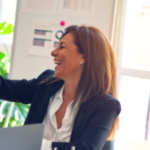 Valencina has more than 25 years of experience as an IT consultant with a great focus on enterprise application UI/UX. She has experience working across multiple industries, acting both in an advisory role, as well as hands on in the technical build of solutions. Valencina is the co-founder and COO of Nitera Training Services.
Tags:
data analytics