Schedule Compression Techniques
Schedule compression techniques can be applied if a project is behind the schedule. The purpose of using schedule compression techniques is to try to compress the schedule without changing the original project scope. If a project scope is not changed and the project falls behind the schedule, only way is to compress the remaining schedule in order to catch up the project schedule.
Schedule compression offers several techniques used to reduce the project duration without changing the project scope.Common schedule compression techniques are crashing, fast tracking and resource reallocation.
These techniques can be used when a project;
– Falls behind schedule,
– Needs to accelerate,
– Needs to finish earlier than originally planned.
Fast Tracking
As per PMBOK, Fast Tracking is a schedule compression technique in which activities or phases normally done in sequence are performed in parallel for at least a portion of their duration.

In Fast Tracking technique, first step is to analyze the critical path and determine the activities which are on critical path or near critical path because on other paths, activities have floats.
After analyzing the critical path, network logic should be changed in order to performe the activities in parallel instead of series. While applying this technique, the applier must be carefull because if two activities are depending on each other by nature, they can not be performed in parallel. But you should keep in mind that changed network logic causes additional risks to your project.
For example, you can not strike formwork before concrete pouring.
Crashing
As per PMBOK, Crashing is A technique used to shorten the schedule duration for the least incremental cost by adding resources.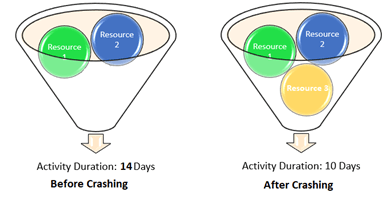 In Fast Tracking technique, in order to catch up the project schedule, extra resources should be put on remaining activities of the project because if it is possible to assign more resources, activity duration will decrease and this will shorten the critical path. But you should keep in mind that extra resources cause additional costs to your project.
Summary
Depending on the situation and requirements of your project you can select one of this schedule compression technique or use both of them. Fast tracking does not include additional cost but it increases risks. On the other hand, crashing does not increase risk but it increases costs.