Leveraging ML, AI, AR, and Chatbots to Boost Sales in E-Commerce Business
The Covid-19 outbreak has hastened the technology revolution of e-commerce. Businesses have understood that the best way to deal with any market shocks and fluctuations is to use cutting-edge technology and innovative solutions. Therefore, the e-commerce and retail industries began a new stage in their development, actively introducing such technologies as Artificial Intelligence, Machine Learning, Virtual Reality, and Chatbots.
Based on the expertise and research of technology partner Emerline, we will take a closer look in this article at how modern technologies can help e-commerce businesses maintain competitiveness at any time under any conditions.
ML and AI in E-Commerce
In the face of the pandemic, companies have had to abandon established business practices and seek new alternatives. In today's e-commerce, Machine Learning and Artificial Intelligence are becoming indispensable technologies for enhancing conversions and revenue.
An AI-powered accurate analysis of the shopping behavior and personalized recommendations based on search and browsing history are what enable sales growth.
Furthermore, Artificial Intelligence and Machine Learning assist retail and e-commerce businesses in devising new strategies for engaging with customers and enhancing their involvement. Accurate data-driven analytics with AI and ML also enhance existing strategies for personalized responses to customer inquiries, customized trade notifications, or cart reminders.
Major Use Cases of ML and AI in E-Commerce
Hyperlocal e-commerce
A hyperlocal market, as the name implies, responds to the demands of a specific geographic region. Hyperlocal commerce is now more relevant than ever. This approach helps e-commerce companies meet the needs of every population, regardless of location. In addition, hyperlocal commerce contributes to faster delivery and better shopping experiences, all of which are important for boosting competitiveness.
Headless e-commerce
The shopping experience is always changing, both in terms of the technological platforms that are used and in terms of the customer expectations that businesses are attempting to meet. To deliver quality content, develop an accurate and tailored shopping experience, and deliver a high-level service, there is headless commerce with a large potential.
Chatbots
By integrating chatbots into their e-commerce platforms, companies can automate customer interactions, deliver more personalized experiences, and provide consulting services around the clock. It's also worth mentioning that chatbots not only assist with customer inquiries but also favorably affect user purchase decisions by providing clarity and improved navigation on websites with a big number of items on sale.
Localized content
Localized content is another tool that e-commerce businesses can leverage to reach new audiences and increase sales. How does it work? Localized content means your e-commerce site is automatically translated into multiple languages based on your location, making it available to more potential customers.
AR in E-Commerce Solutions
COVID-19 has unquestionably changed consumer habits and behavior. With the restrictions imposed by the pandemic, as well as general concerns about social distance and touching surfaces in public places, the use of augmented reality to test out goods in their intended environment is becoming increasingly useful.
Research has shown that this is especially true for products that customers want to touch or try on before purchasing. Thus, L'oreal has acquired and implemented AR technology, which makes it possible to apply decorative cosmetic products online. The technology has changed the consumer experience by allowing users to change hair color and define skin types and tones.
Chatbots and Their Benefits
Another popular solution among brands is their own chatbot. The technology usually helps answer customers' questions. AI chatbots are served faster and better through personalized searches, notifications of new collections, or similar product suggestions, which significantly saves time for both employees and customers.
What other potential is there for chatbots? In addition to promptly answering questions, chatbots also help identify products that customers might be interested in and generate special offers based on the data. Chatbots can also provide information on product availability and order status.
Another significant benefit of chatbots is their ability to impact the e-commerce return rate. For example, when you add two identical dresses of different sizes, a chatbot can help you choose the size you want, so you won't waste time and resources returning an item that won't fit you.
Artificial Intelligence and machine learning have a wide range of applications, as seen by the practice. These technologies will undoubtedly continue to advance e-commerce businesses, assisting companies of any size.
If you want to take advantage of the potential of AI right now, turn to a trusted technology partner. Emerline experts keep their finger on the pulse of modern technologies and can help improve your business processes. Take the first step towards an innovative future and book a free consultation.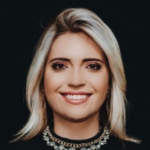 Business Developmeny Manager at PAS InfoCom Technologies Ltd.  Experienced in project management with a demonstrated history of working in the information technology and services industry.