How to Develop Key Performance Indicators (KPIs)?
How to Develop Key Performance Indicators? In the world of business and management, Key Performance Indicators (KPIs) stand as vital tools that measure the progress of any venture towards its goals. However, developing effective KPIs can be challenging, and it requires a thorough understanding of the company's vision, objectives, and strategy.
How to Develop Key Performance Indicators: Understanding the Importance of KPIs
KPIs are more than just numbers on a report. They provide insights into the health and trajectory of a business. By closely monitoring these indicators, companies can make informed decisions that drive growth and enhance productivity.
How to Develop Key Performance Indicators: Steps to Develop Robust KPIs
1. Define Clear Objectives
Before deciding on which KPIs to track, it's essential to know what you're trying to achieve. Whether it's increasing sales, enhancing customer satisfaction, or improving operational efficiency, having clear objectives ensures that your KPIs are relevant.
2. Align KPIs with Business Goals
KPIs should mirror your organization's goals. If one of your primary goals is to enhance customer satisfaction, then a related KPI might be the Net Promoter Score (NPS).
3. Choose Relevant Metrics
There's a myriad of metrics to choose from, but not all of them will be relevant to your objectives. For instance, while website traffic is a valuable metric for an e-commerce site, it might not be as crucial for a B2B service provider.
4. Set a Baseline
Determine where you currently stand concerning the metrics you've chosen. This baseline will allow you to measure progress and determine if your efforts are making a difference.
5. Ensure Data Accuracy
Your KPIs are only as good as the data backing them. Ensure that you have systems in place that collect data accurately and consistently.
6. Review and Adjust
The business environment is dynamic. As such, your KPIs should evolve with your business. Regularly review them to ensure they remain relevant and adjust as needed.
Common Mistakes to Avoid
1. Having Too Many KPIs
While it might be tempting to track every possible metric, doing so can dilute your focus. Concentrate on a few critical indicators that align with your business goals.
2. Not Linking KPIs to Actions
KPIs should inspire action. If they aren't prompting you to make changes or take steps towards your goals, reconsider their relevance.
3. Ignoring Negative Results
Not all KPIs will always show positive results. Instead of ignoring or downplaying negative outcomes, use them as learning opportunities.
How to Develop Key Performance Indicators: Benefits of Effective KPIs
1. Informed Decision Making
KPIs provide a data-driven approach to decision-making, allowing businesses to base their choices on real, actionable data.
2. Enhanced Accountability
When everyone is aware of the KPIs and their importance, there's a heightened sense of responsibility towards achieving the set goals.
3. Forecasting and Planning
By monitoring KPIs, companies can predict future trends, allowing them to plan and allocate resources more effectively.
Conclusion
Developing KPIs is a meticulous process that demands a clear understanding of what you want to achieve. By aligning them with your business goals, ensuring data accuracy, and regularly reviewing their relevance, KPIs can be instrumental in guiding a business towards success.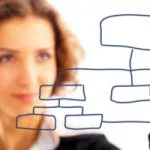 A dedicated Career Coach, Agile Trainer and certified Senior Portfolio and Project Management Professional and writer holding a bachelor's degree in Structural Engineering and over 20 years of professional experience in Professional Development / Career Coaching, Portfolio/Program/Project Management, Construction Management, and Business Development. She is the Content Manager of ProjectCubicle.
Tags:
key performance indicators
KPIs